Tri-University Event Gives Students Preview of AZ Colleges
By: Jessalyn Guizar
OwlFeed Journalist
Wondering which state college you should attend? After reading this article you will be fascinated by all of what the top Arizona colleges have to offer. 
Agua Fria High School hosted the Tri-university event for Arizona State University, University of Arizona, and Northern Arizona University, so students can plan out their future ahead of time.    
This event is very helpful to many students on campus. It is a way to know more information such as which way is the best way for you to start your career. This gives you a new outlook for your future.  
Every representative from the colleges gave a representation of what they have to offer, and students are starting early and have some opinions on the event.
A student that attended the event, Raven Blankenship, said, "Some of  the events were unorganized but I really enjoyed NAU's presentation they were really organized and seems more interesting than the others."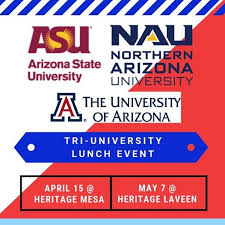 Northern Arizona University has many student́s' eyes from the feedback that was given on this event seems like everything was put together very nicely leaving a good impression. 
Another student that attended the event loved ASU. Mia Guiterez said, "ASU seems like I would have a good experience and that's the college I'm trying to go." 
Every college has its own shine and depending on where the student wants to study and where they are more interested to spend their college experience at is a different point of view in which this event is supporting that reason.
This event is also helpful for learning the college admission process, scholarships and financial aid, information about each university and the honors experience at each university. This gives an advantage for every question you have to ask the people at the event also to connect more with the college experience. 
Many students are not able to have this opportunity especially since this event happens once a year. Based on the feedback this has helped many students and has helped them have an option and a chance to engage on information that is needed to be accepted in their future college. Also, it provides you things to take home to look over for your parents and has pictures of what the collages look like. 
The Tri-University event is the place to be for all of your questions, concerns and information on where you want your future set at.