2020 Democratic Candidates Spar Over Healthcare in Latest Debate
By: Raheemat Alade
OwlFeed Media Editor 
ABC News hosted the third Democratic debate in Houston, Texas, on September 12. The debate was moderatored by Linsey Davis, David Muir, Jorge Ramos and George Stephanopoulos.
The debate included the 10 top candidates, which includes Vice President Joe Biden, Sen. Cory Booker, Mayor Pete Buttigieg, former Secretary Julián Castro, Sen. Kamala Harris, Sen. Amy Kobuchar, former Rep. Beto O'Rourke, Sen. Bernie Sanders, Sen. Elizabeth Warren and entrepreneur Andrew Yang.
Healthcare 
Senator Elizabeth Warren, Vice President Biden, and Senator Bernie Sanders all agree that health care should be affordable for all Americans. 
However, Biden wants to bring back Obamacare or the Patient Protection and Affordable Care Act (PPACA) which provides consumers with the support that lower costs for families with incomes between 100% and 400% of the federal poverty level. Sen. Warren agreed with Biden, even praising President Obama. "We all owe a huge debt to President Obama, who fundamentally transformed healthcare in America, and committed this country to healthcare for every human being," Warren said. 
She then continues and claimed that the best way we [Americans] can make healthcare better, is "everybody gets covered by healthcare at the lowest possible cost." She continues to declare that the middle class will not pay as much as the upper class.
Another candidate who also agrees is Senator Amy Klobuchar. "What I favor is something that what Barack Obama wanted to do from the very beginning, and that is a public option," Kloubuchar said. "A nonprofit choice that will bring down the cost of insurance, cover 12 million more people and bring down the prices for 13 million more people. That is a bold idea."
As for Sanders, he had a different plan. He said, "We need a health care system that guarantees health care to all people as every other major country does, not a system which provides $100 billion a year in profit for the drug companies and the insurance companies." Just like Biden and Warren, he said we need to reduce the cost of healthcare. 
Retorting back to Biden, Sanders said, "Let us be clear, Joe. In the United States of America, we are spending twice as much per capita on health care as the Canadians, or any other major country on earth." 
The US is one of the most powerful nations that doesn't offer free health care. Sanders claims that we should move towards that kind of system so no American can worry about not being able to pay their medical bills.
Later Julian Castro evoked Biden. Castro said, "My healthcare plan would. That's a big difference. I'm fulfilling the legacy of Barack Obama and you're not." He said that Biden's plan would cover everyone like Obama's did, but his would. He also says that he would automatically enroll Americans.
Kamala Harris made some bold statements about President Trump during the debate about affordable healthcare. 
She said, "Donald Trump came into office and spent almost the entire first year of his term trying to get rid of the Affordable Care Act." Harris continued that our healthcare problems will be solved by getting rid of Trump.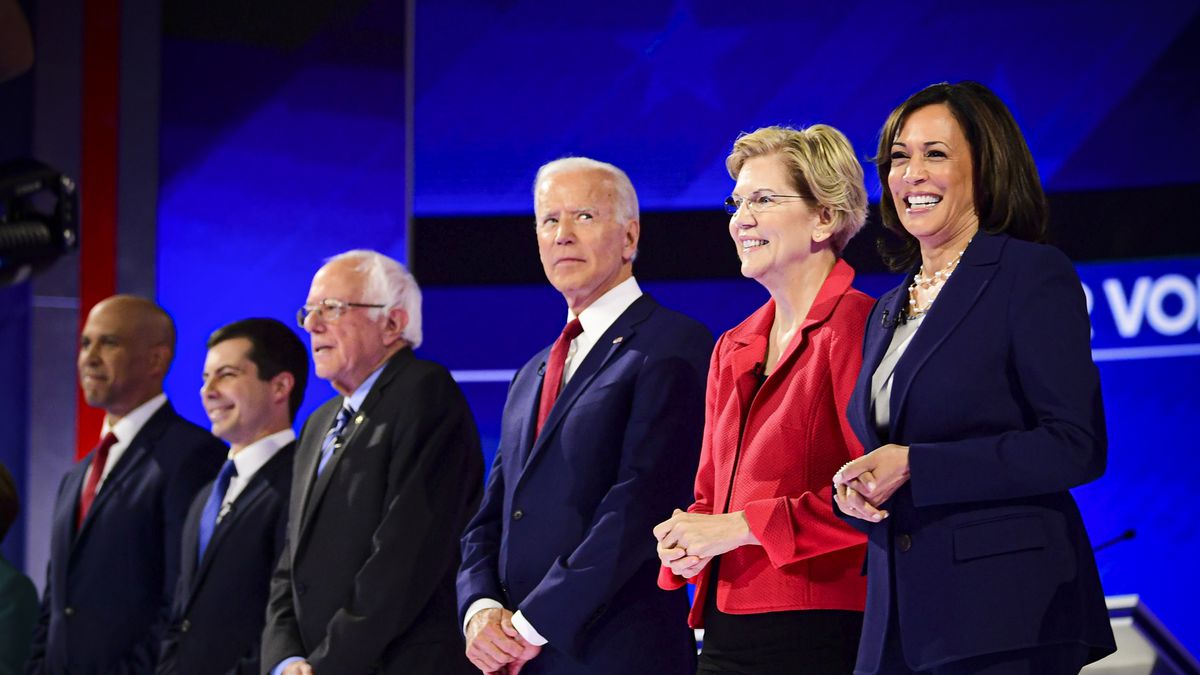 Most of the candidates claimed that we should move into cheaper or almost free healthcare system, however, many of the candidates have different ways of dealing with it. 
Race
Later in the debate, when moderator Lindsey Davis asked if President Trump made the racial divide worse, Congressman Beto O'Rourke said that Trump is the "white supremacist in the White House, and he poses a mortal threat to people of color all across this country."
He gave an example of people like kids and women of color in our American society. 
Senator Booker claims straight up, "Donald Trump is a racist" and that we must attack racism because it is affecting everyday American lives and he will deal with a white supremacist. 
Joe Biden claimed that race shouldn't stop American citizens from living their American dream and should be dealt with no matter who's president. 
Gun Control 
The topic of gun control was tossed around the candidates. Sen. Harris said, "People asked me in El Paso, they said because I have a long-standing record on this issue. They said, 'Well, do you think Trump is responsible for what happened?' And I said, 'Well, look. I mean, obviously he didn't pull the trigger, but he's certainly been tweeting out the ammunition.'"
She claims that our problem with gun violence is evoked by President Trump and his tweets and we should take immediate actions, for the better of the US.
The candidates agree that there should and will be action on gun control. Cory Booker said, "We are never going to solve this crisis if we have to wait for it to personally affect us or our neighborhood, our community before we demand action." He continued, "I will fight this and bring a fight to the NRA and the corporate gun lobby like they have never seen before."
Final Statement
Many topics were talked about such as foreign policy, immigrants, terrorism, President Obama's legacy, and so much more.  The American people got to view the plans and conceptions of the candidates. They got to view who will be their choice for November 2020. 
This is just the third debate and the next one willl be on October 14, in Ohio hosted by The New York Times and CNN.