AFHS Students Featured in Billy Moore Days
By: Bernadette Negron-Taylor
OwlFeed Journalist 
Billy Moore Days started as an opportunity for communities in and surrounding Avondale to enjoy the history there. It gives ideas of the beloved hometown traditions. 
Many people come to enjoy the activities the community has in the festival. Billy Moore Days have been around since 1954.
The Billy Moore Days are celebrated in honor of the founder of Avondale. "Avondale's founding father, William 'Billy' G. Moore, arrived in Arizona in the late 1860s, settling near the Agua Fria River in 1880.  Billy Moore called his settlement 'Coldwater, Arizona' – apparently both for the river and the water that flowed from a local spring," said billymooredays.com.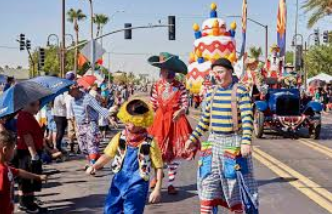 The parade has more to offer than just people walking around on floats. The traditions are bigger and have continued to get bigger and better. "In the past, Billy Moore Days was a major event with a Miss Billy Moore Days scholarship pageant, a parade with between 126 to 140 entries," said Laura Latzko, an AZ Central reporter.
The idea of celebrating is a big hit with even many of our Agua Fria Owls as well. Many of our students attend the parade and carnival.
"Alicia Casanova, a student at Agua Fria High School, will be this year's Junior Grand Marshall. Alicia is a Junior, who has embraced the spirit of giving back to the community," said Avondaleaz.gov. Some of our peers participated in it as well. It is great to have the youth join in on old traditions and even making new ones.
"When I went to the carnival, I didn't think it was going to be the best thing because it had been a while since I went to anything like that, but the rides were thrill-seeking and it was fun to not have to be home and to be able to spend time with friends," said freshman Kyra Coldwell.
Not alone was she able to get out of the house, Kyra met new people and got to know them better.
Getting out is something adults say is something that is not done enough; Billy Moore Days is a great time to get out. It gives you a chance to learn things you did not know about the place you live and meet new people. 
The parade advertises clubs for children and adults for things like dancing, sports, group homes, and many others. The Billy Moore Days gives many great opportunities.