New Tame Impala Singles Are a Bit of a Mixed Bag
By: Arthur DeSouza Alfaro
OwlFeed Journalist
With Tame Impala's new album The Slow Rush on the horizon, we've gotten a taste of what's to come and it's a bit of a new, acquired taste for fans of their more psychedelic rock sound.
The three singles released so far are "Patience", "Borderline" and "It Might Be Time." The common theme between these tracks is the obvious disco inspiration. They're layered with reverb, Kevin Parker's signature sugary production and probably the least guitars used collectively, foreshadowed by the last Impala album Currents.
The first single that released out of the three was "Patience" all the way back on March 22nd of this year. Kevin Parker (the man behind Tame Impala itself) talks about where he's been in the last almost 5 years since his previous record, asking questions like "Has it really been that long?"
The track begins with this pretty chord progression played on keys and strings that is present throughout the whole song. Then the drums enter, making their entrance drenched in psychedelic flanger and reverb. But of course, the drums are produced with the utmost perfectionism that only a few can achieve. They are mixed so tastefully. The snares and toms sound fat, the kick is boomy and the high-hats are incredibly crisp. Once the vocals enter, that's where the track starts to cave in on itself.
Parker lays down a lot of things on this track thematically to a fault. That pretty chord progression starts to get drowned out by a myriad of synths, reverb, guitar lines, and flanger. In the bridge of the track, its melodic structure begins to fragment, then gets cobbled back together in the chorus along with a load of synths, effects, and of course that ubiquitous reverb. It almost feels as if it's just layering just to layer, most of the time adding unnecessary amounts of synths and effects.
Yet the track is still very pretty to listen to if you feel like being absolutely smothered in it. For every listen I give it (and trust me I've listened to it many times for this), I somehow find something new I didn't catch the last listen, sometimes for the better, sometimes at a fault. It's as if you're digging through a thrift store record bin, you can sometimes find a few goodies, but of course, there are bound to be duds.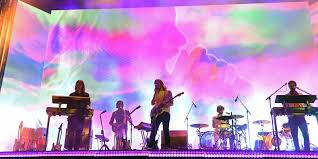 Next is "Borderline." This is where Parker is his most "Supertramp-Esque" and most overwhelming. This is also where the psychedelic element is practically thrown out the window. The guitars are replaced with keyboards and pianos, you can actually hear the bass clearly, and the disco-y dance influence is incredibly clear.
Thematically, the track talks about a relationship on its last legs, questioning the very nature of it. Throughout all these singles and what I'll assume the album's deep cuts, there's been this theme of time and how it's slipping away. You become older and get left behind, being forgotten over time.
The drums are present immediately, of course, produced beautifully. After a couple of seconds of Parker echoing "Ahh," a drum track and a timpani, in comes everything else. The vocals are clear but are still doused some delay and reverb. The keyboard line that plays is present throughout the whole track and I couldn't help but immediately recognize the similarities between it and the key lines in a lot of Supertramp songs. Tracks like "Breakfast in America" are a clear inspiration for a lot of the sounds not only on this track but a lot of Parker's recent work, even on Currents. He once mentioned that Supertramp's Breakfast in America album was his favorite of all time.
Throughout the track, he starts adding more and more as he did on "Patience" except this time, it happens exponentially. It goes from being a tapered, well-balanced track to growing into this over-saturated cluster of samples, effects, and synths. Flutes, vocal samples and keyboard lines are just some of the few extremely unnecessary additions that are just tacked onto the track mid-way.
It's a shame that all these annoying little additions overwhelm the listener when the melodic structure of the track itself is extremely catchy and really well written and executed.
Parker has a real talent for producing modern disco and pop tracks, something that more Top 40 artists should take note of. But it's his perfectionism that holds him back from making something truly balanced and not overwhelming which could have easily been one of the strongest tracks of the year. Sadly, this one is probably the weakest of the bunch overall.
Now as for the newest single, "It Might Be Time", it's probably the best of the bunch. At the first listen, I actually thought it was the weakest, but I've grown to really appreciate what Parker has embraced sonically. It is miles apart from what he has done in the past and that's why many have turned away from this track. But I think it's actually the key feature of this track that makes it the best of the three.
It begins with a couple of keyboard lines and a bassline, then hits you with the vocals. Immediately, you can tell the time between this track and the other two has really had Parker perfect the balance of sounds on his tracks.
But, like "Patience", Parker has so much to say in one song, the melodic structure takes a blow. He lays down so much thematically, the melody gets a bit fragmented in the pre-chorus and almost comes back in the chorus. I can say the same for his vocal cadence, but that's just a small gripe.
Everything else on the track is actually fantastic. The groove on this song is impeccable. The drums are distorted and loosely tight if you will, making the track very flowy and raw, it almost sounds carelessly played in the best way possible. It's a sound I would have never expected on a Tame Impala track which I, at first, did not like at all, but as I listened and really stepped back, I grew to be very intrigued by, even if it's simple.
The Wurlitzer piano riff that plays throughout the track is an example of Parker's Supertramp influence again. The chord progression and note choice he uses shows how he uses his influence to create a progression that sounds like Tame Impala taking inspiration from Supertramp, not Tame Impala taking a Supertramp riff and repurposing it.
Thematically, Parker deals with his fear of being left behind in the music world, afraid of no longer "being cool." Time passing by is a HUGE theme on not only these singles, but what I can assume will be the entire album. Having not released an album for almost 5 years, Parker can already feel the effects of his aging. "I'm only tired of all these voices always sayin' nothing lasts forever," Parker says even after only releasing 3 albums in his career.
The scenario he depicts would be dreadful to any musician or artist: getting old and washed up, making music that isn't cool to anyone anymore, being left behind. You've had your 15 minutes of fame, now you're just like the rest of those washed-up old artists. It's time to face the music and accept that nothing truly lasts forever.
The theme of the track, the production and instrumental balance is done beautifully. This may be one of the better cuts off the new album.
So what does this say for the upcoming release? Fans of Impala's more guitar-heavy rock tunes will definitely not be getting an Innerspeaker or Lonerism successor. Kevin Parker is finally going full throttle, embracing his inner desire to create pop music.
We've been given a taste of what's to come with Currents and now these three new singles. It's no longer about heavy, fuzzed-out guitar riffs. All we can do now is dance.