Fortnite Deletes Itself
By: Jared Diaz
OwlFeed Journalist
On Sunday, October 13, at 2 p.m. EST, you must have felt a great online disturbance when 250 million gamers cried out in terror as Fortnite got sucked into a black hole.
For context, Fortnite is the name of a video game franchise featuring third-person shooting and online multiplayer. Development company Epic Games devised three different game modes: one is Fortnite: Save The World, the most traditional game with a zombie apocalypse narrative, another is Fortnite: Creator, which allows players to design.
Fortnite: Battle Royale mode became the most popular model out of the three. This is how the game mode works: one hundred players skydive onto the map, where they fortify themselves, arm themselves and fight to the death until one of them is left. This is available as a free-to-play experience, with microtransactions for cosmetic customizations.
So what happened on October 13? Epic announced that Fortnite's Season 10 would end on Sunday, October 13, 2019, at 2 p.m. E.S.T for most games, that would usually mean mundane server downtime; the game would go offline with little fanfare, while the developers worked on launching the new content.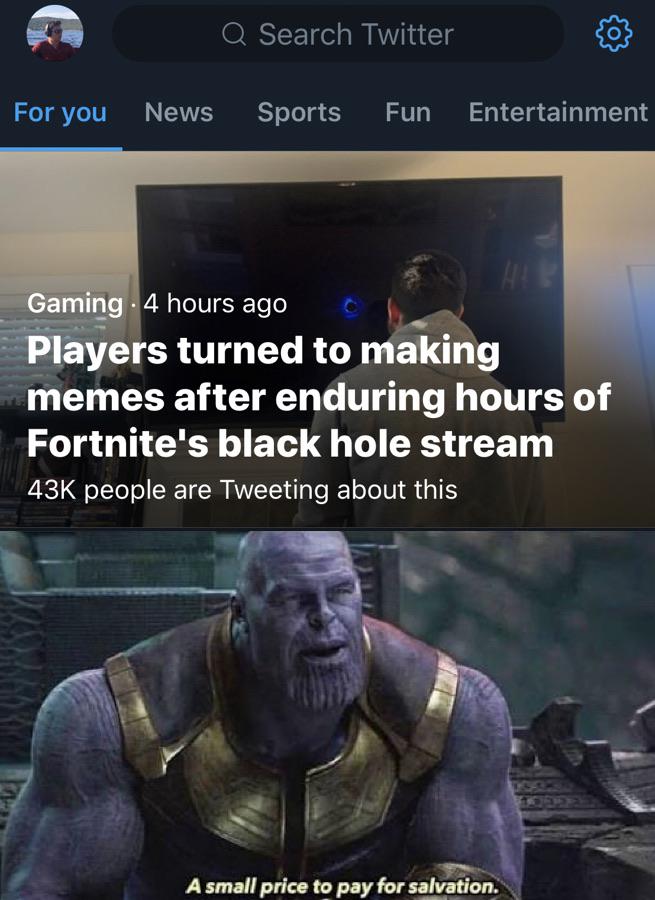 Most players knew this was going to be big. Season 10's central mystery circled around The Visitor, a time traveler responsible for multiple time rift zones throughout the map. They would trigger different stipulations to the gameplay or even revert some locations back to their appearance from prior seasons.
Throughout Season 10, the Visitor had been constructing a massive rocket at Dusty Depot. So many players figured it would launch at some point. The bigger mystery eventually led to the black hole seen at the end of Season 10. When the rocket launched.
Once the rocket launched and exploded, there were multiple rifts formed across the sky, and multiple missiles came out of them. They all converged onto a point, which then became a black hole. Players were launched into the air and were forced to watch as everything got sucked in before they too were sucked in as well. Everything went black. And then, we were left with a tiny black hole in the middle of it.
Because so many people were logging on at the same time to watch the event, there were many players who did not get to see the rocket launched firsthand. If you were a player queuing in the lobby, you were treated to see your own version of "The End" which saw
the menu interface getting sucked into the black hole.
When asked what does this mean for Fortnite Season 10, all Epic Games said was, "This is the end." However, when asked what Fortnite Chapter 2 will bring, Epic Games said, "Chapter 2 will be more focused on gameplay and less on EXP grinding."
With Chapter 2 already here, let's discuss the changes made to the game. For starters, the addition of bots makes playing Chapter 2 a bit more challenging as you have a much higher chance of enemies being able to kill you as you have to take these new enemies into count.
The most hilarious feature is being able to toss your teammates or enemies into the air once they are downed. They added a bunch of weapons and vehicles like a missile-equipped speedboat which really adds more fun and intensity to the match.
We don't know how long Fortnite Chapter 2 will last but hopefully, Epic Games can continue to improve with gameplay variety.