OPINION: 'Joker' is no Laughing Matter
By: Rian Cameron
OwlFeed Opinion Editor
The 2019 rendition of the famous DC villain, Joker, will force you to become unsettlingly intimate with Arthur Fleck's slow descent out of agony and into insanity under the pressures of an oppressive and poisonous social hierarchy and an apathetic government. 
This movie makes admirable attempts to recognize the deep and complex aspects of society, upbringing, and politics that devastate people like Arthur. However, political halfwits are trying to construe the violence and sympathetic nature of the movie as some sort of defense for White men who commit atrocious crimes and, specifically, mass murder. 
Critics wail about the main character Arthur's heart-wrenching backstory, claiming that it is a means of justification for mass murder.
Joker focuses in on Arthur's mental illness and how it affects his interactions with others. It quickly drags him into solitude and deep depression. Arthur exhibits all the traits of a misunderstood and neglected yet caring individual. He routinely expresses a fondness for kids because, unlike the adults in his world, they treat him with a kind innocence. Arthur is even employed at a hospital to cheer up children as a clown, a job comparable to the work of Patch Adams.
So, yes. There is a degree of disconcerting backstory there. How could there not be?
"You can't expect someone who was brought up in a bad environment and not have a chance to be normal to act like everybody else," said Agua Fria student Darian Hodges.
Mental illness is a consistent accomplice to criminal offense, most often when accompanied by pathetic levels of ignorance, which is another dreadfully common theme throughout the movie. Any widespread sympathy gained for Arthur Fleck before he takes the name of his alter-ego is simply the result of an audience of sympathetic individuals, also often known as non-psychopathic human beings.
"There are people who have things that stop people from including them and instead they build a false reality for themselves… so an imaginary friend to a kid is what the Joker's fake world is to himself," said Darren Tudor, another student at Agua Fria.
Another complaint of liberal Hollywood is that Arthur is the emblem of the typical mass murderer. A troubled White male who is feeling powerless. What they fail to see is that this is not a mistake, it is an opportunity, a talking point, a push in the right direction. It allows recognition of the real problem through the creation of a real character. Although I will contest that Arthur's race has absolutely nothing to do with his actions, he is the polar opposite of being either privileged or racist in Joker.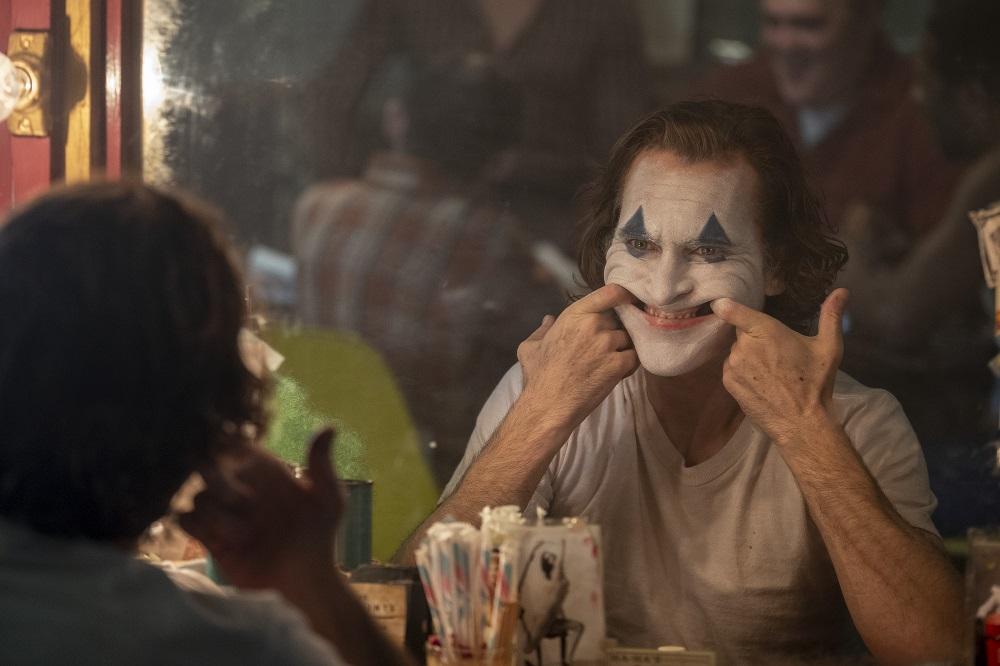 The tone of the entire movie is one colossal build-up of tension to an inevitable conclusion. Every little detail from the music to the scene by scene backdrop was intentional towards developing the genesis of villainy in Gotham through Arthur's pain. "I think really what a director is is a purveyor of tone… everything in the movie is meant to be unsettling," said Todd Philips, director of Joker, in an interview with Vanity Fair. 
Joker does not manufacture the atmosphere of triumph that typically underscores a superhero movie. Even when the iconic, bloody smile is finally spread across the sad man's sad face, the film echoes sorrow, horror and disdain at what has been created from the appalling cross of "a mentally ill loner with a society that abandons him and treats him like trash" (Joker 2019).
Agua Fria student Sydnee Messerschmidt does not believe the movie is responsible for or will incite violence. "Anything can create violence if people choose to do so,"  Sydnee said. "You could say a Loki movie could create violence, but in the end, it's the story of a villain. Villains aren't supposed to be good."
Everything the extremist left-leaning media tries to make out of this movie is an attempt to shift blame and will ultimately result in a continuation of the terrible epidemic of ignorance we already find ourselves in. Joker being in any way detrimental to society is just as scientifically unsound and pitiful of a claim as the accusations against violent video games for being responsible for mass shootings. 
We are always searching for answers in the wrong places. Finally, a movie hints at the solution and we rip it apart and agonizingly scrutinize it under the light of false pretenses.  
Let Joker be what it is: an incredible movie with a powerful message. It stands defiantly against the odds of a society that suppresses free speech in a manner that parallels the struggles of Arthur Fleck himself. Condemn the movie and it's point only speaks clearer.