Meet Mr. Ridenour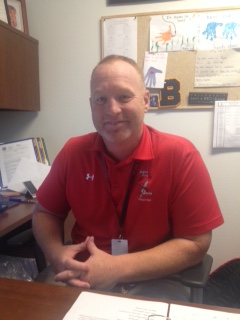 By Tess Morrow
Follow me on Twitter.com @TessMorrow
Meet Mr. Ryan Ridenour! He is the athletic director and one of the assistant principals here at Agua Fria. This is his second year working on this great campus. His day to day responsibilities at this school are things such as scheduling teacher hiring, staff development, and processing finances in all sports and clubs.
Mr. Ridenour graduated from Bend High School in Oregon, and then received his bachelor's and master's from Western Oregon State College. He also worked at Boulder Creek in 2004, coached and taught at Western Oregon as a health/P.E. teacher. He then came to work at the Agua Fria campus in 2014 after working at Desert Edge High School.
Things he enjoys outside of Agua Fria are watching and playing baseball, and watching as well as supporting his four kids as they play their own sports.
His favorite part about Agua Fria is "the passion of the students and the diverse population."
"Being part of a big family and maximizing the potential inside of you" is what Mr. Ridenour thinks it means to truly be an Owl. His overall goal for our school is to "get Agua Fria noticed as the great school that it already is."
This is his second year working on campus, and he loves working and being involved in this amazing school just as much as we do!