The Last Of Us: Part II Trailer Preview
By: Juan Espinoza
OwlFeed Lifestyle Journalist
Trailer link:  The Last of Us Part II – Release Date Reveal Trailer | PS4 …
Critically-acclaimed, 2013's Game of the Year,The Last Of Us is coming out with its sequel, Part II. However, the brief preview trailer released has left many of us dying to know more information on the game.
But on the other hand, the reactions to the trailer and what people think about the game is what really matters, and when it comes down to the Last Of Us Part II being able to surpass its predecessor.
Let's see what it has to offer.
The game is going to be produced by Naughty Dog and is set to release around the holidays in 2020, around the same time as the PS5. The game will also have 4K graphics to really bring the characters to life within the game.
Before I start writing about The Last Of Us Part II lets do a recap of the first game. The original game follows the main protagonists Joel and Ellie as they make their way through an apocalyptic world filled with Infected in search of The Fireflies [a rebel mercenary group ] in hopes of finding a cure.
Their heartbreaking story unfolds with twists and turns on every chapter that'll leave you on the edge of your seat the entire gameplay. It's no wonder The Last Of Us won Game of the Year.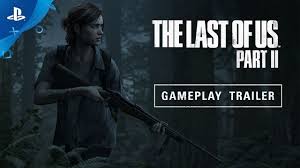 In the trailer for the sequel, we get to see Ellie as a 19 yea old (unlike the previous game where she was 13). Along with this we see settlement change drastically in comparison with the original game.
"I think that Ellie's growth was the right way to go," said Javier Barraza, a junior and gamer at Agua Fria. He also said, "I feel like she would do a lot more damage in comparison from when she was 13."
A gamer cannot just simply watch the trailer for the second game in the franchise without playing The Last Of Us and just feel as hyped as the person who didn't know the games intertwine with each other's stories, which get gamers really excited for the game.
Diego Martinez, a fellow junior at Agua Fria said, "I got so EXCITED I THREW MY PHONE!"
And who wouldn't be after waiting for a sequel for a long time? I know the game is going to be my favorite when it comes out, that's for sure.