You Really Autumn Know These Tips for When High School Gets Rough
By: Fabian Palomera
OwlFeed Journalist 
High school is a journey for everyone. Filled with its highs and its lows, some may know how to deal with it while others may not. 
The important part of a high school career is learning what strategies are best for you, so here are some tips to help you out.Whether you're an underclassmen or upperclassmen, everyone faces so many struggles within the year. 
Nadia Kostic, a junior here at Agua Fria, is involved in so many things and has a lot to say about how she handles it all.
"I am the social media coordinator for HOSA, I'm in NHS, Link Crew and I'm on the swim team," Kostic said. "I also take AP Lang, APUSH, AP Computer Science, and AP Environmental Science."
It is clear to see that Nadia has quite the work cut out for her. So with that being said, the real question is, how does she manage it all?
For one, find a way to put out your stress. "I participate in swim, and as I swim it allows me to release all of my stress," she said. Everyone knows that sometimes pressure builds up rapidly, but it is important to find ways to channel that pressure into something good.
Nadia also talks about how crucial organization is. "Being organized is really important, it causes less stress,"  Kostic said. "I would advise other students to make a plan. Talk to your teachers about the workload, plan out what days you're gonna do homework and things like that."
Jonah Pachico is also a junior here at Agua Fria and has quite the workload cut out for him. "I take 5 AP classes… I am the Vice President of NHS, the secretary of the CTSO [Career and Technical Student Organizations], I am apart of The Chess Club, I also play basketball and work here in the cafeteria."
Just hearing Jonah's workload can overwhelm some but for Pachico these are all the things he likes doing. "I do it because I love to do it. If you're gonna do something you have to have a purpose or reason to do it. If you don't do it with a purpose then what's the reason for doing it, right?"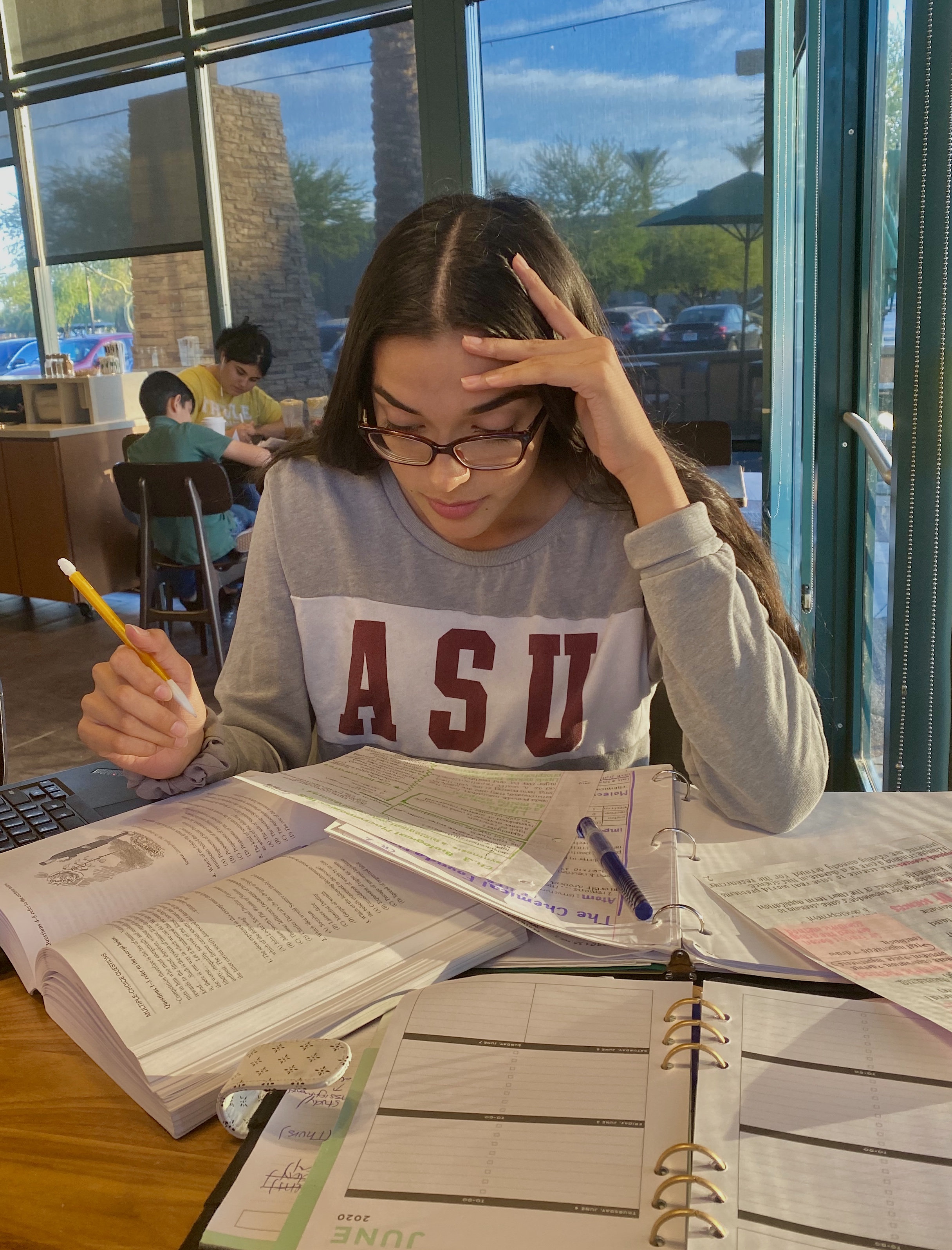 It is all about growing as a person. "I like learning and improving," said Jonah. "I take these harder classes and try to challenge myself." 
Now on the other side of the situation is the teachers here on Agua Fria campus. Although some students might get upset with the work they assign, at the end of the day teachers only have the best interest for their students. 
  Mr. Boothman, who teaches Honors Precalculus, AP Calculus AB and AP Calculus BC, feels very strongly about how students react to challenges within school. 
"You're not learning if you're not struggling," said Boothman "It's normal. You're going to struggle with something, but you can't just give up because it's hard." 
Being able to persevere and continue challenging yourself shows a lot about who you are as a person. 
"Your teachers aren't expecting things from you that you can't do," Boothman said. "I really encourage everyone to keep a growth mindset. If you try at something and put in the effort, it is possible to be successful." 
Some days it can be so easy to want to give up, but one of the most important things is looking into the future. Yes, school is difficult but no one wants to look back in the future and think, "I could have done more."  
So for any student that needs to hear it, you can do whatever you set your mind to and do not let failure define you.