The Ace Family is CANCELLED
By: Amira Bouhout
OwlFeed Journalist
This year, YouTubers known as "The ACE Family" with more than 17 million subscribers and counting, have taken the internet by storm and not in a good way.
The YouTube family had more than two major controversies and caused thousands of people to speak about them and state their brutal opinion. Hundreds of videos are on YouTube talking about why we shouldn't support the family and I'm going to talk about them here.
The YouTube family consists of the dad, Austin McBroom, the mom, Catherine Paiz, and their two young daughters.
Earlier this year, Austin posted a video on Snapchat and showed his fiance's little sister, who's roughly around 8 years old, at an adult shop with him and Austin continued on his Snapchat to show the little girl with a lollipop shaped as a male body part.
Austin goes on laughing and recording the little girl. He posted the whole thing on his Snapchat and quickly thousands saw and weren't happy.
After the video went semi-viral, and a lot of hate was sent to Austin and Catherine for first Austin filming and taking the little girl there and secondly, for Catherine letting him, many people wanted an explanation but never received one from them.
So that whole situation was the first one that caused people to stop following and supporting them.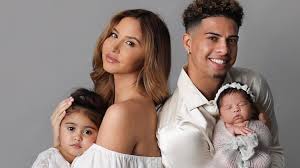 "They also portrayed working in a minimum wage job as something that was 'so cool,'" said Barbara Flores, a junior at University High.
That brings me to the next controversy: Austin and Catherine filming themselves working at a fast food place and "making it a joke."
For a YouTube video, Austin and Catherine go work at a fast food place and they seem to be very amused by it and glorifying it in a way. Catherine posted a few short clips on her Snapchat while they were working and she says, "You understand how cool that is?"
Austin was making food and she was serving people, they had been doing it for about an hour and the Snapchats began to pop up.
A lot of hate was sent towards them and a lot of drama channels on YouTube talked about the Snapchats and video they uploaded to YouTube, saying that they thought it was very wrong of them since "normal" people really do have to work nine-to-five jobs and not enjoying it like Austin and Catherine did.
The most recent and serious allegation was not long after their restaurant controversy.
A beauty and lifestyle YouTuber known as Cole Carrigan accused Austin of cheating on Catherine and also raping girls at a party.
Cole Carrigan uploaded a YouTube video that was about 15 minutes long and it got more than nine million views. In the video he includes screenshots of messages he has with one of the girls that he allegedly raped.
In the messages Cole receives a text from the girl saying Austin had all the girls that went to the party sign a non-disclosure agreement or an "NDA," which is a contract that essentially says you can't speak about what happens at the party to anyone and you can't sue Austin or any of his friends.
The rest of the video is Cole just talking about what his friends told him went on at the party and why he doesn't support Austin or Catherine.
When the video released it went viral and people went crazy on social media. Not long after the video was uploaded, Austin went to his Twitter to try and clear the air by saying those were all false allegations and legal action will be taken towards Cole Carrigan.
Earlier the year there were also allegations that Austin is rude to fans off camera and when the cameras are on, acts totally different.
"They just seem fake as if they pretend they're perfect for money," said Brian Gonzalez, a junior at Agua Fria.
Many other people that I talked to about the family had almost the same thing to say.
"They're such an overrated YouTube channel." "They're not real." "They're generic."
So, after all these major controversies we'll just have to wait and see what comes from The Ace Family in 2020.