American Horror Story Seasons Ranked
By: Elijah Carson
OwlFeed News Section Editor
Since October of 2011, American Horror Story, the horror anthology series created by Ryan Murphy and Brad Falchuk, has been keeping us awake and making us wonder what the noise underneath the bed is. Throughout its long span of eight years, nine seasons and 100 episodes, the question today is, what were the best and worst seasons of American Horror Story?
9. American Horror Story: Roanoke
Arguably one of the series biggest letdowns to air, the series' sixth season had premiered on September 14th, 2016, and ended on November 16th, 2016. The month's countdown to the premiere, the creators had posted teasers to the series with creepy imagery, such as showing clues alluding to aliens to urban legend The Mist, all being branded for the season's symbol 6?, having many fans excited for this new "mysterious season."
However, the final product didn't meet its fanbase's high expectations, having the story talk about a horror t.v. show called My Roanoke Nightmare, which featured The Harris' descent into madness as they lived on the original Roanoke colony grounds, where the second part of the season focuses on the horrible events that come after it.
When looking at the audience's reviews, Rotten Tomatoes writer, Erin W, wrote, "The AHS format is a shadow of its former glory, with this season focusing on the tired found footage format. Not only has it been done to death, it's been done way better. Plot twists that lead to nowhere, Sarah Paulson screaming aimlessly, everything about this season was a miss."
8. American Horror Story: Hotel
Also known as American Horror Story Lady Gaga, season five focuses on Detective John Lowe as his case on the Ten Commandment Killer leads him to the infamous Hotel Cortez, where he meets the dangerous guest inside. The premise of the season had promise, but falters and falls apart as the season goes on.
Some good things to mention of this season as it has some great cast members returning such as Sarah Paulson, Evan Peters, Kathy Bates and Denis O' Hare, just to name a few, and new actors such as Lady Gaga and Matt Bomer. Although some negatives came from the cast as well, such as the absence of Jessica Lange who left the series as a whole, and while some actors tried to give a good performance, some actors seem tired and exhausted, noticeably Sarah Paulson who reveals that she was actually who was performing both at Hotel and another show, American Crime Story: The People v. O.J. Simpson.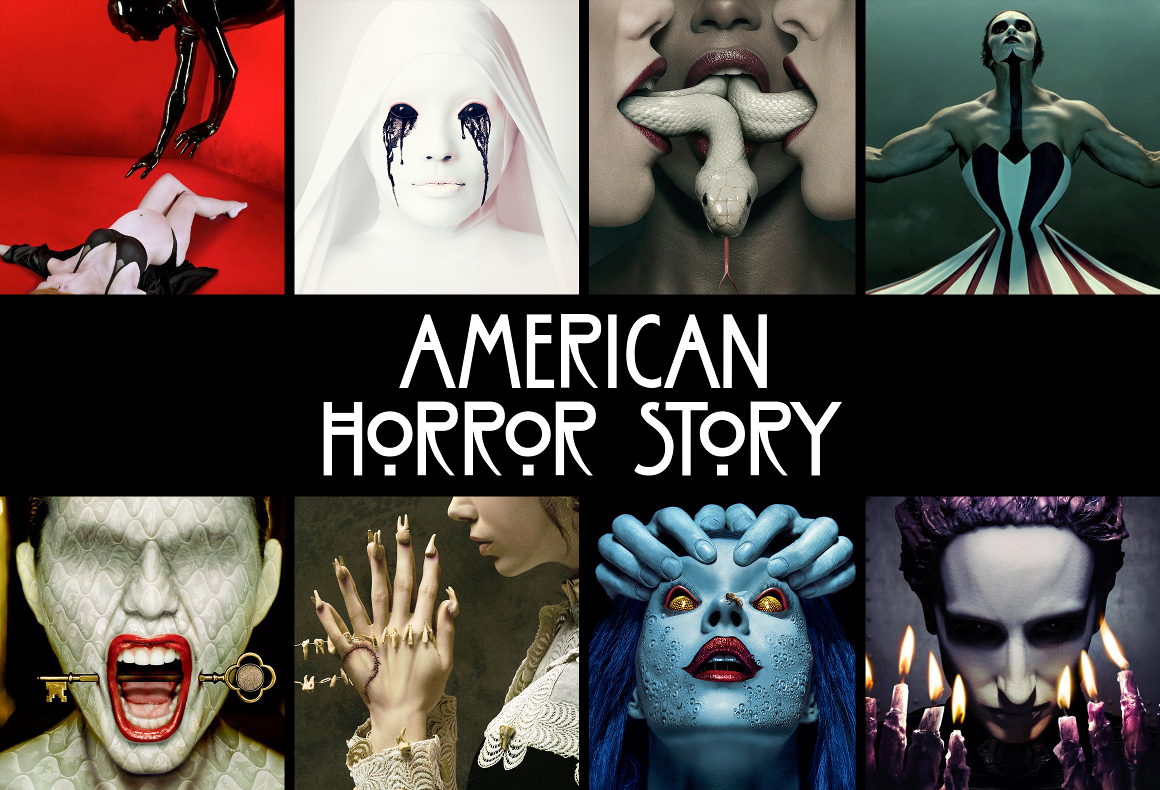 Looking towards the fan's perspective, Vanity writer, Richard Lawson, labeled that Hotel "isn't garbage. It's trash" right as the season premiered, soon, AV Club writer Emily L. Stephens, writes, "American Horror Story: Hotel ends as it began—as a stylish mess…Even in its finale, American Horror Story: Hotel can't decide what it's about." Overall throughout its all-star cast, interesting premise and beautiful atmosphere, Hotel's overall presentation with below-average storytelling, and over-reliance with gore and nudity, dimmed the audience enjoyment for it.
7. American Horror Story: Coven
The season of magic, in season three, AHS developed into topics of racism and the culture of New Orleans, where it brought back previous castmates from the first season, such as Taissa Farmiga, and new castmates of the fabulous Kathy Bates, the beautiful Emma Roberts and the amazing Angela Bassett.
The season is about Zoe (Farmiga), a new with a strange power, being sent to Miss Robichaux's Academy for Exceptional Young Ladies, where a war between the Supreme, Fiona and the leader of the VooDoo witches, Marie LeVeau is beginning.
The season has its powerful moments such as Queenie's bond with Madame LaLaurie with her past of racism, the introduction to Misty Day and all scenes of Angela Bassett, but the season falls back with its disappointing finale as the season builds up Madison Montgomery (Roberts) and Zoe to become the Supreme, but it went nowhere as the Supreme was someone else. There were many plot continuities as AVClub writer, Phil Dyess-Nugent labeled the series after watching Coven, "American Horror Story has never been more of a mess" Rotten Tomatoes write Rosemarie R. wrote, "Third season was a bit ordinary and boring to me. Yes, it still has that complex characters alongside with their relation to each other…Personally it felt a bit too modern for me visually. Not really bad, but so-so."
6. American Horror Story: Apocalypse
The eighth season of the series, Apocalypse was hyped up since days before the premiere of the seventh season, where one member of the Murder House Season would enter the world of Coven. All the fans were excited to see old and new dynamics, along with interesting relationships between the new characters.
This season was filled with references and old characters where we got to see what was new about them as castmates who weren't seen for multiple seasons such as the return of Jessica Lange, reprising her role as Constance Langdon. However, there are still problems with the season.
Episode 4 begins the flashbacks to show the backstories of Michael Langdon and his history with the Coven, while the flashbacks do not end until episode 10, the final episode. Although that doesn't hold a candle with the complaint of what fans have with the season finale, where all the events that happened were wiped away with time travel, where nothing mattered anymore, as all the characterization, meaningful plots, and big bad villain was all turned to mush. As Vox writer Alex-Abad-Santos stated it, "…season finales are usually filled to the brim — for better or worse — with all the ideas that co-creators Ryan Murphy and Brad Falchuk could smash into an hour or so."
5. American Horror Story: Freak Show
Here in season four, Freak Show was presented itself as a strong beginning as touching topics of discrimination among the sideshow and greed over morals with the embodiment of greed that is Mr. Stanley. Its beautiful visuals and strong characters were unfortunately squashed during the second part of the season like Hotel the season soon lost its footing and quickly fell apart.
The premise is murderers Siamese twins Bette & Dot Tattler are whisked away to Fraudline Elsa Mars' Freakshow to perform as their lastest exhibit as the danger of discrimination, greed and creepy obsessions soon follow. The cast actually worked their wonders for this season as every performance feels perfect for their roles, to even go more into detail, they used people who had performed in sideshows and others with deformities.
As mentioned before, the season does a story-telling problem as Rotten Tomatoes writer wrote, "Too many unlikeable characters. The weirdness of the plot was ok, but again the story goes off on too many tangents instead of building the foundation. Many of the side stories were unappealing."
However, The Guardian writer, Luke Holland, praises Freak Show labeling it 'the strongest season so far' stating that it was a breath of fresh air.
4. American Horror Story: 1984
Although we are only half-way through, we can tell that 1984 is going to be one fun ride. The shortest season of this list, season nine has it only has six episodes out, throughout a total of nine, 1984 is inspired by the year of horror movies, as the season revolves around Camp Redwood, a place haunted by its horrible past is where it's camp counselors and the people who manage it aren't who they seem.
Some problems early out are the cast as some of American Horror Story cast regulars, Sarah Paulson and Evan Peters decided not to participate this season, and their absence is felt. However, the cast still manages to function without them as every castmate is able to present themselves as a regular horror movie would: suspicious. The season does making every character seem shifty and not as trusting as the eye would seem.
The story-telling is also doing well providing interesting twists, turns and visually beautiful gore. Looking at the fans, Rotten Tomatoes writer, Iaverne S. wrote, "They did it again. I thought this season was going to be boring, and not that good. WRONG!!!! The writers for this show are Amazing!!!! It's a must-see," However, some fans disagree, some labeling it as boring, stating, "Script is a retread and vacuous. Not a single new idea: * Purgatory — already done in Murder House, Coven and Apocalypse * Not knowing you're dead — already done in Murder House * Dead can't leave — already done in Murder House and Hotel. Such a disappointment."
3. American Horror Story: Cult
Although it may be hated, season seven of AHS was different as instead of showing it's usual gore-shock and horrific imagery that it can produce, it can scare the pants off of viewers by showing how psychologically scarring it can be. Cult shows the premise of a woman after the election of 2016, where she is being targeted by a group of clowns who seemingly know all her phobias.
The season works interesting as it's nice to see AHS become political as this became a breath of fresh air for many and an introduction of many new cast members such as Billie Lorde and Leslie Grossman to soon become regulars. Cult produced interesting many twist and turns and occasional learning lessons about actual cult leaders.
It was a nice story bust had some flaws as Vulture writer Jen Chaney wrote it, "Like many rounds of the FX anthology series, it was shocking, ludicrous, and undeniably compelling at first, then started to lose a ton of its threads before it was even halfway finished sewing its narrative."
Federico B praises the season by writing, "Cult returns to the greatness of the first seasons. With a compelling storyline, albeit realistic only thanks to the fact that every character is mentally fragile and unstable…" While Hanz S calls out the season saying, "Abject garbage. Incoherent and laughably implausible narrative peppered with 'orange man bad' cliche."
2. American Horror Story: Murder House
The first-ever season of AHS, this season had a complete advantage over all the other seasons, the audience not knowing what to expect. The season featured a broken Harmon family all moving to Los Angeles hoping to have a new life, but little do they know they moved into the infamous Murder House.
The first season of any television show is important, because its job is to show the viewers what to expect, and while other season delves into a darkly comedic tone, its season is pure horror at best. Murder house also had the pleasure of having great characterization as the characters were people to root for or someone the audience will love to hate as even the ghosts and side characters who lived there was interesting. The twists were amazing as Murder House has the honour of having the biggest surprise in all the series so far in episode 10.
Many fans were captivated with the season giving it a huge following, as Nicholas S. writes in Rotten Tomatoes, "AHS distinguishes itself as one of the best shows on TV in its first season, and it's also quite amazing the extreme lengths it's able to go to and still captivate your attention."
Also as Jaede A. writes, "Unbelievable and this show is creepy on its own way." And I couldn't agree more, but there is one season throughout the series that managed to surpass the others.
1. American Horror Story: Asylum
The second season is undeniably the best as it managed to gather many different topic points together and manage to wrap them all together in a nice dark, rotten bow. The season follows a group of different people all convicted into Briarcliff as dark forces ascend onto the asylum.
The season has some of the series' best protagonists consisting of Lana Winters and Kit walkers and the most profounding villains such as Nazi Dr. Arthur Arden, sinister nun Sister Jude, and the evilest of them all possessed Sister Mary Eunice. The season many interesting points such as the topics such as discrimination, religion and the darkness we all hide inside of us.
This season was discussed to be the worst in earlier years, but just like cheese and wine, it has gotten better with age as Asylum is described as the best season so far. As the Chicago Tribune writer Curt Wagner writes, "Murphy and Falchuk not only bring back their star and all the gut-wrenching depravity of the first season but continue to play with favorite themes of power, fear, conformity and exclusion." Rotten Tomatoes writer Jaede A. suggests, "Disturbing. That's how I describe this in one word. This season by far was the best. It has the Iconic scenes that make AHS remarkable and make the viewers fell out of their chairs."
As an American Horror Story superfan, I have seen many stories and potline throughout the years, and I have to say this is the best season ever!