Pro Bowl Running Back and Quarterback Favorites
By: Carlos Johnson
OwlFeed Editor-In-Chief
As the NFL is approaching the end of its 100th regular season, not only do players have to worry about the playoffs, but they also need to put in as much work as they can if they want to get into the Pro Bowl.
The NFL Pro Bowl is a football game in which both of the NFL's conferences, the NFC (National Football Conference) and the AFC (American Football Conference) play a football game. Both team's 53-man rosters are determined by votes based on fans.
Many players are more than deserving to earn a spot on the Pro Bowl rosters. That being said, there are only so many spots. The following players should have a spot on their respective rosters based on their statistics and opinions.
The NFL's 2020 Pro Bowl will take place on January 26th, in Orlando, Florida. 
In the AFC, there is no doubt in my mind that Lamar Jackson, quarterback for the Ravens, will take the starting spot. With 2,427 yards in the air, and 32 touchdowns to five interceptions, you are set up for success.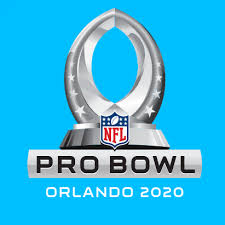 His backup would be Patrick Mahomes II, quarterback for the Kansas City Chiefs. Though his stats may seem better, he has also missed a couple of games due to a dislocated kneecap. With Lamar Jackson having played more snaps, he has shown how elite he can be.
Deshaun Watson is another candidate, according to Javier Gonzalez, theatre teacher at Agua Fria. He also pitches his reason on why Lamar Jackson should not be QB1.
"[Watson] is quick, smart, and has a strong arm. Every team is looking for that kind of versatile player right now," Mr. Gonzalez said. "Lamar Jackson is good and all, but he is a fairly young player, and a bit cocky."
The debate for starting quarterback for the NFC is up for debate. There are many quarterbacks who deserve the spot. One notable person is the Cardinals' very own Kyler Murray.
"Kyler Murray is the best rookie quarterback the NFL has seen in years," said Carter Warren, senior at Agua Fria. "He's had fewer interceptions than other veterans such as Matt Ryan and Dak Prescott. He is literally it. He can play against the AFC by himself."
Personally, I would not be surprised if Russell Wilson, from the Seattle Seahawks, took the QB1 spot. Arguably the league's frontrunning MVP, Russel Wilson has only thrown 3 interceptions while starting all his games. He has also thrown 27 touchdowns.
When it comes to running back, the NFC is stacked. The two most notable running backs in the NFC are Dalvin Cook and Christian McCaffrey. McCaffrey is single-handedly carrying the Carolina Panthers, with 1,811 yards from scrimmage, and 18 touchdowns over 12 games.
"Christian McCaffery is a beast," said Mr. Gonzalez. "He is going to be in the Pro Bowl. It's not even a question."
Dalvin Cook, a member of the Minnesota Vikings, is also having a monstrous year. He has 1,472 yards from scrimmage, with 11 touchdowns. Though nobody has talked about him through my interviews, he is the second-best running back based on statistics.
One mentioned running back is Josh Jacobs. As a member of the Oakland Raiders, he has 1,207 yards from scrimmage and 7 touchdowns.
"Josh Jacobs is super good," Mr. Gonzalez. "He has a terrible offensive line, but he is still able to get good yards, even as a rookie."
This year's Pro Bowl is going to be great; there is no doubt. I have the NFC winning this game, 24-13.