OPINION: The Top Seven AP Classes
By: Rian Cameron
OwlFeed Opinion Editor
As a senior applying to college, it is all too easy to look back on my high school career with regret. I wish there had been someone to tell me about Advanced Placement classes, what to expect when taking them and even when the right time to take them would be. 
And since, despite my many regrets, I have yet to lament a single AP class I have taken, I feel compelled to share with you my few satisfactory course decisions that came about in spite of being ill-informed upon entering.
Government and Politics
AP Gov, the final stretch of AP Social Studies classes, is just about on par with AP Psychology's level of engagement (we'll get into that later). In my first semester alone, we have executed six simulations of real-life Supreme Court cases complete with justices, attorneys and defendants; acted and presented as political parties with our own individual candidates; and played a decent amount of jeopardy review games. Not to mention, the success rate on AP tests in this class is astounding. 
World History
AP World History is an incredible way to prepare for any AP classes you may want to take in the future. It is where I got my first textbook and taste of dedication in high school. Prior to taking World History, I was irresponsible, academically depraved and criminally unmotivated. The class taught me to redeem myself of all my undesirable and immature student qualities and assisted me in my transition from Sophomore to Junior year (which is arguably the most stressful year of high school, that is, if you are doing it right). 
If you are interested in interactions between various cultures and the development of religion and social hierarchies, this is the class for you. If you have absolutely no interest in anything that has to do with history (I certainly didn't), take it anyways! So long as you are self-motivated, high achieving or simply have a desire to better yourself and be either of these things, you are likely to succeed in AP World History. 
US History
One thing I've learned about the consecutive AP Social Studies classes is that they refuse to tell you how they rank in difficulty. While this remains subjective, it still appears outstandingly clear to me that US History is among the easiest. You go into the class with a basic understanding of American history and from there on out you learn in-depth details.
It is especially easy-going if you took AP World. Don't worry if you didn't or don't plan on it, US history will cover anything and everything you need to know to ace the class so long as you read the textbook and do the work outside of class. If you plan to take AP classes, you should be prepared to do this kind of work regardless.
Statistics
I have never been a math person. I have not been terrible at it necessarily, just good enough to pass the class, but AP Statistics offers something different from your typical math coursework. AP Stats is the only math class I have been able to engage in all throughout high school because what you learn in class is reiterated in a textbook (one that is by far the easiest read out of any of my listed classes), it deals with real-life situations and it includes a decent amount of analytical ability that forces a stronger understanding of the work.
Stats is a kind of math that actually applies to everyday situations. It is used in court cases, research to better our daily living, scientific experiments and more. Not to mention, it's content compliments AP Psych coursework. 
Literature and Composition
If you are interested in Shakespearean works, literature that made history or famous poetry, then this is the class for you. And don't assume that you don't! I went into the class with very little understanding of Shakespeare's fame. Give it a chance, read one of his famous plays and do it with translation because you will certainly be no stranger to that in AP Lit. 
The class does not make misunderstanding an option. Every reading you engage in is aided by modern-day translations and promptly followed by detailed class discussions. It allows you to fully appreciate literature that would be like reading another language if you were to attempt it outside of class. And, with time, you may have become so accustomed to old, odd English that no books, plays or poetry are out of your cognitive reach!
Psychology 
Do you ever wonder how Nanny 911 fixes unfixable children? Do you often find yourself pondering the complexities of the human mind? Would you like to see rats do things that essentially deem them real-life Air Buds? Take AP Psychology! AP Psych is one of the most interactive classes I have ever taken. Because everything you learn applies to your own natural human tendencies, you often are able to experience them in class and be more aware of them outside of it.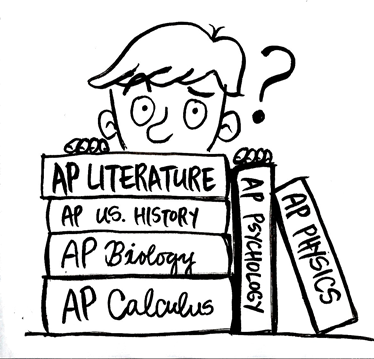 Most of these listed classes can only be taken in a select grade, but AP Psych is available to ALL high school students. Personally, I believe that Junior year is the ideal time to take AP Psych because foreign language classes take up a chunk of elective space Freshman and Sophomore year (take foreign language classes as an underclassman!) and if you take it Senior year, you lose the opportunity to put your AP score on your college applications. Also, when you take Stats as a Senior, you'll be prepared with some standard information on a few integral subjects. 
Language and Composition
 This is my personal favorite, although, ultimately, I am biased. I am a sucker for English and if you are too, I HIGHLY recommend this class. And if you hate English classes for some of the same reasons I did, you might want to take this class too. AP Language and Composition allows creativity in ways that regular or even honors English classes rarely do. APEPE, for instance, becomes relatively obsolete. 
AP Language and Composition, like AP Lit, provokes nothing but passion and interest. The articles I read in this class are some that still affect my worldview today. It covers everything from politics to inspirational speeches to the things you might have never thought of otherwise. The class itself even begins by teaching you why reading and writing matter. 
I definitely came out of it a better writer.
*Honorable Mentions:
AP Biology

AP Calculus

AP Computer Science
I have never taken these three APs because I am not a math or science person. But if you are, I have heard great things about them and about their teachers so don't shy away from them!
AP classes are beyond getting college credit and a higher position in class rankings, they are genuinely interesting and generally successful at silencing that voice in your head that asks "why am I learning this?" and "what is the point?" They give meaning to the work. And aside from that, the teachers love to teach it, they get so wrapped up in their lessons that it feels more like a proclamation of passion than a droning lecture. And what's more, the students love to be taught just as much. Graduated Senior, Ari Valdez, thinks that what really sets AP classes apart from the rest is the unique learning environment.
"It's just how casual they are and they stick to what they're supposed to teach but they make it interesting by… shifting to their students and how they all learn as a whole," said Ari. "They accommodate to the students and make it easier and more fun for everyone."
Advanced Placement classes are an opportunity to envelop yourself in the kind of learning that you care about it. The Princeton Review notes that success in these classes depends on your attitude and the best way to set yourself up for it is by taking classes that are enjoyable for you.
 "Choosing a subject you're interested in, or have had previous success in, will help you with the workload," according to The Princeton Review.
Don't just take my word for it, talk to the teachers and to your counselor. Apply yourself, take an AP class so that you are thanking, rather than kicking, yourself at graduation.