Owls' 2019 Resolutions For the New Year
By: Amira Bouhout
OwlFeed Journalist
New Year's resolutions are things many people start thinking about towards the end of the year and something people are motivated to fulfill the following year. 
So, I thought it would be interesting to ask students at Agua Fria what their resolutions are for 2020.
"I want to eat healthier and exercise more," said junior Nadia Kostic.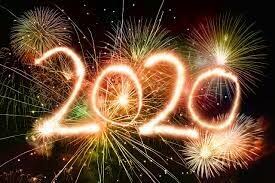 Nadia continued, "Being a procrastinator is a bad habit I'm letting go of this year, and I don't have the same resolutions for this upcoming year that I had going into 2019."
"I'm going to start taking care of my health more," said junior Joshua Silva..
Joshua continued, "I want to use my time wisely. Instead of watching movies and shows, I'll be learning a new skill." 
I noticed that a lot of people had a similar resolution: be healthier and take better care of themselves. 
"My New Year's resolution is to learn more about music theory and improve on the guitar. Most of this year I was kind of lazy with it," said Yahel Ponce, a junior new to Agua Fria. 
He also added, "A bad habit I'm letting go of is sleeping late because I hate struggling to wake up." 
"My new year resolutions are to go to the gym, get fit, and get good grades in school," said junior Daniel Espino.
"For this upcoming year, I wanted to take away some bad habits like eating way too much," said junior Juan Garcia. "I want to cut back on eating sugar and probably bulk up, go to the gym more, be more active, and actually have good grades in school." 
"Get a boyfriend, get above a 3.0 GPA, and not talk back to my teachers," said freshman Madison Bolton.
"This new year, I want to find new social groups, raise my GPA, get ready for college, buy a car, and make more money," said Izhar Montijo, a senior graduating this year.
"I want to improve my volleyball skills, and eat better," said Sofia Bouhout, a freshman.
"I'm trying to get fit, have a healthy lifestyle, and get more money in 2020," said Nyaduel Choul, a junior. 
"Probably get a job and car and I want to let go of procrastination, I need to be more alive," said junior, Cindy Valerio.
"My New Year resolutions are probably to come to school more, and improve my work ethic," said Josie Bundy, also a junior.
I asked many others what their resolutions were and I found a similar pattern throughout many of the people. Most wanted to get better grades, and improve their health and fitness habits. 
It was very interesting to hear what positive changes people wanted to make.