The Cancellation of the Victoria's Secret Fashion Show
By: Jessalyn Guizar
OwlFeed Journalist
The annual Victoria Secret Fashion Show won't be happening this year, due to not having as much attention as it used to get. The company wants to cancel and evolve its appearance to create more sales and attention. 
This fashion show has been airing on TV every year towards the month of December but there has been some controversy behind it. Recently, CFO Stuart Burgdoerfer talked during the company's third-quarter earnings call. The brand said the decision was part of a move to "evolve the marketing of Victoria's Secret."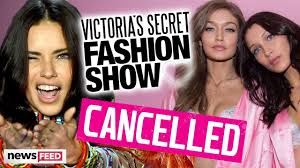 "Given the decline in performance at Victoria's Secret, we have substantially pulled back on capital investment in that business while we focus on ensuring that our merchandise resonates with customers," L Brands said. 
Due to not making many sales, Victoria's Secret has taken a break. The annual fashion show has been a hit with big starts having appearances and being a popular company. 
"In 2019 and beyond, we're focusing on developing exciting and dynamic content and a new kind of event – delivered to our customers on platforms that she's glued to … and in ways that will push the boundaries of fashion in the global digital age."
This cancellation wasn't last minute. It's been a planned discussion but wasn't announced until the month of November to really give in this decision, as the fashion show aired in 2001 on ABC, it has created history for being one of the top fashion shows but now in 2019 is not quite doing well on sales and decreasing its value as a brand. People that watch the show have said that the show doesn't show an image of how bodies are supposed to look and that it doesn't give you a look at society's body types. 
Victoria's Secret has been getting comments on their models and their bodies for the longest and is now being compared to Rihanna's Savage Fenty line, but is taking it for concern on how they should "evolve the brand.' 
They also have a trans model and their very first plus-size model for their brand pink.  "And with that said, we're figuring out how to advance the positioning of the brand and best communicate that to customers and that's among the things that [Victoria's Secret chief executive officer] John [Mehas] is focused on." The company will take all requests and will try to make the next fashion show be as great as it was when they first started out.