TEOTFW Review: Unnecessary Yet Intriguing
By: Rian Cameron
OwlFeed Opinion Editor
*PROCEED WITH CAUTION, SPOILERS AHEAD*
The End of the F***ing World boldly strutted its way into Netflix with content that touches on lives dreamt up by what must be a troubled individual. The striking storyline follows two teens thrown in the bouts of disastrous family dynamics who, as a result, adopted some unorthodox behavioral and psychological traits. James, for instance, is a self-proclaimed psychopath. Meanwhile, Alyssa is anti-social by choice. 
A basic synopsis of the first season is that James is looking for a new way to validate his psychopathy. He claims that he wants to kill someone. Alyssa approaches him and he deems her the perfect target. Throughout the season, James is inadvertently falling in love with Alyssa as he makes various, halfhearted attempts at killing her. He only just begins to realize that he may be capable of empathy when he is forced to kill a man that attacks Alyssa.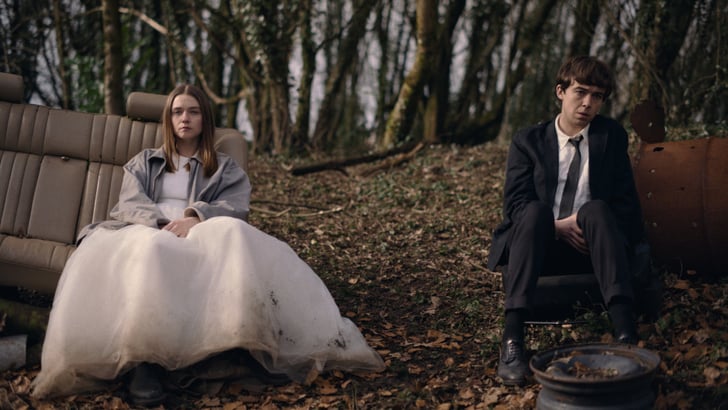 Season one is bold, unprecedented and unconventional. The Hollywood Reporter praises it for being "an excellent, out-of-nowhere series that broke a ton of rules about what usually works in television and succeeded because it was skilled and audacious at breaking them."
The series seemed to close promptly with the satisfying and slightly depressing conclusion of Season One in which James is shot running away from the police, his voice transcending the chaos, stating "I've just turned 18, and I think I understand what people mean to each other," essentially solving the crisis he had been tormented with throughout the show. 
However, they are back at it with Season Two to reveal that James survived the shooting and was even cleared of his murder charges. 
James, himself, recognized the absurdity of his survival, narrating, "It was a fitting end. A doomed love story. A perfect tragedy. And then I didn't die." The makers knew that no one thought that a second season was a good idea from the start, and the self-awareness in this dialogue only encourages the idea that it was simply a money-grab. 
It seemed decently impossible to surpass the excellence of Season One with its tremendous suspense and intriguing storyline. For the audience, it was difficult to perceive a happy ending for the pair. And now that James has been cleared of his psychopathic and murderous inclinations, most of the suspense has departed. 
Some people didn't even bother watching the show. "I don't think that The End of the F***ing World needed a second season because… they left it off on a cliffhanger that left the viewers coming up with their own endings," senior Lauren Mitchell said. 
The main conflict is no longer him contending with himself whether he is in love with Alyssa or wants to kill her. Now it is in getting her back and running from a new threat of death drawn from previous demons.
Season two kicks off years later with a new character with her own set of inner conflict, Bonnie. She was psychologically and verbally abused by her overbearing mother and found solace in a psychology professor only for him to be murdered by a familiar pair. Unaware of Dr. Clive Coch's serial killer past, Bonnie takes off on a revenge mission.
Unfortunately, James and Alyssa, by this point, have grown apart, James thinking it is for Alyssa's welfare and Alyssa thinking he does not care for her. They matured greatly in their separate lives and so have their family bonds. The two are brought and kept together by Bonnie's disdain for them while she attempts to kill them both in one fell swoop. 
James goes on to learn that Alyssa isn't nearly the person she had been when they were young and reckless together. He finds that the only familiar part of her is her anger, still affected by what they went through with Dr. Clive Coch. 
James puts elaborate effort towards getting Alyssa to take him back after essentially shewing her away, realizing that she is all he has left and he is still helplessly in love with her. Meanwhile, Bonnie schemes to avenge her first loves "tragic" death. 
Overall, the season lost half its kick. Perhaps it was because the author of the comic the show was based on cut his work off in a much more fitting fashion, with James' death. It's almost as if the writers knew Alyssa and James had grown too mundane to maintain the ominous tone of the show. 
This dilemma forced them to include a new character, Bonnie, to keep the show interesting. The love story is ruefully overdone and, of course, ends how you would expect any good love story to end. And just before the ending, they try out a worn-out fake ending to instill in you a false sense of fear, only to redeem it five seconds later. 
The End of the F***ing World season one ended on a note of uncertainty and contemplation. It was satisfying and sorrowful, all encompassing and all ending. Season two never stood a chance and likely should have never existed. However, it was still interesting to see how the characters matured and how the show retained its unique atmosphere, even if in a slightly more normal setting. 
The fact that Alyssa and James being chased by the ex-girlfriend of the man they were forced to kill to save Alyssa's life in the last season can be considered "more normal" to me only goes to show that there was no matching season one's grandeur. The stakes were set too high and one season would have been enough.