Halsey Album Review: Is it Really "Manic"?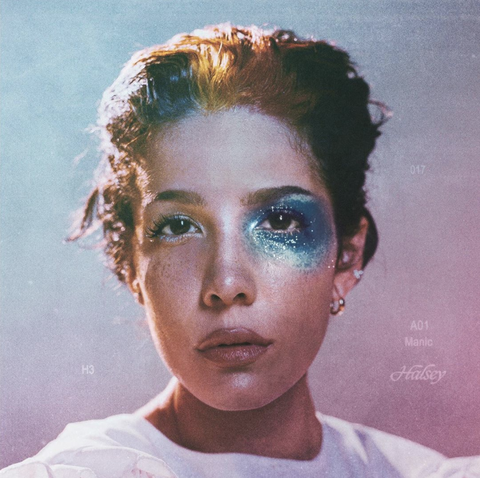 Two and a half years since her last album, Hopeless Fountain Kingdom, Ashley Frangipane, also known by her stage name, Halsey, has released her third studio album, Manic. 
Rumors of a new album have been in progress since October 2018, where she released her first single, "Without Me." The song was directed toward her ex-boyfriend, G-Eazy, after he "cheated on [her] in front of the entire world, like, a billion times." The song was to deal with very personal problems, as it was a very public relationship. 
Then May of 2019, Halsey released another single label, "Nightmare." In her music video, she subliminally confirmed that a new album was coming out. "Nightmare" was presented as one of the singles of the album, where Manic was going to be an angry and rebellious album. However, the single was scrapped into a stand-alone single, and Manic changed into something Halsey has never done before, and it was something amazing. 
There Halsey began to release new singles: "clementine", "Graveyard" and "You Should Be Sad," where they were presented with their own music video. Each song presented itself as something different has each video had a different aesthetic and different genre. 
Finally, the album released and included 16 glorious songs in this order: 
"Ashley"

"clementine"

"Graveyard"

"You Should Be Sad"

"Forever… (is a long time)"

"Dominic's Interlude"

"I HATE EVERYBODY"

"3am"

"Without Me"

"Finally // beautiful stranger"

"Alanis' Interlude"

"killing boys"

"SUGA's Interlude"

"More"

"Still Learning"

"929"
When exploring her album, it brings a new sound that has never been seen before for the artist. Each song can be followed back each song, yet can be blurred together to make this beautiful mess. Each song can relate to both the persona Halsey, and her true self at heart, Ashley. 
The album starts with "Ashley," a powerful pop ballad that experiences the idea of what would happen if she would 'disappear.' The song ends with a snippet of Kate Winslet's speech from the movie, Eternal Sunshine of the Spotless Mind, as it states, "I'm just a… girl looking for my own peace of mind. Don't assign me yours."
It then moves onto "clementine," a melodic piece that presents itself with harmonic run-offs and shows a message of, as consequenceofsound.com states, "confronting the internal battle between not needing anyone for support and entrusting too much in those surrounding you."
Even other songs can show massive change and new ideas such as songs like "You Should Be Sad," where it gives a country-pop manifesto, and explores the deep pain of heartbreak, and shows the influences of other artists such as Shania Twain or Alanis Morissette. Or like "More," where it is described as the most personal song, where it discusses Halsey's battle with endometriosis and her three miscarriages. 
However, the album does have some problems. Pitchfork.com describes it, "Written from her own perspective, Halsey's third album flips lonely self-awareness into a kind of strength. But some of its most compelling moments are overpowered by the tedium of modern pop."
All the songs with features which are conveniently named: "Dominic's Interlude", "Alanis' Interlude" and "Suga's Interlude," feel almost out of place, where they don't correlate with the message the album wants to portray. 
Most people complain that the strength that Halsey once had on her last two albums are missing, which doesn't make Manic appealing. Maddux Middleton, a Google Reviewer, wrote, "Yes, the singles are AWESOME! But in the overall album, I kind of felt it was so emotional it wasn't even good anymore." 
However, the emotion is what makes the album great as other Google Reviewer Kareema Mohammed said: "100% relatable.  Such talent and diversity within this album. Halsey is amazing. I'm in love with this. She's 100% real and authentic you feel her emotions through her voice. You can literally feel how human she is, no facade to her fans. It has a song for every mood!! Love it❤❤❤❤."
In the end, Halsey produces a fine body of work that excels her last two albums and is something that you should seek out.