To All The Boys I Love Before…You've Disappointed Me
On February 12, To All The Boys I Love Before, P.S.I Still Love You finally came out on Netflix. It has been exactly 1 year, 5 months, 26 days since the first movie, To All The Boys I Love Before came out. 
I wasn't the only one who loved the first rom-com, almost every girl was buzzing about the movie which is based on a book by Jenny Han. Peter Kavinsky (Noah Centineo) and Lara Jean Covey (Lana Condor) were everyone's favorite couple by the end. 
I was super excited when I heard the second movie was coming out. I held high expectations for this movie and well…here's my review of the movie. 
Before we start let's recap real quick. 
Lara Jean wrote five letters to five boys: Kenny from camp, Peter from seventh grade, Lucas from Homecoming, John Ambrose from Model UN and Josh, her sister's boyfriend. In secret, her little sister, Kitty sends out the letters hoping to get Lara Jean a boyfriend. 
Four of those letters were received and all the boys confronted Lara Jean but popular boy Peter Kavinsky had a different idea in mind. Peter asks Lara Jean to be his fake girlfriend to make his ex jealous. Soon enough they fell in love for real. Then someone posted of Peter and Lara in a passionate moment without them knowing, which made Lara embarrassed and she assumes it was him, but don't worry all was forgiven and they became a couple. 
Now for the second movie. 
The movie begins with Lara Jean and Peter happily in love. Soon she gets a letter from John Ambrose McClaren, the last of the five letters sent. She felt flustered and didn't know what to do. Soon she meets John at a retirement center where she's volunteering. Throughout the movie, Peter and Lara develop problems in their relationship, meanwhile, she and John develop their relationship. 
Lara Jean and Peter's problems get worse and then they break up. After this, Lara Jean goes to a ball at the retirement center with John as friends. Lara Jean soon realizes that she doesn't have any feelings for John and runs to find Peter who is all already waiting for her. In the end, Lara Jean and Peter get back together.  
Lana Condor did an exact job as Lara Jean as she did in the first movie, so did everyone who came back in the second movie. However, Noah Centineo did alright. I mean, I wouldn't call this his best one. There was one scene where it was so bad that you could see the difference in his tone of voice from one scene to another. Centineo is a good actor, he's been in multiple movies I've loved but like I said before this wasn't his best.  
Something I want to address is the change of actors. In the first movie John Ambrose was played by Jordan Burtchett, a white boy. Also when the movie showed young John Ambrose he was white. In the second movie, Jordan Fisher plays John, and he is mixed. 
Netflix never addressed the recasting because most people and fans didn't even realize until the movie came out. Soon people realized many people started to spam Netflix asking what happened.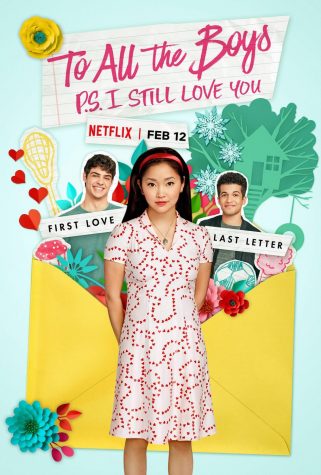 Agua Fria junior Alicia Corona said that she didn't even notice until I mentioned it. She said, "That's kinda weird though it's probably because people were making comments about how there was a predominantly white cast."
Honestly, I didn't like it. The movie trailer showed John Ambrose as the main plot but NO it was Peter being a jerk and Lara Jean not knowing how to be a girlfriend. 
Lara Jean kinda made me mad because she was 1. Leading John on, and 2. She didn't even tell John she was dating Peter, which made him embarrassed when he caught feelings, and 3. She wasn't understanding other characters and assumed a lot. 
If Peter and Lara Jean were just HONEST with each other and TRUSTED each other and TALKED maybe this wouldn't have happened. Also if Lara Jean would have just told John straight up about Peter then he wouldn't have caught feelings. 
I do have to give it to Netflix for the production. It was well done and they did well with adding the Korean family scene where Lara Jean visits her mom's side of the family for Korean New Year to show cultural appreciation, seeing as Lara Jean is American Korean. 
The movie fits its demographics which are young female adults and women. It is a PG-13 movie. 
Would I recommend it though? No. That's because I would recommend the book instead. The book makes so much sense and it explores more into Lara Jean and Peter's relationship than the movie did also you won't be left with a cliffhanger since there are three books in total. 
Maybe try reading the book and then watching the movie and boy you'll know why the book was so worth it. 
And if you want to read the book, just stick with the first movie. 
To end I would give this movie a good 4.89/10. I didn't live up to my expectations as well as many others.