The Heroes Are Rising In My Hero Academias New Movie
After the success of My Hero Academia's first movie, a second movie installment is coming. Our heroes are back in theaters for an action-packed battle beyond anything fans have ever seen! 
My Hero Academia's: Heroes Rising is fighting it's way to theaters February 26th for a one night showing of the exclusive movie.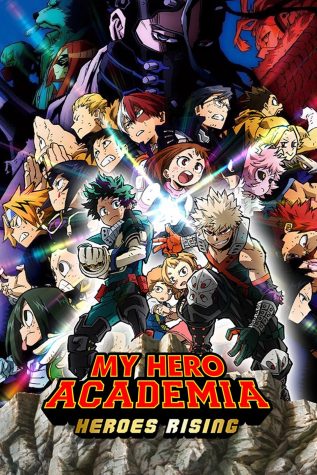 The movie's plot follows Deku and his friends in U.A.'s Class 1-A visiting Nabu Island where they finally get to do some real hero work. But, the island is seemingly so peaceful that it's more like a vacation than work. Altogether the class relishes in their unexpected vacation until it's cut short when they're attacked by a villain named Nine holding an unruly Quirk!
His power is eerily familiar, and it looks like The League Of Villains leader Shigaraki Tomura is the one pulling the strings behind the attack. 
Now with the Symbol Of Peace, with All Might being retired and citizens' lives on the line, there's no time for questions. 
Being the next generation of heroes Deku and his friends are the island's only hope. This villain, however, is one not like any other, Nine is considered to be the greatest villain thus far. 
Fun fact:  the story's plot actually comes from My Hero Academia writer, Horikoshi Kohei. Originally the plot for the movie was actually how Horikoshi wanted to end his series, just from knowing that the movie must have a lot in store for its watchers. 
AnimeTV チェーン
According to the film trailer release, it seems our main characters Deku and Bakugo are sharing the main spotlight with one another but with the new movie, we won't be seeing any characters lacking a good amount of screentime. 
Watchers will be seeing many of the characters that usually don't receive much spotlight in whole new ways. According to Funimation, "There are powers we rarely see in action, team-ups that nobody would expect, and lines from everyone. Everyone." 
Heroes Rising explores every student of U.A's Class 1-A qualities as the new heroes they will become as well as giving us new and unique characters to follow.
The movie will be screening in all Harkins and AMCs in both English subbed and dubbed. 
That's all to know for now! Make sure to go see My Hero Academia: Heroes Rising in theaters February 26 and remember, "Go Beyond! Plus Ultra!"