OPINION: Marching Towards a Better Tomorrow — What Band Kids Are Really Thinking
It is 100 degrees and climbing. The sun has brutalized the greenery and diminished it to a sheer yellow surface, revealing only sod below. Students trundle over it and to their positions. The words "Full run!" are roared out by Mr. McBee, so I follow suit, sprinting to the middle of the football field, my short, mildly green dress rippling out behind me. I meet three girls of similar apparel on top of an eight-foot-tall metal cube. The music begins.
And so is a day in the life of a band kid.
High school stereotypes — they seem exaggerated in the movies with stigma surrounding everything from theater kids to jocks. One stereotype that has persisted into our collective view as high school students is that of band kids. It is causing a widespread devaluation of the students here at Agua Fria who share a passion for music and, as a member of the Color Guard, I have experienced it first-hand.
Dedication
Around Agua Fria, band kids are the bottom of the food chain. Some people are adamant about upholding its natural order. Personally, I believe in everyone's right to scorn and look down on whatever group they may deem inferior if that is their cup of tea. But if you are going to be one of them, at the very least, do so informed. 
Marching Band takes an amount of devotion paralleled by many sports at Agua Fria. They have practice from six to nine on Tuesdays and Thursdays and attend every football game, some staying from the time school ends until nearly 11 at night. Competitions are held on many of the season's Saturdays, ranging anywhere between 5 in the morning to 1 a.m. the next day. There is also a band class in which students spend another hour of their time honing their skills. 
Band members alternate between fine-tuning their music and strengthening their marching abilities through exercises made rigorous through repetition.
Hayden Fiori, a Drum Major at Millennium, noted that it took a while for her band to gain respect from the student body. She said that it wasn't until they were "scoring better" that "people started realizing band kids actually work hard."
I don't believe it should take a first-place ribbon to gain some footing in school society.
Assemblies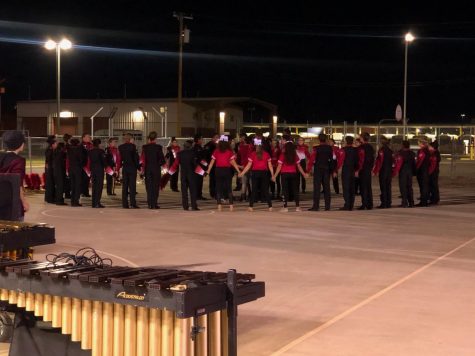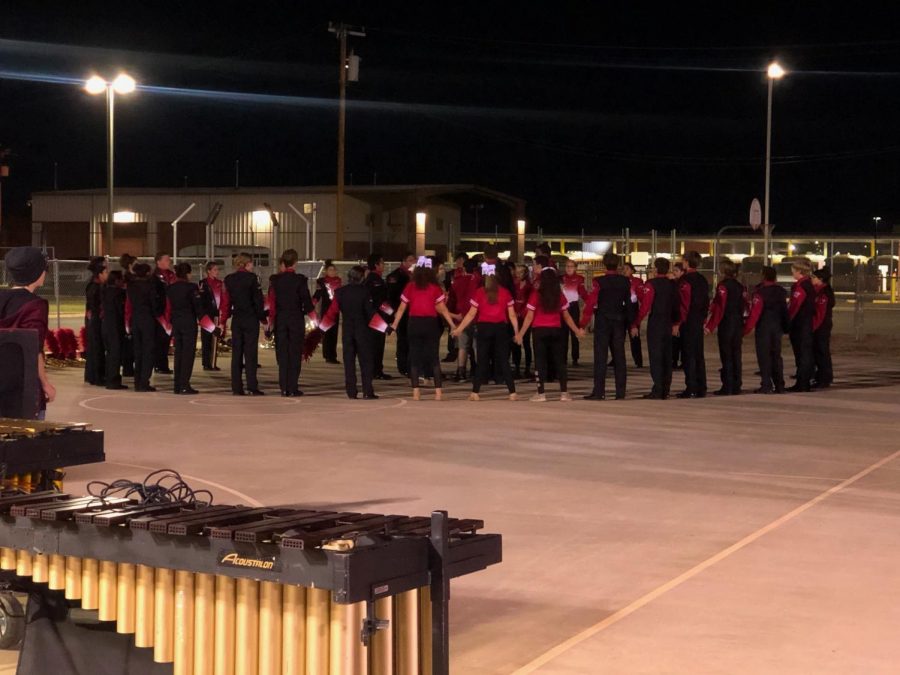 At assemblies, band members are often left to themselves while other sports are promoted and asked to participate in games. Pom, cheer, football, you name it, they are in the center of the action. Meanwhile, AFHS Drum Major Darren Tudor has done little more than observe it all. "The four years I've been in band, there has not been one time where they actually chose from band," he said.
Junior Alicia Casanova, a member of the brass section in AF's band, is also no stranger to this phenomenon. "We should be more included because we are a huge part of the assembly," she said. 
Band plays the fight song and invigorating pep-tunes to keep up school spirit at assemblies, yet it seems they get nothing in return. 
One inexplicably incomprehensible aspect of assemblies withheld from the band is, strange as it may seem, the t-shirt throwing. At the most recent assembly, the Owl mascot did a full loop of the gym and used near-evasive maneuvers to avoid including the band. 
Band needs more promotion but it is sparsely afforded them. It is especially strange considering the accomplishments of the band that went unrecognized this year. "We won first place at our first competition, that's an achievement we haven't accomplished in years and nobody knew,"  Alicia said. This also occurred last year when, at the state competition, drumline placed 7th and Color Guard won 2nd. 
This is another problem that pops up at assemblies. Shale Jameson, a sophomore and mellophone player at Agua Fria, said "We should emphasize our awards. The wrestling captains came up and spoke about wrestling. Why doesn't band get that?" 
Reputation and Relationship
One of the most dispiriting and damning pieces of evidence that the band is put down by students at Agua Fria is how difficult it has become for many members to so much as voice their very membership. "It always feels strange to say you are in band so you obviously hide it a lot," Alicia Casanova said. Alicia has even been told by other students that joining is "not worth it" because "people will think you are a loser." She continued, saying, "I love being in band but I don't like the reputation that comes with it."
When asked about the relationship between the student body and the band, Agua Fria sophomore and baritone player Andrew Ochoa said, "I feel like it is kind of disconnected. We are connected as the band, we are like a family. But the rest of the school seems like a family of its own and then there is band."
Senior Night
Senior Night this year was a travesty for band and the football team alike. It's a tradition that the seniors on the football team walk across the football field, signifying their last time on the field. 
This night was also monumental for band seniors, such as myself, because this would be the last time they were able to perform on their home football field. 
However, when the band had set up and the music began to play, the football players crossed the field prematurely. The clash damaged both demonstrations.
"That was probably the most disrespectful thing I have ever experienced," Alicia said. "We understood that the football players had to do their last walk but we had the clock running, we had to go."
Hayden Fiori also recognized the disturbance from the Away Stands. "It was very frustrating to watch and we felt really bad for you guys. You guys deserve more respect," she said. 
This experience caused a tidal wave of indignation throughout the band. While it was understood that the Last Walk was important to the football seniors, it seemed that, once again, the band's feelings had gone unrecognized. 
Solutions
To solve these social injustices consistent with Agua Fria culture, the band needs more support from those with the most influence. For instance, "Teachers should share when we have competitions the same way they do for sports," Alicia said. This can also be done by modifying assemblies to include band more and let them announce their accomplishments and upcoming events. 
I have always loved Agua Fria for its uplifting faculty and student body. What we lack in money and resources, we make up for in spirit. I know that the environment bred at Agua Fria is beneficial because it builds us into hard-working and caring individuals. But we are losing that Agua Fria identity to this persistent devaluation of one of the most spirited and exemplary groups on campus, our band. We are better than this. You are better than this. Support your band.