2020 Spring Summer Fashion Season Is Upon Us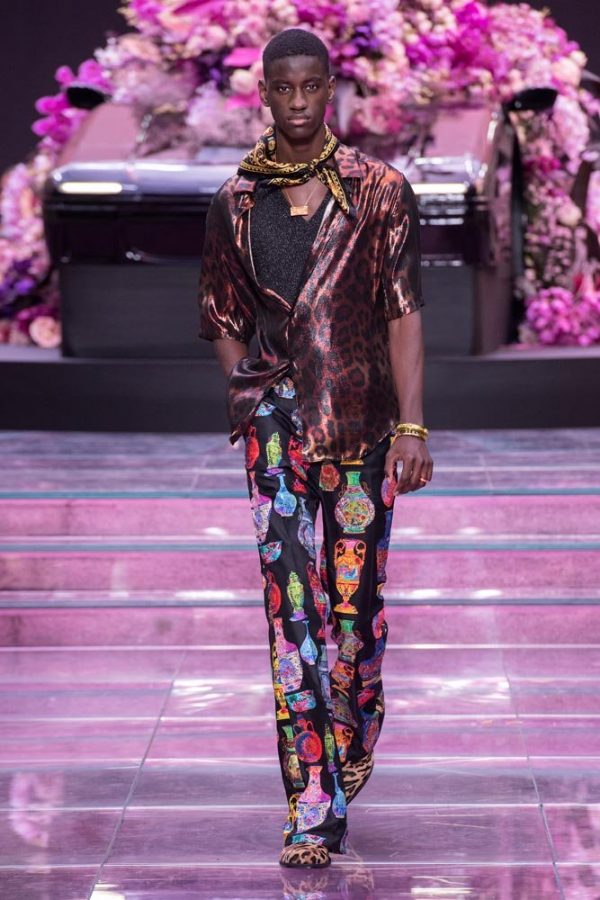 Spring is just around the corner, and as the weather changes so do wardrobes so it's important to stay up to date when it comes to the trends. 
This past fall fashion designer brands like Versace, Moschino, Jacquemus and more all showcased very individualistic looks that foreshadowed what would make up the Spring Summer 2020 season. 
Although models strutted down the runway several months before Spring the time has passed and the designs are about to come to fruition. 
Versace hosted its Men's Spring Summer 2020 fashion show on June 15th of 2019 and boasted many different aesthetics that all take their part in bringing a story to life. 
The designs showcased looks that challenged stereotypical masculinity and did so through a combination of exuberant colors and tailoring styles. 
"For this collection, I wanted to explore the elements that empower a man," Donatella Versace writes on the company's website. "It's definitely the confidence, the freedom and desire to express himself without hesitation."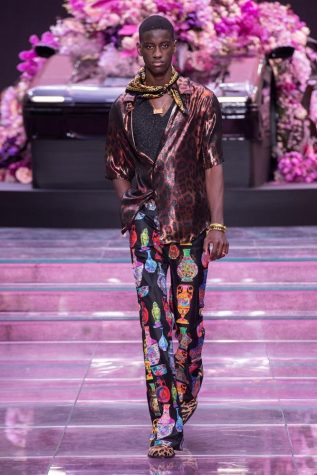 A satin cheetah print top is buttoned up over a lamé ribbed knit vest. Lamé is a fabric with interwoven gold or silver threads. These two are paired with Seven Vessel Print pants. (This print is a collaborative design between Andy Dixon and Versace which depicts saturated and opulent vases). The look is of course tied together with gold accessories, cheetah print shoes and a traditional Versace print scarf around the neck.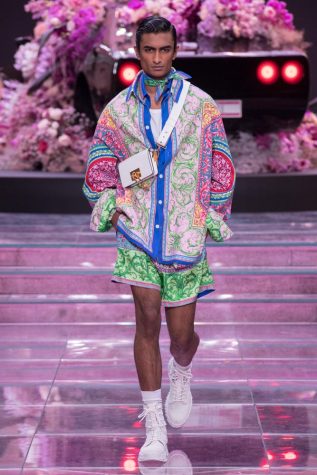 Here we have a two-piece that consists of the traditional Le Pop Classique Print which is tied together with a white crossbody bag as well as a pair of white utility style boots. 
Although the Versace show was very ready to wear friendly, Moschino took a slightly different approach to Spring Summer fashion. 
On September 19th of 2019, Moschino showcased looks inspired by Picasso that still supported the concept of colors galore but in a much more couture view.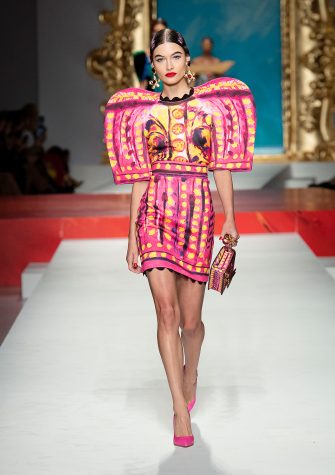 Runway model Grace Elizabeth strutted in a Fuschia dress patterned with yellow and black paint spots. The dress was accompanied with coordinating heels and matching bag as well as organic shaped earrings.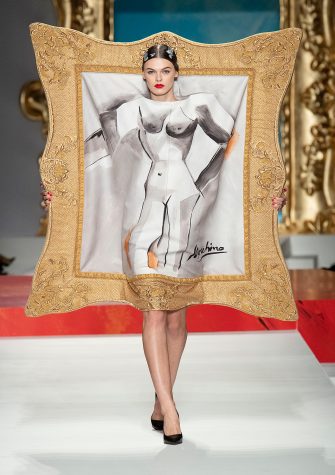 The closer of the show was very much couture based. Walking down in a picture frame dress, the vision of Picasso fashion was finally fulfilled.
Jeremy Scott, the creative director of Moschino, shared a conversation with Elizabeth about the line. "That's what I tried to take from Picasso… it's like the abandonment of reality," said Scott. "Kinda change the angles, push the boundaries and push myself." 
Many can say that Scott was more than successful with his goals, Sol Arevalo, a junior here at Agua Fria who is the President of the Fashion Club, would be one that agrees.
"I think the looks are beautiful. I love how creatives expand their imagination and use their ability to incorporate art into clothes,"  Arevalo said. "It's definitely not something anyone would wear on the streets, but because these are so unorthodox it makes the pieces art. I love it."
One other fashion show that really set the tone for the upcoming season was Jacquemus with their ready to wear line. The line consisted of beautiful pieces that were presented perfectly. 
Although the colors were not as saturated the looks still presented the season quite seamlessly.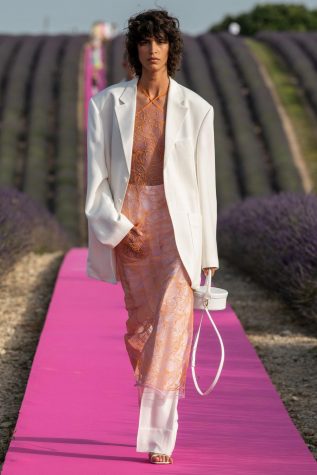 The starting look of the show was an accurate representation of what was to come: soft colors and spring visions. 
Visionaries have put in the work for this upcoming season and have passionately shown what trends they believe should be followed. Now it's just time to put the dark coats away and bring out the freshness that Spring and Summer bring.