School Shutdown Cuts Class of 2020 Deepest
For 13 years, students spend their time in classrooms, passing through each stage. They have their Kindergarten graduation, their 8th grade promotion, and then the biggest one before they are off to college or their careers: high school graduation!
The time leading up to this momentous occasion of a student's life is supposed to be full of senior year memories made from all the fun activities that are planned. There's senior prom, senior barbeque, senior sunset, senior prank, etc. It is a time of being with peers for the last time before they all go to the next chapters, saying goodbye to their youth. 
This one year is looked forward to for years. It's the grand finale!  As a student of the class of 2020, we've worked our butts off for 13 years, and this was it, that grand finale that every class has gotten before us. 
Then right before their eyes, it's stripped away. The coronavirus pandemic has left people stuck in their homes social distancing. With school switched to online at least until April 10th, and likely beyond that, there's no possible way for seniors to get these experiences. 
Whispers online discussed the cancellation or postponement of prom, which is an occasion a lot of students looked forward to. Then on March 25, the Agua Fria High School District officially came out with a statement cancelling all proms across the district.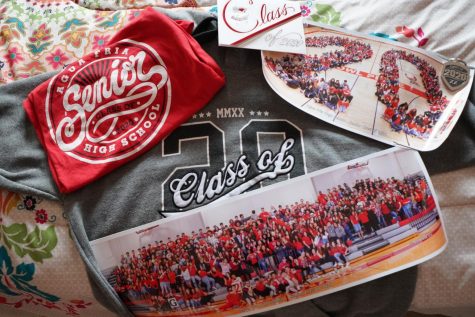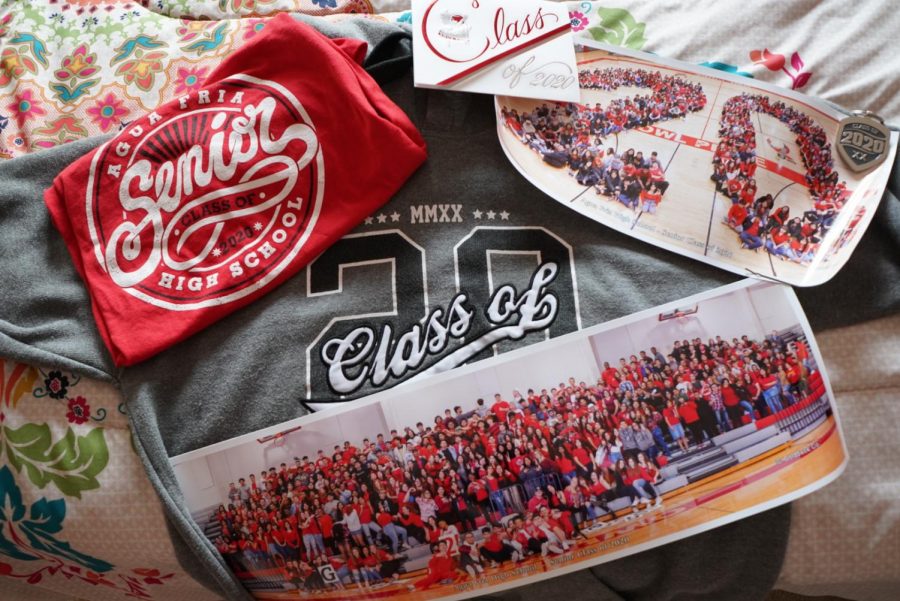 The statement also said, "We are monitoring graduation ceremony plans and will have an update concerning our ability to hold graduations by next week… We, along with many districts, have an update meeting with our vendors at Cardinals stadium Thursday to learn more."
Anger, frustration, sadness and mourning lays over the senior class as they see these cancellations of activities as a cancellation of their senior year. 
"Personally, I am beyond devastated. Everything I have worked for the past twelve years feels like it's been stripped from me," Jordan Fairchild, Senior Class President, said in an email sent out to seniors. "I thought I still had two months left to sit with my friends at lunch, play my sport, complain about calculus, and enjoy the rest of what is technically still my childhood. Now, I fear I've attended my last day of school without even realizing it."
Everyone seems to be on edge, fearing that seniors won't ever get to experience those things they were so used to doing again. "I don't even know if I'll get to see my friends again. I don't know if I'll be able to do track again. I don't even know if we are going to graduate and get that final goodbye," said senior Alanna Patterson.
There likely won't be a resolution to the coronavirus anytime soon, and that means the continuation of social distancing. Seniors' fears increase as the clock ticks on their last few months before high school ends. 
"I hate all the uncertainty of when this could end," Anna Lucas, a senior, said. "Our senior year could end completely different than how we all pictured in August and that's scary."
This pandemic "is taking away our valuable time that we don't have that much more of," Darian Hodges, a senior, said. "High school is almost over for us and the little time we do have is being taken away from us."
Even with the devastating news, some students take the positive side. 
"Well the chance that we might not have a real graduation bums me out and prom too. But there's people that social distancing is saving, and for me, I'd say that's an even trade," Hassan Sanchez, a senior, said. "You can make memories forever and whenever. But letting people die cause you wouldn't stay inside is kind of selfish."
Social distancing is majorly important during this time, and although it may be the reason senior activities have been cancelled, the students continue to emphasize it. 
"Sure I'm upset that this messed up my last few months of senior year and has [cancelled] prom and [maybe] graduation, but I understand the importance of social distancing," senior Amber Chico said. "I am still incredibly saddened and angered that this is all happening but I know I can't control the situation and neither can the school."
The overwhelming emotions by seniors is inexplicable as they mourn what is left of their school years. It wasn't in the plan to have a pandemic come along and ruin what students have been waiting for for years. 
"There's nothing anyone can say right now that can ease the heartache I am experiencing. I was excited to graduate, and now the thought of leaving high school is making me sick because it just doesn't feel right without a proper send-off," Fairchild said in the address. "I'm sure most of you are feeling the exact same way."
The surreality of this whole situation feels like a fever dream. What was so valued by seniors and all their hopes of what is supposed to be the most exciting school year is just gone. Poof! Like that.
Online learning continues and leaves them just wishing to be back in their classrooms. "I'm tired of being at home without my friends, I want my normal senior year back… well what's left of it,"  Patterson said. 
"I'm incredibly anxious and sometimes feel paralyzed," Lucas said. "But hopefully we will get through this and get to all be together by graduation and maybe even go back to school."
It's severely saddening to see how this year is ending, but seniors, this is history in the making and you will make it through. 
As a journalist who is also a senior, this was difficult to write, and I can't think of any other way to write an ending than to end with the inspirational words of Fairchild:
"The stories we go on to tell from this year are unique to our class. No other class has experienced what we are experiencing right now. For that reason, we will come out on the other side with more knowledge and consideration for our lives and luxuries than any other class coming after us. 
"We may be losing what is arguably one of the most important years of our childhood. But in losing that, we are gaining the grit that so many people lack to push through adversity and celebrate the little victories. 
"We're still graduating. Maybe it's not the way we had hoped. But, we're too unique of a class to have experienced it any other way. 
"It is times like this where our true colors are revealed. So, prove to the world that the Class of 2020 is the class that will work harder than the rest. Prove to the world that we can be emotional and still remain strong when it is all said and done. But most importantly, prove to yourself that you can still make something great out of this year. 
"We're all in this together. 
Owl Pride."