The Coronavirus Response at the National, State and Local Level
It's been 3 months into the year and the world has already faced its biggest predicament yet. COVID-19, also known as the Coronavirus, has been terrorizing country by country.
President Trump says he has a plan, yet the numbers of cases and death keeps increasing every day. 
In the past few days, about 460,000 cases have been confirmed worldwide and more than 20,500 have died. Just in the US, there are at least 62,000 confirmed and 866 confirmed deaths.
All 50 states have reported coronavirus cases, including here in Arizona. 
When the first cases of the virus were reported back in December, China tried to hide it, not wanting other countries to find out, hoping they could deal with themselves.
 But sooner than later the once known "secret virus" became the biggest news in the world.
TRUMP & US GOVERNMENT
Trump made his first public comment on the virus back in late January on a television interview with CNBC's Joe Kernen.
When asked if they're any worries about the pandemic, Trump said, "No. Not at all. And we have it totally under control. It's one person coming in from China, and we have it under control. It's going to be just fine."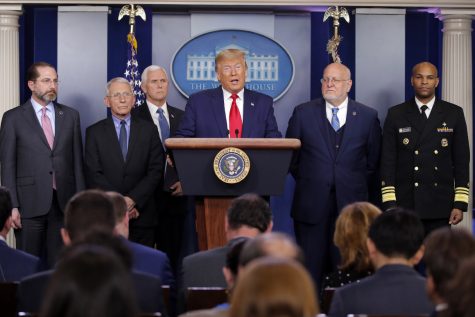 Since the outbreak, Trump has shown no interest until stocks started to fall. He even criticized CNN and MSNBC for "panicking markets."
Stocks were not the only issue the US Government was facing; they were also facing criticism from Americans because "more people began to understand that the United States had fallen behind on testing, and Trump administration officials responded with untruths," according to the NY Times.
Trump declared a national emergency on March 13, 2020.
Trump has affirmed a strict set of guidelines for Americans to follow for the next 15 days to try to "slow the spread" of the coronavirus, asking citizens to limit social activities.
As Trump declared a state of emergency, the Senate introduced a $2 trillion bill known as the coronavirus stimulus package. 
This bill will give adults a $1,200 check if they're making $75,000 or less annually, according to past tax returns. A $500 payment would also be sent to cover every child in qualifying households.
The bill also includes loans to small businesses and loans to major corporations. Many Democrats did not agree with this bill, fearing a lack oversight over the money, and even some Republicans were against it. 
House Speaker Nancy Pelosi originally revealed a $2.5 trillion bill of her own known as the "Take Responsibility for Workers and Families Act," but as of March 26, the all indications are that the House will pass the Senate version of the bill. 
It's been 2 months and the pandemic has just been getting worse with cases tripling every few days, and Trump is still saying that his team has  it under control and Americans shouldn't worry.  
He recently floated his idea to have everything back to normal by Easter. But is it possible? Is what Trump and the government are doing enough? 
STATES
Because of what some see as a lack of federal government help, state officials have taken the charge to deal with the virus themselves in their states.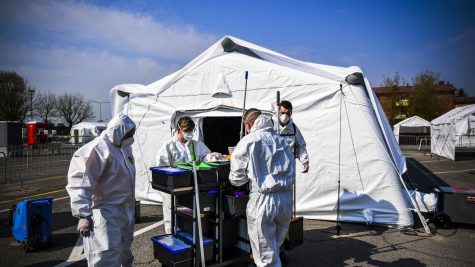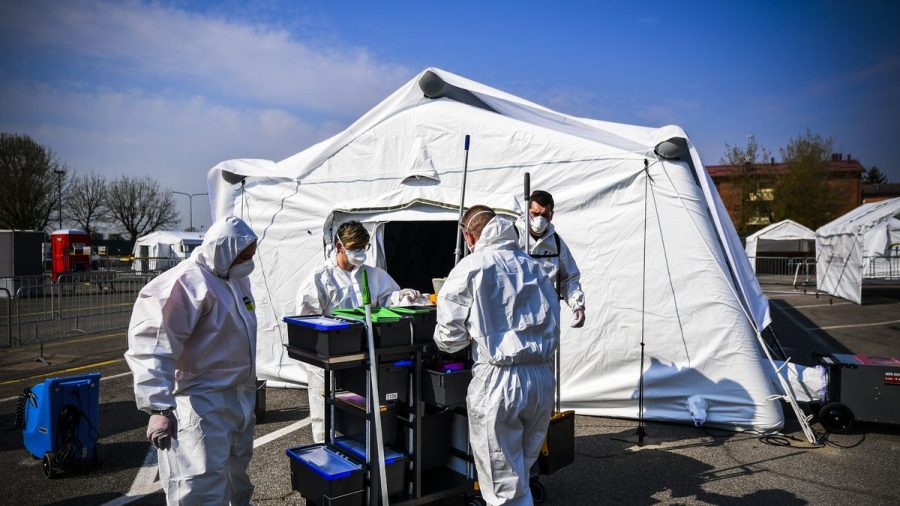 As of right now, New York has been the hardest hit by COVID-19, with over 30,800 cases. 
Gov. Andrew M. Cuomo of New York publicly said that more and more people are becoming sick and he needs more hospital beds to house virus patients.
Cuomo even spoke to Vice President Mike Pence, addressing the lack of coronavirus equipment sooner rather than later. Pence said that 2,000 ventilators were being sent and as promised more than 2,000 came. 
But Cuomo is not the only Governor that has been working on containing the virus. New Jersey's Gov. Phil Murphy issued a stay-at-home order for nearly all of the state's 9 million people in the fight against the spread of the coronavirus.
California and Illinois have also enforced a stay at home order. Not all 50 states are enforcing social distancing. Even some schools are still open in a few states.  
ARIZONA 
Arizona was one of the first states to get the virus earlier this year. 
A student from Arizona State University had the virus when he came back to the states from a trip to Wuhan, China. 
He was rushed into isolation and became the fifth case of COVID-19 in the US. 
In late February the ASU coronavirus patient was released and Maricopa County health officials said, "The individual, a male with ties to Arizona State University, has received multiple negative tests from CDC and meets the criteria to be released from isolation." 
Back in February, Governor Doug Ducey told KTAR News 92.3 FM's Arizona's Morning News, "We want to be prepared; we are prepared."  Ducey then elaborated that the state already has a plan in place. 
As weeks passed the number of cases in Arizona drastically increased. Out of the 15 counties, Maricopa has the most with 199 cases, then Pima with 42, Navajo with 32, Pinal with 22, Coconino with 18, Yavapai with 3, and Yuma and Graham with 2 cases. These numbers are increasing every day.
The Arizona Department of Health Services (ADHS) released the Administrative Order regarding emergency measures for COVID-19. 
The order says, "The Governor of the State of Arizona, in response to the COVID-19 pandemic issued a Declaration of Emergency on March 11, 2020."
The ADHS also asked that if someone in your family has tested positive for COVID-19, keep the entire household at home and contact your medical provider. All restaurants in Arizona counties with confirmed COVID-19 cases are required to provide dine-out options only. All bars, movie theaters, and gyms in counties with confirmed COVID-19 cases are required to close. All elective surgeries in the state of Arizona have been halted. 
Additionally, the order called for state-wide closures of Arizona schools through Friday, April 10, 2020, and recommendations to cancel or postpone mass gatherings of 10 or more people.
After Gov. Ducey announced the closing of public events and schools, the Arizona Interscholastic Association (AIA) postponed this sports spring season, although championships may still be held. The College Board has also rescheduled all AP Tests, ACTs, and SATs.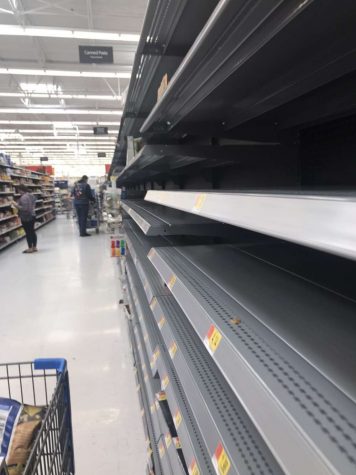 All colleges in Arizona have transferred their semester online, asking the students to pack up their dorms and go home as soon as possible. 
Stores across the state have been rampaged by stressed citizens leaving empty shelves all over. Supermarkets like Walmart, Costco, Sam's Club and many more have limited toilet paper and water to one per person. 
AGUA FRIA 
Now that Gov. Ducey and the ADHS have stated that school will be closed until April 10, the Agua Fria Union School District has transferred into online schooling.
The district first delivered a letter over spring break saying that schools would remain open. A day later the district then said, "The Governing Board voted tonight and approved the closing of all District schools beginning March 16th through March 27th in an effort to prevent the community spread of COVID-19, and to protect the safety of students, staff, and the community." That closure was then extended to April 10.
That started the transition to online school for us at Agua Fria as well, causing many reactions from students and parents 
Agua Fria High School junior Alex Rosson said, "I like the idea of being able to go my own pace, however, I'm not able to get the full benefit of what I would experience in a public school setting."
"I think that many students, such as myself, are adapting to this new schedule of online school, and can finish off the rest of the year if needed," Rosson continued.
As of right now, the district has canceled all school events such as Prom and is currently figuring out the plan for the class of 2020 graduation.
The district is keeping teachers, parents and students updated every week and the staff is working as hard as they can to make this new transition accessible.
It's not easy changing the way we learn it was a big step but it prevents school in the summer and to keep graduation on track. 
Thank you to all the medical workers, first responders, world leaders, and everyone else who have been working 24/7 to make sure everyone is safe and healthy. We also send our love to the people who lost someone during this pandemic.