Amber Chico: A Rarer Treasure Than the Gemstone Itself
Amber Chico embodies everything it means to be an Owl — she is outgoing, sociable, caring, comedic and honest. According to many testimonies, Amber is well-known for her bubbly personality and remarkable impact on our Agua Fria community whether it be social, academic or extracurricular. 
Amber's entrance into Agua Fria was bold. She took to theatre quickly and even landed a lead role in the school's production of Footloose her freshman year. 
"I peaked freshman year," Amber joked while recalling the memory. 
Although she wouldn't return to the stage for another two years, Amber came back strong this year as an ancestor in The Addams Family. "It was totally different. A better different. It was a nice way to end my high school years," Amber said. 
Amber's extracurricular presence was not limited to theatre. She also made waves as an Athletic Trainer for all four years of high school. One of Amber's past teachers, Mr. Collins, noted that he was well aware of how athletic trainers directly affected a school's community. "The trainers really help in the school athletic culture," he said. "You really get to talk to a lot of students of all different walks of life, more so than the average student does." 
Having had Amber in class her sophomore year, Mr. Collins can also attest to her academic influence. "Sophomores don't care as much as other grades do. Despite that, she always put her academic success ahead of everything else," he said.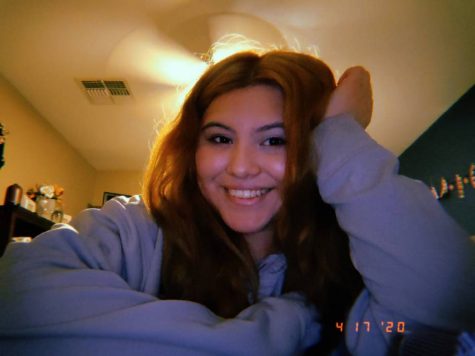 This persistent outlook of Amber's has not only benefited her academic record but has benefited that of others who look up to her. Her boyfriend and Agua Fria senior, Isaiah Pacheco, said that "seeing how hard she works and how she's able to overcome obstacles left and right and be able to keep moving forward" has encouraged him to better himself. 
Amber is a role model in more ways than one. Probably her most admirable achievement at Agua Fria has been the bountiful contributions she imparts just by being herself. To her friends, she is an uplifting and loyal companion, to strangers (of which there are few), she is an open source of compassion. 
A firm belief of Amber's is that everyone deserves and needs friendship in their lives. "I can't imagine not having the supportive friends that I have," she said. "They are the ones who make me want to be that person to other people." 
This especially stems from how Isaiah impacted Amber's life. "Meeting Isaiah helped mold me to be a more loving person. I want to give even just one ounce of the love I feel from him to the people around me because anyone can benefit from it," she said.
Aside from the influence of friendship in her own life, Amber also attributes her beliefs about the importance of inclusion to her hippie mentality. "I want to take back the word love and give it meaning. I want everyone around me to at least feel love once," Amber said. 
The Hippie Movement is also significant to Amber because it aligns with her own morals. "It has something to do with me being a pacifist and wanting to be able to have my own views or opinions and not have the world or government tell me what I should feel," she said. 
And this trait of hers is not lost on others. Mr. Collins said, "She's a free thinker and respectful about it too. She doesn't let other people dictate how she thinks and I think that is pretty powerful."
To be clear, however, Amber does not agree with every aspect of hippie culture. "It can be a little crazy, a little weird sometimes but isn't everything? I don't condone not showering though. Please shower," she said.
Amber acknowledges that it has been a long, rough road that brought her to where she is now. She has dealt with her fair share of bullying and loss. Luckily, Amber retains her bright perspective when looking back on trials. 
"It happened for a reason," Amber said. "I feel much stronger now. At the moment it really drained me but in the end you grow out of it."
According to Amber, Agua Fria has impacted her just as much as she has impacted it. She has seen a great deal of growth in her confidence and her kindness. High school has emboldened her every great quality. In her own words, "I came in a zombie and I came out slightly more alive."
In the end, we could all strive to be a little more like Amber. It is easy to get caught up in the little things and especially in the big ones, but Amber is living proof that growth is always an attainable and far more commendable outcome of difficulty than bitterness. 
So if you are ever struggling to remember the meaning of our school motto, think of Amber Chico — a person filled to the brim with dignity and upright demeanor. Her story and her time at Agua Fria High School fully endorse the words, "Honor first, win or lose."