Dayra Quinonez's Radiation Of Positivity
Finding out who you are within four years can be a crazy trip. Lucky for the beautiful and kindhearted Dayra Quinonez, she didn't have too much trouble with this.
"It was a journey but it didn't take too long to get to my destination," said Quinonez. 
Surrounded by people she loved and her wonderful theatre Troupe 1033, she was able to thrive through these four years.
Dayra Quinonez was able to leave her mark on people's minds with her confidence and optimism. When first meeting Dayra, it's not hard to feel her positivity and welcoming heart.
"I felt like I was able to rely on her despite we didn't know of each other very well," said stage-managing partner Diana Alfaro. 
Even in elementary school, Quinonez radiated her brilliance everywhere she went. "My younger self thought, 'Wow, this girl is really intelligent, who is she?'" said theater member Jesus Cruz-Valdez.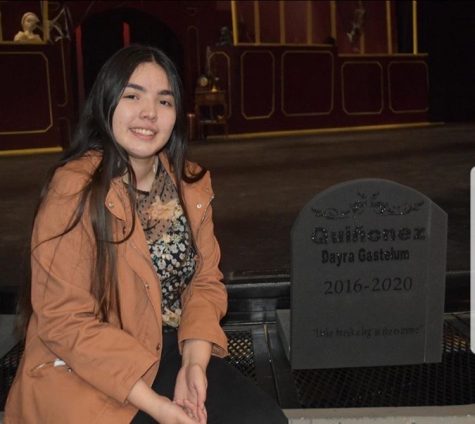 As Troupe 1033 has helped her find who she is, she has helped her Troupe as well. With her reliability and beautiful aura, she helped students in grades below hers enjoy their high school experience. 
"Dayra is just someone that anyone can talk to for advice or moral support. She has been my partner in crime in theatre,"  Alfaro said. 
She is not only seen as a stage manager but also seen as a role model for her Troupe members. "Even though she's shorter than me I looked up to her," Cruz-Valdez said.
Despite her size, it's clear Dayra has left a huge impact on the people around her. Quinonez has made unforgettable memories with her Troupe.
Her last time stage managing in the spring musical The Addams Family brought joy to many people around her. Through the difficult rehearsals to the superb performance, she brought Agua Fria Theatre cheerfulness.
"During the dances, we both would stand near the wings and just dance to the music. I would imitate a dance and she would go along with it,"  Alfaro said. 
"It was an amazing experience and if I could, I would do it again," Quinonez said.
Quinonez looks at the bright side of things, being a glass-half-full rather than half-empty kind of person, even through challenging AP classes and a senior year that was cut short.
"I am proud of myself for opening up and enjoying my high school years even though it was a stressful time from AP classes to not so much fun events at school that a class of 2020 lived though,"  Quinonez said. 
Although her high school experience is coming to end, she is continuing her education at Northern Arizona University to major in computer engineering and minor in Spanish.
It's no surprise Quinonez continues to strive for excellence in her future. With her family and friends by her side, she's on the road to a happy successful life. 
She mentions her best friends, Troupe 1033 and Mr. Gonzalez for impacting her high school years and future goals. 
"I thank her for being such a kindhearted person and I will truly miss her when she graduates," Alfaro said. 
"I wish her well in life, I know she'll do great things!"  Cruz-Valdez said.
Something to always remember from Dayra herself is, "Don't be frightened of the unknown or if you think it's 'not cool' to do what you love and find intriguing."
"It will always be memorable," said Dayra Quinonez. And just like high school, we will always remember you, Dayra. 
Thank you, Dayra, for your impact on the Agua Fria Community and Troupe 1033. We wish you the best in your future and will miss your optimism.