Jordan Fairchild: The Representation of True Owl Pride
Known for her immense amount of spirit and the Owl Pride that runs in her veins, Jordan Fairchild is a senior with big things ahead of her who will be deeply missed by Agua Fria. 
Transferring from Millenium on a variance in her sophomore year, Fairchild was eager to attend Agua Fria. Based on what she has accomplished at our school, Agua Fria is proud to have had her as an Owl.
Fairchild is an avid honors and AP student, the 2020 senior class president, was on this year's starting lineup for varsity volleyball and was a co-founder of the beach volleyball team at Agua Fria. Did I mention how she sang the National Anthem at every one of the home volleyball games, at football senior night and at some of the pep assemblies?
She has been shaped by her talents and accomplishments. Volleyball has been one of the biggest influences on her and the source of some of her best high school memories. Fairchild says it has sculpted her into who she is today with her positive attitude and her quick problem-solving.
"The positivity that she brought every day was very contagious," said women's volleyball Coach Brumbaugh. "Jordan just came with a smile and an attitude that she was enjoying herself, but ready to get better every day.  Others looked up to her for this support and her demeanor."
Known for her positive attitude on and off the court, she all around spreads positivity to others and emphasizes it in her own life. 
Colton Blakley, Fairchild's boyfriend, said her positivity is what makes her extraordinary, "She really has a positive attitude and it rubs off on people," Blakley said. He mentioned how out of knowing her for six years, "She has taught me to be positive. I used to be very, very negative."
The effect she has on the people around her is one of the numerous reasons why she is a leader in our community. Shown through her hard work in Student Council as Senior Class President, as well as her teamwork on the volleyball team, Fairchild doesn't shy away from leadership.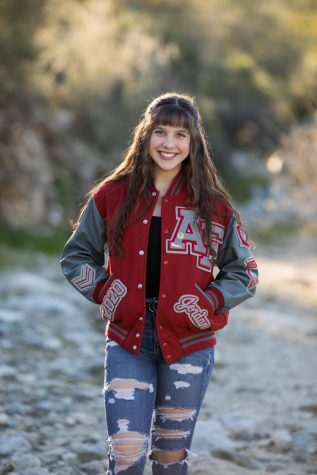 "Jordan is a natural leader and it makes it easy for other students to want to participate and take part in things that she plans," said Mrs. Rai, the Student Council teacher. "She is also an amazing person and has a big heart and a lot of school spirit. Other students see this and want to be a part of it."
Fairchild noted that Student Council was also a spark for who she is today as it has taught her how to overcome real-life situations, be more competitive, speak more confidently and overall, be a better leader. 
One trait that also sticks out is Jordan's authenticity. "Anytime I have ever gone to her for anything, even though she is really busy, she gives advice to her best ability and she is there to listen to you," said Shelby Hrin, best friend of Fairchild who she has known since 6th grade. "She is just one of those people you can trust and has your back."
Even Jordan herself said, "I'd like to call myself somebody who can be a friend to people. I like to reach out and ask everybody if they are doing okay. I like to talk to other people… I feel like I have a lot of friends in a lot of places that I can rely on and I feel like I can help them just as much as they help me." It just makes sense why she won "Friendliest" for senior superlatives. 
Fairchild is also described as spontaneous, open-minded, confident and hardworking. Best worded by Blakley, she is "the best type of person. She is really well-rounded: she is smart, she is funny, she has a good attitude, she is very determined, she accomplishes whatever she sets out to do."
Even with all this, one thing sticks out the most to others when it comes to Fairchild and that's her spirit. Always going full out for spirit weeks, wearing all red on Fridays, and speaking only good about Agua Fria, Jordan Fairchild is one of the most spirited students on campus. 
"She is one of the most dedicated students, and most spirited students I have had," Mrs. Rai said. "She is very passionate and wants everyone to have a good experience at school. She is and will always be an Owl."
But her pride doesn't stop there. "Anywhere she goes you'll always hear her talking about how she goes to Agua Fria and how it is the best school she has ever been to and she sends good messages about it, making it have a better reputation than some may think of it as," Hrin said.
Fairchild stresses how people don't understand the amount of pride Agua Fria has, as it's "indescribable." 
"There's a camaraderie at Agua Fria that you just can't really put into words, but for me, it's that whole passion, pride and tradition," Fairchild said. "The tradition and culture at Agua Fria are so strong that it consumes you, like I feel I'm a part of the campus, like I am a part of the culture every time I would step onto school grounds." 
"I feel like there's just been this energy that's been there for so long, everybody is just so energized by Agua Fria," she continued. "You go to a football game and we are losing by 50 points and people are still screaming. It's contagious. I love Agua Fria, so to be an Owl is to care about all those little things, to care about your community and to care about the people at your school regardless."
She is a true Owl through and through, always sticking to the "honor first, win or lose" motto. Fairchild never fails to cheer on other Owls or bring together the community. Agua Fria won't be the same without one of it's most spirited, brightest and most positive students.
As for the future, Jordan's next steps include attending Washington College in Maryland to play Division III volleyball, major in psychology and minor political science. She wants to go to law school after, although she is uncertain where. ASU Law does interest her as she does want to come back to Arizona and raise a family here, as well as keep volleyball in her life in some way.
It's clear based on her determination and hard work that Fairchild will go far in life, but even as the time goes on she won't forget her deeply rooted Owl Pride. Forever an Owl at heart, Jordan Fairchild left her mark on Agua Fria, but now it's time for her to leave her mark on the world.