Senior Goodbye: Thank You For Being You
If there is one thing that I truly learned, it's that I hate goodbyes. 
It's something that I learned from a friend's mom in middle school. They taught me to say "see you later" rather than goodbye because even if we aren't seeing each other for a while we will meet again and we live our lives with the lessons learned from others, so they are always present in our life.
Many people will always be present in my life. From the start of high school at Agua Fria I have been blessed to meet people such as Mrs. Harter and Ms. Hudson who saw something in me that I still don't see in myself today. They believed in me, a delinquent, they believed that I could do big things. 
Also, many coaches were there for me, keeping me off the streets and on the field. Such as Coach Crow, who was a father figure who saw light in me when I wandered through dark times with personal issues. Coach Huff and Coach Upsher taught me the realities of life showing me a brighter future for myself. Their words have pushed me through life and have given me life, even when there were days where I believed that I was on my own I think back to these many people who believe in my success. They were the spark.
Thanks to those in the beginning, I no longer looked back or down on myself, I only looked forward.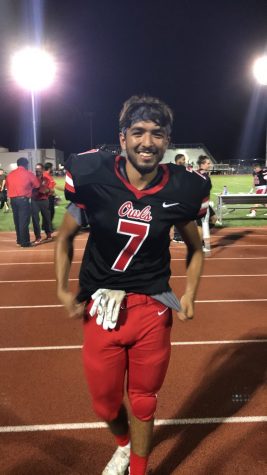 My second year was the year that I learned to grow, to break my old habits and become more than what I was before, thanks to Coach TT and Coach Groff who continued their coaching careers elsewhere. As well as Ms. Jones who pushed me in AVID, opening more doors for me to go through, allowing me to shape my future for myself. 
Sophomore year also taught me that there will always be better days, don't give up right away, and keep looking forward even if you have to move forward by yourself. They were the ones who kept the flame alive.
Quickly I entered my junior year ready to do what I needed to do. This year was unlike the others because I was finally an upperclassman, although I was always around the older classes. This year was rumored to be "the hardest year" but it was the easiest in my opinion. Thanks Ms. Miller (aka G Millz), Ms. Secor and Mr. McBee for making junior year a great year and really lifting my spirits and helping my flame grow.
Finally, I entered senior year as expected. I always knew I could do it, I just wondered if I really wanted to and then I did. Thank you to all my friends for making this the best year from start to finish. 
Thank you for being there when we won the River Rock back. Thank you for making spirit weeks the best, thank you for making the small things mean the most. Thank you to Ms. Essiner for understanding how it is being a senior and making my year great. Thank you to Mrs. Rai and Ms. Dehnbostel for bringing out my creative side. Life as an Owl has been great thanks to my teachers who were more than teachers and cared for me and my classmates. 
I am grateful. My life up to this point has been an absolute gift thanks to many others. Words aren't enough to describe how thankful I am for giving me an imperishable flame.
Thank you, Mr. Jovanelly for being you. Helping me open my eyes and realize what a gift life is, for helping me pursue something that I love, for being a mentor, for helping me realize my importance.
Thank you, Ms. Holdsworth, for being you. For being a mother figure, for seeing through me and being legit. Thank you for all the positivity and pushing me to do more even when I didn't want to. 
Thank you, Sean Durham, the security guard, for being you, for being like an older brother to me and keeping it real with me, thank you for looking out for me and wanting me to succeed. 
Thank you Mr. Martinelli for being you. For being understandable and always trying to make our days better, Thank you for trying to make classes an experience, thank you for being a GOAT.
Thank you Ms. Johnson for being you. Thank you for digging in my mind and helping me grow, thank you for checking up on me, thank you for being funny and relatable, thank you for never yelling at me for sleeping in your class, thank you for giving Boothman pneumonia. 
Thank you, Mr. Boothman, for being you. Thank you for seeing something in me that I didn't, thank you for always helping me with college stuff, thank you for brightening my days. 
Thank you, Mr. Espinoza, for being you. Thank you for stepping up and being a great track coach, thank you for believing in my ability, thank you for your tea and gifts, thank you for making an impact on my life, thank you for taking us to NAU, U of A, and ASU. Thank you.
Thank you Mr. Collins for being you, for making history fun. Thank you for being a great friend, thank you for letting me have your flag, thank you for the pizza and drinks when we were moving your classroom. 
I saved the best for last. Thank you to the lunch staff for always feeding me, for waking up early to make us breakfast and hot cocoa when it was freezing outside. Thank you for making us menudo and changing up the menu the best you could. Thank you.
As I move forward in life I will carry your words with me and you'll forever be a part of me. Until the universe pairs us up again!