For Amiah Gabaldon, Dance and Cheer Are True Passions
Amiah Gabaldon has been a student at Agua Fria since freshman year. In her time here, she has accomplished so much, not only through the cheer and dance program, but also through her academics. Amiah is a determined, talented, and intelligent individual who deserves some recognition for all her hard work.
Amiah started her time in high school by trying out for the Agua Fria cheer team. "I remember trying out for the cheer team like it was yesterday," she said. "Four years truly flies so fast when you're spending it with the best group of people." 
Amiah made Varsity Cheer her freshman year and she describes this experience as "one of the most involved, tiring and fun sports all in one. Just one season begins in May and ends in March. Eleven months spent with the most supportive girls is something that I would never regret committing my time to."
Although Amiah became captain of the team her junior year, she felt like being on the cheer was a huge learning experience. "I have learned so much about myself as a person, student, athlete and leader," she said. "I have learned that it takes a team effort to be a cohesive unit."
Amiah said, "I had the joy of laughing, crying, struggling, falling, smiling and competing with the varsity cheer team beginning my freshman year at Agua Fria." Although Amiah is mostly known for being a cheerleader, she has also been a dancer since age 4.
Joining the Agua Fria dance program was also one of Amiah's biggest challenges. She said,  "I was so excited for this class because I figured it would be a breeze. Little did I know it was going to be one of the most challenging classes I've taken at school."
Amiah gained a lot of leadership through the Agua Fria dance program. "I was given the opportunity to partake in student choreography where I had the freedom to choreograph my own dances with any dancers I desired…" she said. "It challenged me to go out of my comfort zone and unleash the creativity I have always craved."
Some of Amiah's choreography pieces were "Santa Baby," a jazz piece that was performed by the entire performance level class, and "Crave You," which was also a dance piece but narrowed down to only four dancers. This was only her junior year.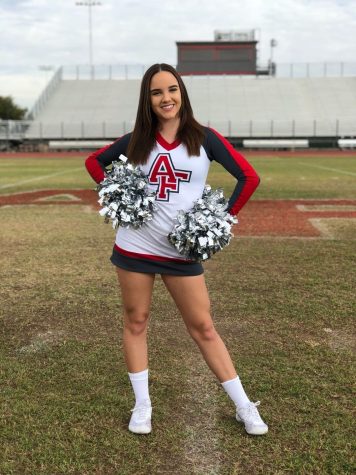 This year, 2019-2020, Amiah also choreographed "Ultralight Beam" for the winter dance show. She describes this as her favorite piece by far. 
"I was so nervous to put my work on stage, but I was so proud of how they all turned out and was surprised to hear such amazing feedback from my friends and teachers!" she said.
Amiah is extremely thankful for Ms. Peelman who gave her the opportunity to showcase her personal choreographies. "Because of the dance department I feel so much more prepared for my career in dance and the performing arts industry, especially with my gained confidence in the choreography aspect," Amiah said.
Besides being in cheer and dance at Agua Fria, Amiah also trains at her dance studio outside of school. Most of Amiah's days were spent like this: "I had school until 2:10, cheer practice until 4:30, 45-minute drive to dance, classes until 9:30 PM, another 45 min drive back home, crunch time for homework, shower, sleep and repeat."
Amiah describes her schedule as draining and stressful but it gave her the skills to learn better time management and organization. 
Her senior year, however, Amiah took on another occupation, which was a mentorship located in Las Vegas where she would go every other Sunday to improve her dancing skills. "I was lucky enough to be invited to such an amazing program, but it required a 4-hour drive to and from Las Vegas," Amiah said. She was able to work with Chehon, a dancer from the show "So You Think You Can Dance," in his facility called I Am Force. 
This experience seems extreme, but Amiah said, "This program has helped me grow more than I have in the 13 years I have been dancing. Being exposed to new dancers I had just met was a huge inspiration for me and was honestly the highlight of my senior year."
Amiah not only balances dance and school, but she also had a job on the side during the summer going into junior year.  Amiah said, "I also worked at Panera… no time to slack. Dance and cheer aren't cheap, and neither is gas when you have to fill your tank every single week."
Amiah spent her weekends working 9-5's. "I was busy during the week with practice, Friday night lights and dance, and although I was tired it was so worth the hustle," she said.
Fellow senior and cheerleader Taylor Ross talks about Amiah's success over the years. "Amiah is one of my best friends," she said. "We have been best friends since the first day of Kindergarten, I consider myself more like family than a friend."
Ross also said, "Over the past 4 years I have seen Amiah grow as a person, dancer and cheerleader. In dance, she just keeps getting better and better. I didn't even think she could get any better because she is already such a talented dancer."
Taylor Ross made varsity cheer along with Amiah their freshman year. Ross said, "I remember our freshman year she would get super scared and fall every time we would put her in the air. Our junior and part of senior year Amiah became center flyer and would rarely fall out of stunts."
Ross talks about Amiah's passion for dancing and she wants to recognize Amiah for getting accepted into one of the best performing arts schools in the country. She said, " Amiah has just recently gotten accepted into AMDA in Los Angeles! Ever since we were little Amiah has always wanted to make dance her profession and I am so very proud of her for always following her dreams and never giving up."
Ross has a message for her friend: "Amiah, thank you for being the best friend I could ask for. You have stuck by me since we were 5 years old, we have so many memories together and I cannot wait to make more. Your future's so bright and I cannot wait to watch you succeed."
Amiah is also a very determined student, this year she was a part of Mr. Boothman's AP Calculus class, which is perhaps one of the most challenging classes on campus.
"Amiah's a natural student," Mr. Boothman said. "She's organized, dedicated and always curious to learn more…I think my class really pushed her and challenged her in a way she hasn't been challenged before. She's grown so much as a result, able to persevere and face difficulties head-on. She had this skill before, certainly, but she's really refined it over the course of this year."
Mr. Boothman said that Amiah was one of his friendliest students this year. "She never failed to greet me with a kind smile or witty remark," he said.
Amiah is a bright individual with so much ahead of her. In her short time at Agua Fria, she has accomplished so much and there is no doubt that she will only continue to become bigger and better. We wish her the best of luck on her new journey.