Carlos Johnson, A Success From the Stage to the Page
Unfortunately, we have to say the word we don't want to say: "GOODBYE." This is especially hard to say when it's a friend, a classmate or someone who always helped you no matter what.
AFHS always parts ways with hundreds of seniors each year. This year will be another goodbye for our lovely seniors, the ones who really worked hard to reach graduation, where every single student wants to be. 
Our school has the most hard-working seniors who are not only doing their classwork but also trying to encourage other students in their studying and inspire students by doing and joining all the school activities. 
Carlos Johnson is a senior who is in journalism class as a Managing Editor and former Editor-In-Chief. He always does his work with all his heart so he can obtain his goals. He is a loving person and always helps others as much as he can.
At first, Carlos was writing for the Lifestyle section, then he quickly became News Editor, EIC, and Managing Editor, in that order.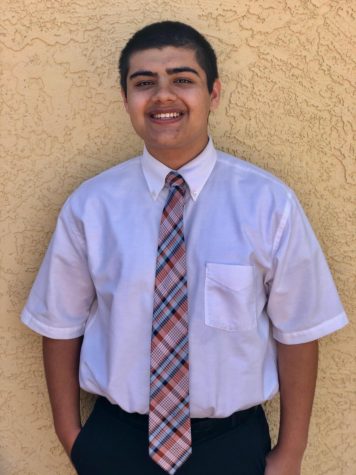 "Carlos is so compassionate and caring, he never fails to try and help others," said Lauren Mitchell, a senior at AFHS who is OwlFeed's current Editor-in-Chief. "I know that I could go to him for anything and ask for help if needed. He is also majorly funny, he jokes and can make your day with just a few words. Journalism would not have been the same without him. The class as a whole has grown because of him and his commitment to journalism." 
He is a great student. His favorite teachers are Mr. Jovanelly and Mr. Gonzalez. 
Mr. Jovanelly is a journalism teacher who does so much and does not have a prep class because he cares about his students. He is willing to go the extra mile for all of his students.
And Mr. Gonzalez, the theatre teacher, is the kind of person who will give the shirt off his back and loves everyone no matter the circumstance. He does not sugarcoat anything and he says stuff as it is.
Carlos's biggest inspiration is his mom, who is always there for him. She comes to forgive him even if he makes mistakes and is one of the most loving people he knows. She has helped him personally to not hold grudges towards others because they can change.
It was hard for him to find time for himself during on-campus learning because his days would start at 5 in the morning and wouldn't get home until 5 p.m. daily because he was in the theatre, rehearsing for show night. He would need time to do his homework and would go straight to bed after he is done. But now, Carlos is enjoying his time spending with family and playing video games.
Carlos isn't planning on attending college. Instead he wants to enlist in the Air Force and do Air Traffic Control. And he will probably take classes as he is enlisting.
The two goals he set for himself are either becoming a psychologist or an accountant. He also wants to own a business or be an actor.
"There is nothing I find annoying, as cheesy as that sounds. Everyone is so welcoming. 
I love the atmosphere, and I wouldn't have it any other way," Carlos Johnson said of his experience at AFHS. 
He loves that we do everything on our Chromebooks. And how that has saved us with distance learning, and how easy it is to communicate with everyone.
"I dislike how professional he is. I believe he is amazing at his job and makes me want to better improve myself to be the best version of myself," said Elijah Carson, an AFHS junior of AFHS who is OwlFeed's News Editor as well. "I believe he is a great Editor-in-Chief and puts much care into his craft. With his passion and good nature, I believe that he deserves to be shown off and given praise."  
Regrettably, we do not get the chance to say goodbye to our lovely seniors like Carlos because of the coronavirus pandemic. But no matter what, we hope that all seniors are on their way to go find everlasting joy and happiness.
I wish all seniors who are hardworking, respectful and responsible to achieve their goals and have a great life with their families.