Meet Anna Salinas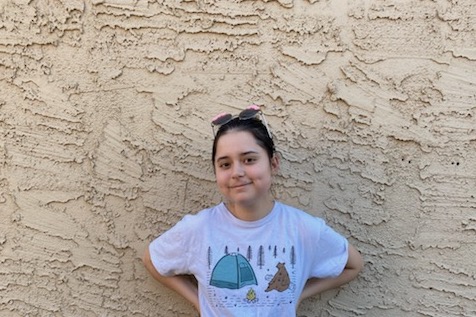 Sam Lopez, OwlFeed Sports Editor
October 27, 2020
It's dark and the only light breaking through is from a morning sunrise. As it rises it displays a beautiful orange while the whole world is still and silent. If this moment were to be a person it would be the harmonious Anna Salinas. 
Salinas radiates the same calming and beautiful energy on everything around her. 
Anna Salinas is a 16-year-old junior who is the newest Lifestyle reporter at OwlFeed! Although journalism isn't her career choice, she knows this is a good start to prepare.
Anna Salinas wants to write for movies and TV shows in her future!
"And then my brother showed me the class and I thought it was interesting,"  Salinas explained. 
Anna has always enjoyed writing. Although she is fond of writing she never really knew what to write about. "And then I took film and TV production my freshman year, which really finalized why I wanted to write movies and tv shows," said Salinas when speaking about her career choice.
Of course, Anna has trouble when picking a favorite movie but her favorite is Swiss Army Man. Anna pays attention to the little things and enjoys the soundtrack in the movie as well. 
The soundtrack makes sense since her favorite type of music is a mixture of calm, indie, folk, and a little bit of rock. 
"Cage the Elephant is my favorite band and I also listen to Lorde. She's always been one of my favorite artists,"  Salinas said.
The astonishing Anna Salinas is also the youngest in her family. She finds this interesting because "people actually think I'm older than my sister."
As the youngest, she has many people to look up to and help her grow.  She finds it inspiring to observe and listen to people as it gives her ideas to think outside of the box. 
Salinas has also mentioned that her mom has been in inspiration in the way that she takes care of Anna and her siblings.
Through the years Anna has noticed the way she has changed as a person. She admires herself for coming out of her shell even if it did take some getting used to. 
"I'm proud that I now know how to stand up for myself more because before I would always stay silent with my opinions, but I'm glad that I have learned what is good for me and that it's okay to say what you want to say," said Salinas when summing up her growth. 
We can all learn something from Anna when it comes to personal growth and viewing the world. 
As Anna reflects on the beginning of high school, she would tell her freshman self "not to be scared to talk to new people because you're gonna have to sometime in your life. And try to relax, don't be too awkward or anxious." 
Take Anna's advice and don't be afraid to get to know the mellow junior yourself!
Photo Credit: Jasmine Salinas