OPINION: Hybrid or Flex?
While the COVID-19 pandemic has made online learning quite interesting, this is a moment in history that most of us likely won't forget for years to come. 
With the school year being fully remote since August, this quarter Agua Fria students were given the choice to come back to campus and participate in either a hybrid schedule with two days in person and two online or a flex schedule where you'll be learning fully on computer until January. 
With these two options available, many students had to make a decision on whether or not they felt comfortable enough to go to class physically or if they would rather stay home behind the safety of their screens. 
"I chose to go to school in person because I personally find it easier to learn in person than online," said senior Addi Wilson. 
Many people agree with Addi. I know I do. 
 One of the biggest challenges to the online setting is not actually being inside a physical classroom to learn and ask questions with help from teachers. "Some advantages in going to school in person are seeing people you know and just getting ready to actually leave the house,"  Addi said. 
These reasons were also one of the deciding factors in going back to school for me. Personally, I like being in the classroom as it's where I believe my academic abilities shine. Nonetheless, going back to school is weird as there are so many precautions taken to have the school as safe as it can be for us students.
 Obviously, students are required to wear masks all day and cannot enter campus without one. Lunch tables are restricted to only two students sitting at a time. Everybody must practice social distancing, and some teachers still only do full Zoom classes.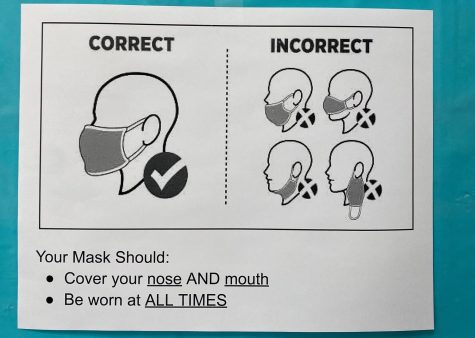 However, some students don't feel comfortable stepping foot on campus during this time. Junior Faith Ogie said, "I chose to stay online because I knew it was risky to do in person. It would be nice to see friends again at school but it can wait because our lives should come first." 
No matter how safe we can be in person or how much the school tries to keep us safe, some students could still become sick later on and possibly spread the infection to their peers. "So though everyone is being safe at school, are they being safe outside of it? What are they possibly bringing to the school? It's just a risk and something we need to worry about," Faith said. 
This year really gave Agua Fria students a big decision to make.  As we all look forward to this situation going away we have to face reality and be wary of the setting. The full online setting definitely may be more difficult as students can feel they're given too much work at once, but not leaving our homes is a big advantage. 
All in all, staying in person or online, is up to you or your parents. Some students have different comfort levels when it comes to everything happening right now and that is okay. 
Remember to wear your mask, wash your hands, and practice social distancing in public!