OPINION: Why You Should Watch Anime
For a while now, anime has been blowing up in many aspects of American pop culture. 
Although it is very popular with teens and young adults, there are some social stigmas surrounding anime and it can be seen as "nerdy" or "weird." With all the variety in media there is for people to enjoy, why not watch something different and give it a chance?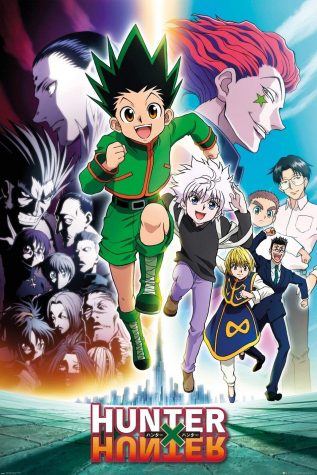 Some people would completely doubt watching anything that is not in their native language, due to the feeling of not understanding what is going on or just not being able to pay attention to the show. Senior Josie Bundy said, "A lot of people I talked to said they won't watch [anime] because they don't want to read subtitles the whole time since they wouldn't focus on the actual show." 
However, this problem can be so easily fixed! Many, if not all, anime are subtitled in various languages and lots of popular ones like Hunter X Hunter, Haikyuu!, and Naruto are dubbed entirely in English. 
There are also many different genres of shows available for anime viewers to watch. "I don't think people consider watching anime because it plays on cliches and for them it's too nerdy," senior Jesus Cruz Valdez said. 
A common misconception may be that anime is simply for children because of the distinct art style and music used. However, this is quite untrue. Just like western media, anime can tell stories of romance, sports/slice of life, adventure, horror, etc. Some good variety of shows and movies are Attack On Titan, A Silent Voice, Jujutsu Kaisen and Death Note. 
To think only a whole culture of shows can only be for children or is "nerdy" is a very bothersome opinion. 
Another reason why some people won't consider watching anime is because of the fear of getting teased or simply being criticized for watching it. I've seen many comments and posts on social media with people being labeled as "weebs" or "freaks" for expressing their love for a show or being fans. It's pretty sad seeing people bash on stuff not only because it's foreign, but also since American media spotlights on shows that are typically live action and animation is usually for children or younger viewers. 
There will be always something in anime for everybody to enjoy! All you need to do is be open minded and watch what piques your interest. 
Personally, I used to have a negative attitude towards anime itself. I believed it was also not for me and too weird for my viewing. However, I decided to give it a chance as I was bored with my Netflix list. 
After watching my personal favorite, HXH, I knew that I was missing out on so much because of a simple misconception I had. Therefore I ask of you, the reader, to not judge a book by its cover but to step outside of your comfort zone. You never know what you'll find.