President-Elect Biden Nominates Historic Cabinet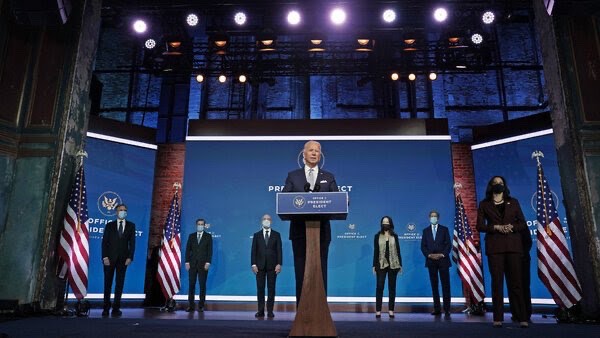 From having our first female African-American vice president to having our first Latino and immigrant for Secretary of Homeland Security, we can expect incoming President Joe Biden's cabinet picks to be historical. 
Joe Biden, the 2020 president-elect, has begun choosing his cabinet members to prepare for his time in office. Biden has expressed his desire to have more diversity among his cabinet members to reflect the American population. All cabinet positions will require Senate confirmation. 
On Tuesday, Biden introduced six of the top officials he has chosen to serve as part of his national security team. It has already been confirmed that Senator Kamala Harris will join Biden in office as his vice president. 
According to the NYTimes, Biden stood at The Queen Theatre in Wilmington, socially distanced from his team and said, "America is back." He also expressed that his officials are "ready to lead the world, not retreat from it." Although Biden and Harris did not answer any questions from the press, Biden expects nothing but professionalism and respect from his team. 
Janet Yellen, Biden's pick to lead the Treasury, served as the chair of the Federal Reserve from 2014 to 2018. If confirmed, she will be the first woman as Secretary of the Treasury. Neera Tanden, who is president of the liberal Center for American Progress research group, has been nominated to be Director of the Office of Management and Budget. If Tanden is confirmed, she will be the first woman of color to head that department. 
Alejandro Mayorkas, who was once deputy secretary of the Department of Homeland Security, will make history as the first Latino and immigrant to be nominated for Secretary of Homeland Security. 
Avril Haines, who worked under the Obama administration as a former deputy national security advisor, has been nominated to be Director of National Intelligence. If confirmed, Haines will be the first woman to lead the U.S. intelligence community. According to the NYTimes, Haines said she had "never shied away from speaking truth to power."
Biden still has many seats to fill for his cabinet members. Although there have been rumors circulating about who he will choose to fill his cabinet seats, Biden has yet to confirm or deny. We will continue to track his nominations, knowing there will be more historical changes to come.