Jordan 1 Obsidian Shoe Review
The Jordan 1s were released in the Obsidian UNC colorway on August 31, 2019. Even though it came out more than a year ago, this shoe is in super high demand and pays homage to Michael Jordan's says at the University of North Carolina. 
The colorway is a baby blue on the upper of the shoe and as you go down to the Nike swoosh it is a sail white along with a navy blue on the swoosh and the outside of the toe box. 
As I watched YouTube videos to see other people's opinion on the shoe, I saw that my favorite YouTuber Tonyd2wild had posted a review about the shoe. In the video he talked about the leather being a regular tumbled leather, then said, "This shoe is phenomenal, a dope shoe. Everyone should go out and get a pair." 
As for styling,  I think you can wear it with anything. It's a Jordan 1! You  can't go wrong with styling this shoe. It goes with skinny, taper, slim, and even bootcut jeans. The shoe also comes with two pairs of laces. One pair is a Navy blue set and the other is a baby blue set as your average Jordan 1 comes with two sets of laces.
I asked a friend of mine junior Jackie Gutierrez who owns the Obsidian 1s how she would recommend styling the shoes and how she feels about them overall. 
"The Obsidian 1s are one of the best shoes out there," Gutierrez said. "Everyone has their own style when it comes to styling their J´s. You can go with a girly fit with some mom jeans and a small top along with the shoes — the shoe will make the outfit. If you're feeling street style, it also will work with a racing t-shirt and baggy jeans. Throw on a hat. The Obsidian 1s are super versatile and can go with anything.¨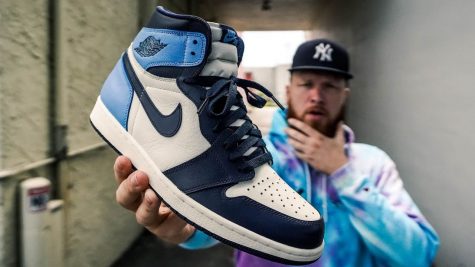 Then there are people who aren't too hyped about the shoe. For example, YouTuber MR.FOAMER said he's "not crazy about it. The quality isn't terrible but the leather is very regular. It pays homage to Jordan and his UNC connection."
Now the question is, are you getting the Obsidian Jordan 1s? Do the colors attract you? The shoe is currently sold out in stores so if you were to buy this shoe you'd have to get it from resellers, such as locals and or Stock X/Goat.