The Investigation of The Capitol Attack
On Wednesday, January 6, a large group of Trump supporters and white supremacist stormed the U.S. Capitol during the certification of electoral votes in the belief that they could change the results of the presidential election. 
After the tragic event, the FBI started a full-on investigation on anyone related to the Capitol attack, from Trump supporters to Capitol staff workers. The FBI has taken over 100 people into custody. The FBI published an explicit warning that extremists were preparing to travel to Washington to commit violence and "war," according to an internal document reviewed by the Washington Post. 
The document stated that there had been peopleonline discussing and calling for violence. One message said, "Be ready to fight. Congress needs to hear glass breaking, doors being kicked in, and blood from their BLM and Pantifa slave soldiers being spilled. Get violent. Stop calling this a march, or rally, or a protest. Go there ready for war. We get our President, or we die. NOTHING else will achieve this goal."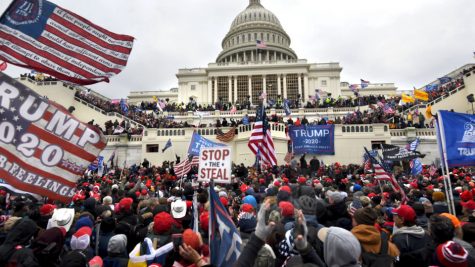 Though the FBI was not certain if people were going to storm the Capitol due to empty threats made on the internet daily, they still sent a warning just in case. As we know, unfortunately, people did end up attacking the US Capitol, leaving 5 people dead and many injured. 
Since the riot, agents and prosecutors have been determined to track down and arrest anyone who violently engaged in the mob. As of right now the agency said it had opened more than 170 case files in connection with the riot and had received "more than 100,000 pieces of digital media" since January 6, according to Acting Attorney General for the District of Columbia, Michael Sherwin and Steven D'Antuono of the FBI Washington field office at a press conference on January 12. 
Sherwin added, "The scope and the scale of this investigation into these cases are unprecedented not only in FBI history but probably DOJ history in which essentially the Capitol grounds outside and inside are essentially a crime scene."  
This investigation will take a while. Even Sherwin said that the number of people who are being taken into custody is going to "geometrically increase," according to CNN.  The FBI will not only be using social media and pictures from the public to track the people down, but they will also be tracking money, travel records, movements of people, and communications, in addition to following tips from the public, to make sure they are catching the everyone involved. 
One thing to mention is that the FBI is also still investigating the planting of pipe bombs outside the headquarters of the Democratic National Committee and Republican National Committee, which are both by the Capitol and is offering a $50,000 reward for information leading to the arrest of an individual who planted pipe bombs.
Some notable people to mention who were involved in the storm of the Capitol are: 

Klete Keller, the Olympic gold medalist swimmer, who is facing three criminal counts.  

Richard Barnett from Gravette, Arkansas, who is known for sitting and vandalizing House Speaker Nancy Pelosi's desk. 

Adam Christian Johnson who is also known for being the guy who took Pelosi's podium. 

And lastly, the shirtless man wearing horns who went viral is 32-year-old Jake Angeli, who is also an Arizona local. 
Many people have even suspected some Republicans had helped the attackers. Democrat Rep. Mikie Sherrill from New Jersey stirred some tea as she accused unnamed Republican lawmakers of helping rioters by bringing them into the Capitol one day earlier.
Sherrill told CNN there were "members of Congress who had groups coming through the Capitol that I saw on January 5 for reconnaissance for the next day." CNN has repeatedly asked Sherrill's office for details about her accusation, but they have not provided any additional information. This caused a storm in the House as people were accusing fellow lawmakers of involvement in the attack on Wednesday. Democrats have asked for an investigation on the tours that happened before the storm. 
Some lawmakers said the tours were "unusual" and "concerning" and were reported to the Sergeant at Arms on January 5, but no other information has been released since. 
Law enforcement and other government officials were still worried that the Trump supporters would disrupt President Biden's inauguration on Wednesday, January 20. So, the Secretary of the Army deployed as many as 20,000 National Guard troops to D.C. for the inauguration and D.C. would be in lockdown till then, according to NPR. 
Thankfully the inauguration went smoothly, and no riots happened, and Biden and Vice President Kamala Harris were sworn into office with no hassle. Now the real question that everyone is asking is, was the attack on the U.S. Capitol a security failure or an intelligence failure? And as of right now one knows. 
To see a list of the people who have been arrested so far and are in federal custody, USA Today has a full list which is updated as new people are arrested, which also has their names, state, charges, etc. 
However, the FBI is also seeking information about anyone else involved. They have many people who are currently wanted by the FBI right now and any information regarding the attack (such as people taking videos or live streaming inside the Capitol) is requested to be reported as soon as possible.