Pixar's 'Soul' Sends Deep, Beautiful Message
Warning: Spoilers ahead!
On Christmas day of 2020, Pixar released the movie 'Soul' on Disney+, created by Peter Doctor, which depicts a different meaning towards life and leaves the audience thinking. 
Our story begins following Joe Gardener, voiced by Jamie Foxx, who is a middle school teacher and an aspiring jazz musician. When Joe books the gig of his dreams, he shortly dies after. 
It's a very dark theme, but this isn't a subject Pixar isn't used to. When trying to escape death, Joe gets thrown into a realm called the "Great Before," where soul's gain their personalities and passions, or what they call sparks, before dropping down to Earth. He then gets mistaken as a soul mentor and is assigned to a tiny soul named "22," who is voiced by Tina Fey. 
While Joe has aspirations and dreams on Earth, 22 doesn't and doesn't want to go down to Earth. Through a turn of events, Joe tries to go back to Earth and ends up taking 22 with him, the only problem is 22 is implemented into Joe's body and Joe is implemented into the body of a therapy cat. They end up going on a crazy adventure through New York City trying to get Joe back into his body. 
Now that you know the entire plot of the story let's get into the message behind the story. 
Throughout the movie, Joe is freaking out about his gig and is fearing about missing it, while 22 is just walking around being amazed by the most mundane things, like eating pizza, riding the subway, and just walking around New York. While these things are very uninteresting or just everyday things to the audience, it's actually very important because 22 is actually living human life for the first time and is loving every single minute of it. 
Near the end of our story, Joe finally gets back to his body and 22 goes back to the Great Before. Joe plays the gig that he had been wishing for his whole life and 22 finally goes back to the place she always wanted to be, but it ends up being unsatisfying for both of them. Neither have changed for the better. This ends up with Joe questioning if there is more to life than jazz. 
Meanwhile, 22 soon becomes known as a lost soul, which is a soul that hasn't found their passion yet. She becomes like this because Joe discredits her human experience because it was just full of mundane things. But since Joe is so accustomed to these regular everyday things he doesn't realize how important they are. 
And that is what Soul is trying to teach us. They're trying to teach us that although the world is weighing us down and losing it's quality, those regular mundane things haven't changed. To put it in better words, "What may have once given us a spark hasn't changed… we have," said Preston Moore from disinsider.com.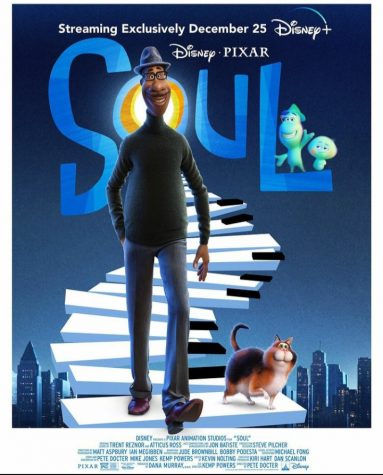 By the end of the movie, Joe finally realizes that not only is playing jazz music his spark but so is life in general. He enters the movie as someone who is weighed down by the world and he's lost sight of the little things. This could represent many of us today, as we all go through our days and don't appreciate the smaller things. 
At the end of the movie, 22 finally goes down to Earth to live their life and Joe finally gets back into his body and steps outside saying "I'm going to live every minute." This shows that he is no longer going to wait for something big to happen to get excited, he is going to be taking advantage of the smaller things in life and enjoy them. 
"We don't always know what's next, but we do know one thing for certain: life is continuing, and the little things remain unchanged," said Moore. 
As an audience member, I remember watching this movie and when it ended I felt emotional but not in a sad way like most Pixar movies make me feel, but more of in a relieved way. This movie may have came out at the most perfect time because this whole pandemic has made everyone feel like they are in a constant rotation of routines specifically if you work or are in school at home. 
When you finish the movie you probably won't feel what someone else felt when they finished it because we're all different, but it collectively made us all realize how important and how it has always been important to live life to its fullest and appreciate the smaller things.
Now of course this is a Pixar movie and most of their movies are intended for the audience of children, which really makes a lot of people think if this is a topic that children can understand. I think that kids could understand the message fairly well if you explain it to them, but it's still good for a children's movie. 
That's one of the things Pixar is really good at, making kid's films with deep topics, but still with the beautiful and colorful animation, the childish jokes and lessons that kids could hold onto them forever. 
Of course, it is a great animated film, but it is also just a great film in general. Overall this movie is so well made and has left an impact on people that might stay with them forever.