Russian Protests Threaten Putin's Stronghold on Power
On Saturday, thousands took to the frozen streets of Russia to protest the arrest of opposition leader, Alexei Navalny. 
Navalny, a critic of Russian President Vladimir Putin, was detained upon his return from Germany on January 17. Last August, Navalny was poisoned and accused Putin of being behind the attack, however, the Russian government denied the accusations. 
Shortly after Navalny's arrest, his team released a video that alleged that Putin had a luxurious palace, estimated to worth around $1.37 billion, on Russia's Black Sea. Putin, once again, denied the allegations and claimed that the palace does not belong to him. This is very controversial because millions of Russians are struggling due to the coronavirus and it has taken a toll on their economy. 
Russian authorities claim Navalny is being held because he violated the parole terms from a suspended sentence he received almost six years ago. 
In Moscow, it was reported that at least 40,000 people attended the unauthorized rally. Daragh McDowell, head of Europe and principal Russia analyst at Verisk Maplecroft, told cnbc.com, "More than 40% of attendees were first-time protesters, and demonstrations occurred in over 100 cities, including places like Sevastopol and Kemerovo, where over anti-government activity is rare."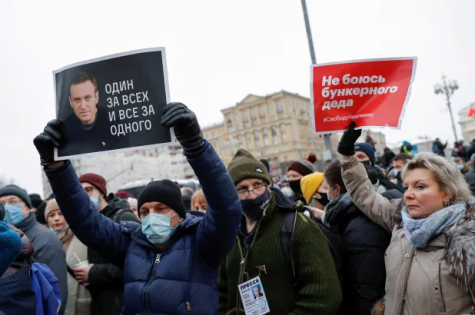 Police detained an estimated 2,500 protesters at the Russian capital. 
Protesters on the island of Sakhalin, north of Japan, gathered in front of a government building and chanted, "Putin is a thief!" Tatiana Stanovaya, a nonresident scholar at the Carnegie Moscow Center, told the New York Times, "This is basically a revolution. We're going to see a long period of confrontation between the opposition and the authorities, and it's very hard to say how it will end." 
Russians are protesting against the corruption that has taken over their government and fighting for their freedom. The protests have posed a challenge to Russian authorities to keep under control. Experts speculate this will threaten Putin's power and reputation, however, Putin has not backed down. 
Many continue to fight as they protest in Moscow, chanting, "All for one and one for all!" Could this be the end for Putin and the start of freedom for the people of Russia?