Marvel Officially Enters Phase 4! Now What?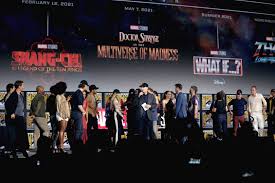 The recent release of the Disney+ exclusive "WandaVision" marks a new era of Marvel's Phase 4, as new movies and television featuring our favourite superheroes and supervillains get ready to share the silver screen to provide entertainment for us! The question is what is going to happen now? 
To describe what Phase 4 exactly is, it's a set of new movies and television series being developed by the Marvel Cinematic Universe (MCU) after the initial Infinity Saga that spanned from 2008-2019. The cycle officially started in January 2021 and is expected to soon end in 2023, however, talks of extending that are still in the works.
It was first confirmed during a press conference in October 2014. Kevin Feige, chief creative officer of Marvel, confirmed that Phase 4, and even additional phases after Phase 3, had already been planned or were being planned by saying that "[if] there are more years after 2019, then there will be movies. I hope there will be more years."
The first entry into the Phase 4 set was the new television show WandaVision, where its official synopsis says, "Marvel Studios presents 'WandaVision,' a blend of classic television and the Marvel Cinematic Universe in which Wanda Maximoff (Elizabeth Olsen) and Vision (Paul Bettany) — two super-powered beings living idealized suburban lives — begin to suspect that everything is not as it seems." 
Official views of the television as being very positive as Rotten tomatoes gave it a 92%, and one critic stated, "Part loving homage to TV history, part off-kilter mystery, WandaVision is a wonderfully weird and strikingly bold step into the small screen for the MCU…"
Although the release hasn't been all that great, due to the COVID-19 pandemic, plans had to be changed and many movies were pushed back and affected, especially the movie "Black Widow," where its initial release has been changed several times to its new date of May 2021. 
Nevertheless, the plans aren't stopping yet, as there are still many movies still coming this year. Such new movies that got people excited would be the aforementioned Black Widow, Eternals, & an untitled Spider-Man sequel that rumours state features previous actors who worked in Spider-Man films. Even television can be ruled by the MCU as The Falcon & Winter Soldier, Ms. Marvel, and Loki are expected to come out this year!
With new releases coming and with news and updates to be expected, fans are believing this phase will be the best cycle to come yet! However, with unexpected changes and the pandemic still rampant, people still wonder what might happen. So let's go and hope for the best that the MCU will give us the best.