The Growing Music Collection of Taylor Swift
Let's be honest, 2020 will always and forever be known as the garbage truck on fire of all years that we've had to live through — staying inside due to a deathly pandemic being one of the reasons. 
Though it was really tough, there was at least one person who made it more bearable to be stuck inside for many people. This person being Taylor Swift. During quarantine, Taylor released two albums, 'Folklore' with 16 songs and 'Evermore' with 15 songs. Not only did she release these two albums but she also teased that she was re-recording some of her older albums.
Debuting through a surprise release on July 24, 2020, 'Folklore' is Swift's eighth studio album after her last album 'Lover' which came out in 2019. 
Swift has always been very well known for releasing country music when she was younger, songs like 'Tim McGraw' and 'Love Story' (which we'll talk more about later). But for the last couple of years had been known for her upbeat pop music, songs like '22' and 'Shake it Off'. But things are now different as she is releasing folk music, or at least something close to that. 
Folk is defined "as music that originates in traditional popular culture or that is written in such a style. Folk music is typically of unknown authorship and is transmitted orally from generation to generation." The album is definitely unique because it sounds a lot more mature than some of her others. I mean she is 31 years old, so it shouldn't be very shocking. 
When we thought we just couldn't get enough Taylor, she then decided to surprise and release another album on December 11, 2020, called 'Evermore.' 
Both albums have received very positive feedback as Swift tells various stories through her beautiful lyrics. Once you listen to both albums you can definitely tell that they were both handled with care and had hard work put into them. 
Of course, this isn't only her doing this by herself, she worked with artists like Justin Vernon, from indie group Bon Iver, on songs 'Exile' from folklore and 'evermore' from the album Evermore. She mainly collaborated on evermore, songs like 'nobody, no crime' with HAIM and 'Coney Island' featuring The National. 
By the end of 2020, Swift had received six Grammy nominations, for Best Pop Vocal Album and Album of the Year for Folklore. To continue she also received Best Pop Solo Performance for her song 'Cardigan' and Best Pop Duo/Group Performance for 'Exile' with Bon Iver. This has nothing to do with Folklore but she was also nominated for Best Song Written for Visual Media for 'Beautiful Ghosts' from 2019's movie musical "Cats." 
To finish off, again when we thought Taylor was done with music and was probably gonna take a break she then announced on Good Morning America that she was going to be rerecording her first six albums. According to Frank Pallotta from CNN, Swift is gonna be rerecording her first album "Fearless" because she technically doesn't own the master recordings of the songs on the album and any other songs that she recorded prior to 2019's album "Lover."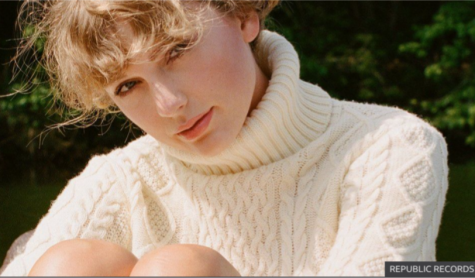 "The recordings she made originally were made at a different time and under different contractual and legal objections. She's not happy about this," said Serona Elton, director of the music business program at the University of Miami Frost School of Music. 
This has caused some controversy as some are questioning if her rerecordings are gonna be eligible for future Grammy Awards. When she released her first album 'Fearless' she earned four Grammy Awards total.
According to the New York Post, Swift is eligible to receive awards for her new recordings, but would only allow them if they were recorded within the last five years. This will lead some of her older songs not being eligible. 
Of course, this isn't the first time this has happened as famous artists like Frank Sinatra and Nat King Cole who have rereleased albums and earned nominations. 
Swift then announced that the re-recording of 'Fearless' will be released on April 9 of this year. The album will be different because there will be six new never-before-heard songs. She recently re-released the good old 'Love Story' that came out in 2009 and depicts her retelling of Romeo & Juliet, but minus the sad ending from the original story. 
As we can tell Taylor has been busy not only throughout 2020, but she will continue to be busy throughout 2021. While most people might be annoyed with all that Taylor has been releasing, I can say that most of us do believe that it is very refreshing to see someone work so hard during these challenging times and being able to give others an escape from reality.