Icy Weather Leads to Massive Pileup in Texas
Over 100 cars were involved in a horrible pile-up in Fort Worth, Texas, earlier this month. The accident was reportedly caused by "black ice" on the road which led to multiple cars crashing resulting in many more to follow. 
An investigation has been launched to see what led to this horrific accident that involved 133 vehicles, leaving six dead and many injured. The crash occurred on Interstate 35 near downtown Fort Worth. A winter storm rolled in the night before, leaving light snow and sleet on the roadway which led to the unfortunate crash.
The first vehicle involved in the accident crashed at around 6 a.m. on the morning of February 12. The crash was met with multiple cars, trucks, and semi-trucks entangled together on the road. The vehicles were so closely compacted many of the victims were trapped in their destroyed vehicles. Some vehicles were even on top of one another.
"There were multiple people that were trapped within the confines of their vehicles and requiring the use of hydraulic rescue equipment to successfully extricate them," said Fort Worth Fire Chief Jim Davis. 
Many of the victims were treated on the scene of the crash and released, but at least 65 people were treated at local hospitals, 36 of them being taken in ambulances from the crash site, according to 9News.com. 
A federal investigation has begun and is focused on snow and ice treatment procedures. Authorities report that the road was treated properly before the crash. The private company that manages the road maintained the procedures necessary to keep the road safe. The North Transportation Safety Board is still continuing to investigate safety measures that can be made to keep people safe on the roads during this weather.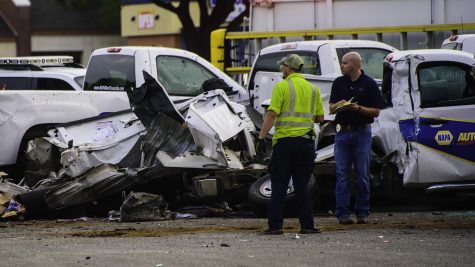 "More than 80 police units responded, including the special events unit, which is meant to respond to large-scale incidents," CNN reported.
This crash comes right as a polar vortex made its way to Texas which has not only led to the crash, but left thousands of Texans in the cold without power. A polar vortex is a large-scale low-pressure area that rotates counterclockwise from the North Pole and clockwise from the South Pole. This phenomenon makes temperatures drop and causes snow. 
This year specifically the polar vortex that has affected the central and southern states has been documented to have made a drastic increase in damage than in past years. Many believe this is due to climate change. 
This phenomenon has created a catastrophic accident that has led to numerous deaths within the past two weeks.  The roadways should be a safe place for those just trying to get to work and precautions should be met, especially in weather conditions like this.