The Violence Against Asians In America
For the past few weeks, hate crimes against Asian-Americans have increased significantly since last year. This is due partly because of the racist rhetoric about the coronavirus pandemic which former President Trump began last year when the virus started to spread. 
Innocent Asians in the US have been targeted and killed, and many people aren't standing for this hatred and xenophobia. 
On January 28, 84-year-old Vicha Ratanapakdee was shoved to the ground while taking his morning walk in San Francisco. He died two days after the assault. 
Three days later, a 91-year-old man was brutally attacked in Chinatown in Oakland, California, on camera, and then a week later, a 64-year-old Vietnamese woman was assaulted and robbed of $1,000 in San Jose. 
These assaults were just some of the many incidents involving physical violence against Asian-American elders in recent weeks. According to USA Today, police departments across the country are warning citizens of increased crime around Lunar New Year, in part because of the threat of robberies during the multi-day celebrations.
Since March of 2020, the violence against Asian-Americans has increased as Covid cases increased. Many politicians, including former President Donald Trump, blamed China for the pandemic and were calling it the "Kung flu" or "Chinese virus," just to name a few.
Some see a clear connection between Trump's racist references to the coronavirus and the increase of xenophobia in America. 
The activist and co-founder of Stop AAPI (Asian-American and Pacific Islander) Hate and professor of Asian-American Studies at San Francisco State University, Russell Jeung told Time Magazine, "There's a clear correlation between President Trump's incendiary comments, his insistence on using the term 'Chinese virus' and the subsequent hate speech spread on social media and the hate violence directed towards us."
The NYPD data reported that there has been a 1,900 percent increase in anti-Asian hate crimes in New York City in the past year.
And that's only the cases REPORTED.
The racial violence against Asian-Americans does tend to be overlooked due to many stereotypes. This is known as the Model Minority Myth/stereotype. The Model Minority Myth in simple terms is the idea of one minority stereotypically being better than another. For example, people tend to always stereotype Asians as being smarter and just more well-rounded than other ethnic groups, like African-Americans. They are not held to the same standard despite also being minority.  
So most people simply can't put Black struggles and Asian struggles on the same bar, even though both races should never be racially attacked or discriminated against. 
Bianca Mabute-Louie, a racial justice educator, also told Time Magazine, "There is a stereotype and an assumption that Asian-Americans have class privilege, that they have high socioeconomic status and education, and that any discrimination doesn't really happen or feel legitimate. 
 "There are these assumptions about ways that Asian Americans have 'succeeded' in this country," she continued, adding that the Model Minority Myth is a large contributing factor to the racial wedge between Asians and African-Americans.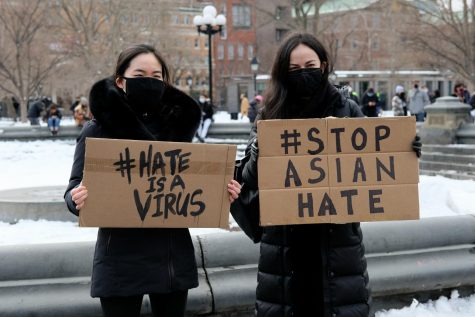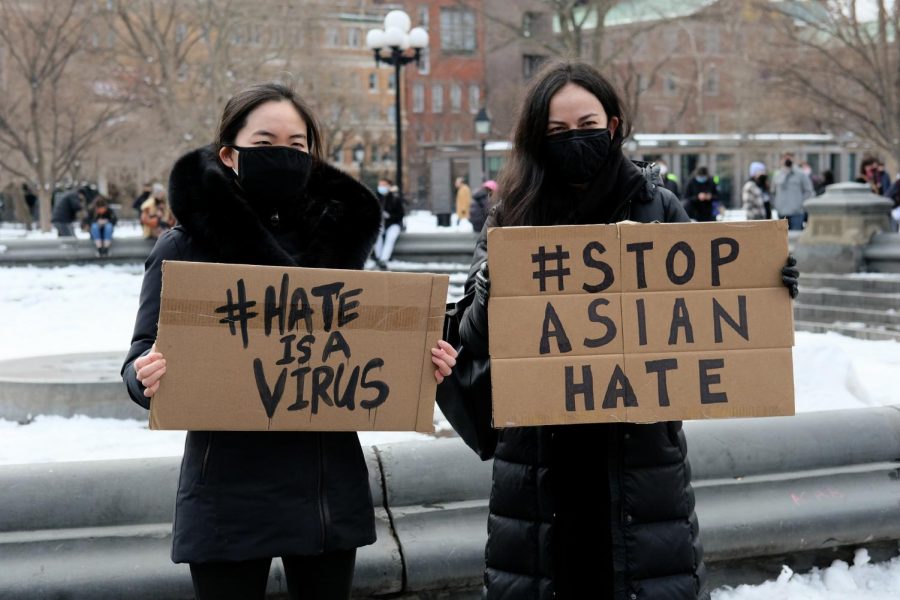 As cases continued to rise this year, celebrities, influencers, and activists are trying to spread awareness about the anti-Asian attacks happening. Due to the lack of coverage, many people don't know that this is even happening. 
Actors Daniel Dae Kim and Daniel Wu even offered a $25,000 reward for information leading to an arrest in the case regarding the attack on a 60-year-old Asian man also in Chinatown. The officials found the attacker and Dae Kim and Wu donated the money to community organizations like Stop AAPI Hate.
Korean-American K-Hip Hop artist Jay Park took to his Instagram to tell his Asian-American audience to be careful during the holiday (Lunar New Years). 
"Worried about my aunts and uncles," he wrote in an Instagram post. "To all my Asian people, be aware! Look out for your parents and yourselves. Disappointed in the ignorance. If you have compassion for the Asian community, spread awareness to those around you. The whole world is fighting the pandemic. To beat this everyone needs to unite." 
Actress Awkwafina also posted on her Instagram to highlight organizations that have been advocating for social and racial justice, including Stop AAPI Hate, The Asian-American Legal Defense Fund, and Bryan Stevenson's Equal Justice Initiative.
Awkwafina said, "Lunar New Year took on a different meaning. I am saddened, disturbed, and devastated at the recent string of attacks against the Asian-American community, and our elders." 
Rapper Cardi B even said on her Instagram Live, "I want to let you guys know… Let's stop being xenophobic, let's stop saying f—– up jokes, let's stop having crazy anger because I've been seeing a lot of Asians get beat up."
Many other well-known people like TikTokers and influencers have been advocating for social and racial justice for the Asian community. Even though many well-enough-known celebs have been trying to do their part to help, regular people on the streets have been holding rallies and protests with masks on to hope their voice gets heard. 
In the past week, rallies have been held in both New York and California.
These cases and attacks aren't getting recognized enough and people have had it with the lack of media interest and government attention. No one should ever be discriminated against for their race and we all shouldn't let any xenophobic slurs or actions pass by. 
To help and become more educated on what's going on right now, you can check out:
 https://www.standagainsthatred.org/