Biden's Push to Reopen Schools, even Agua Fria!
President Joe Biden has always made it clear that he has always wanted the best for his country, with education high on the list. However, with the recent controversy of White House Press Secretary Jen Psaki's miscommunications on Biden's school reopening plan, it seems that the 100 Day plan has been through some possible edits?
And another important question, what does that mean for Agua Fria?
President Biden has always been open on his views of education, where he believes that students need to reenter schools to get the best out of school, but only if schools were to safely reopen. That's where his 100-day plan comes into play, where his goal was to have 5 days a week, which most people agreed with and liked the idea. 
However, White House Press Secretary, Jen Psaki, has sent some new information during a recent White House briefing, saying, "As of right now, the President's goal for schools is to have children having one-day in-school learning a week." However, the President and Mrs. Psaki seemingly are backpedaling, or at least correcting themselves, on that statement. 
President Biden revealed that the plan she discussed was "…a mistake in communication." He then said his hopes during a CNN Town Hall in Milwaukee, where he said, "I said open a majority of schools in K through eighth grade because they're the easiest to open, the most needed to be open in terms of the impact on children and families having to stay home."
And while that's great for the students in K-12 who are excited to return, many students in high school, colleges, and even parents of those students are wondering what that means for them, as the discussion is still left in the air. However, for Agua Fria students, the question may have a recent answer in the upcoming month of March!
On February 16th, the Remind app put out an alert sending out a Google form for parents asking if their child would be interested in returning to school. The form had three answers, yes, no, and uncertain. Rumors around the school started to circulate about a potential reopening of Agua Fria and students were excited. 
Until finally, the news had a foundation with the Principal of Agua Fria, Ernest Molina, who had sent a letter to the families of Agua Fria students. Here, the letter read, "I am beyond thrilled to share this weekend's message, even to the point of sending it a few hours early. As you will read in the attached letter from our superintendent, Dr. Runyan, there is a plan for families to be afforded a return to in-person learning once again. It is difficult to believe that when our students return to our campus…it will have been one year since most of our veteran students have been on our campus." 
Agua Fria's original return date was set for March 22, but after Governor Ducey's executive order, it appears we will in fact be returning on March 15, after Spring Break.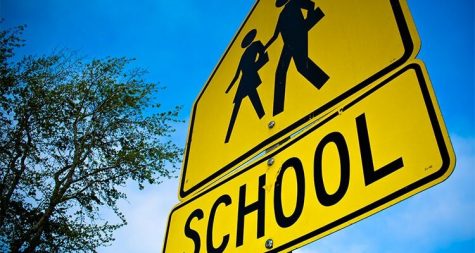 And with that, Mr. Molina confirmed that we would be returning to school! However, many students have wondered, what does it mean? Will the schedule change? Will online learning still be an option? Will there be a hybrid option? And is it even safe to return to school right now?
While there may not be an answer to all these questions, we can assure you that the school's faculty and staff are doing their best to help keep it safe for everyone returning to school.
So with that in mind, people are either excited, screaming in joy, or upset, groaning in their beds, for the news. Many people wonder, what this means for the rest of the semester to come, and how it will affect them? Myself included. Well, one thing is for sure, this will be an interesting and hopefully satisfying end to a crazy school year. Hope to see all of you safely at school.