Aesthetic Fashion Styles— Don't Just Stick to One
Alt, Vintage, Hippie, Soft, Badie, and many others — there are so many fashion styles to pick from. Fashion is one of the most popular and fun ways to express yourself and enjoy it at the same time.
Big hair, oversized shirt, baggy jeans, vintage. A Vintage style is more old school, going more towards the 60s and 80s. It is just a term that evokes certain time periods from the past.
"I don't wear it very often because I like the alternative style more, but wearing vintage outfits is something I do enjoy because it can be interpreted in different styles,if that makes sense," said Kyra Caldwell, a sophomore at Agua Fria High School. "Like, you can wear a vintage outfit and it can still be considered alternative or soft or something like that."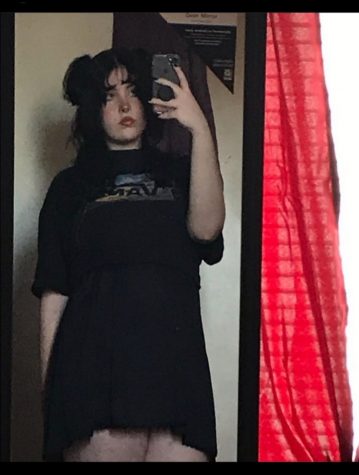 Vintage clothes can be changed and adaptable to more modern trends, and they are also timeless classics that can be mixed to become a staple of any wardrobe.
Pastels and cute. Soft aesthetic is like in the name being very soft, the aesthetic makes the user seem very soft and innocent. So when applied the user is mostly to be considered a softie and seen as shy, the quiet type. Normal, when going for a Soft aesthetic, you would wear pastel colored clothes, or even just light colored clothes. Light colored make-up, close to a natural look.
More of an 1800s kind of vibe, both Light and Dark Academia aesthetic. Personally one of my favorites, it is seen as more mysterious and it is not as common, the most people see it when it is on social media, TikTok or Instagram. When wearing something that is in this aesthetic, it can be looked at in different ways because of how uncommon it is, unless modern day clothes are used or added to the older ones, to mix it up.
"Literally this is my favorite kind of aesthetic because I really enjoy older styles,"  said Cynthia Hitomu, a future fashion designer. "I do sometimes wear vintage clothes too, but the idea of how you can mix and match the light and dark Academia is so much better to me. Also it gives me an excuse to buy corsets and you can wear feminine and masculine things without people really knowing which is which because of how the aesthetic goes."
Light Academia is emotionally positive and looked at as the light counterpart of Dark Academia. Clothing colors are normal white, tan, light brown, with one of the clothes items being black to bring out the others. Dark Academia normal has intense and negative themes, common colors being, dark green, black, dark brown, and/or gray.
When it comes to fashion and what is trendy, one should never feel compelled to stick to one. If you only like one then feel free to only wear one, but if you can not pick one, then do multiple. 
Bigger is better, and more fun. If you wear more than one aesthetic style it makes one seem more fun and creative, and who doesn't love to be more creative and out there?
There are so many aesthetic styles that can be worn, and some many more that can be made and added to.