Meet Ms. Miller
Kassi Simmons– OwlFeed
Follow me on Twitter @OwlFeedKassi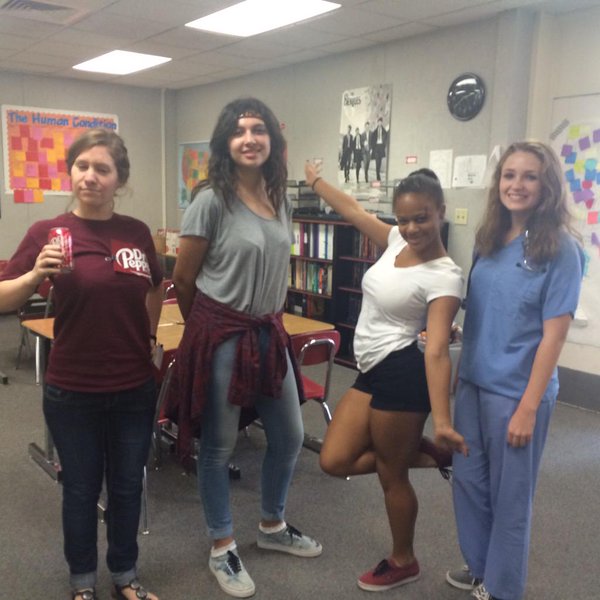 It all began with helping her friends with their homework on the bus, and the rest, they say, is history. Not only is Ms. Miller a phenomenal English teacher, she's a pretty nifty human, too.
This is Ms. Miller's first year here at Agua Fria, and she teaches both regular and Honors English 2. Before coming to Agua Fria, Ms. Miller taught AP English at Cesar Chavez High School.
Ms. Miller grew up in Arizona and was in the IB program in high school. She went to school with Ms. Loker, one of our amazing math teachers here at Agua Fria.
She enjoys Harry Potter, Lord of the Rings, and memes.
Ms. Miller is a huge proponent of the oxford comma, and she is fluent in sarcasm.
She prefers NSYNC over the Backstreet Boys, and her drink of choice at Starbucks is a Peppermint Mocha.
As an English teacher, you're practically required to have a favorite piece of literature and Ms. Miller is no exception. Her favorite novel is Cat's Cradle by Kurt Vonnegut.
One of the most important things about her, I believe, is she genuinely cares about her students. She tries to attend at least one game if one of her students are athletes.
Additionally, she offers help on things like Honors Society Applications and life problems.
When asked what it means to #BeAnOwl, Ms. Miller said, "Trying to be the best version of yourself and being passionate and energetic is what I feel being an Owl is all about."
Thank you, Ms.Miller, for encompassing what it truly means to #BeAnOwl.