LIGHTS, CAMERA, ACTION! Agua Fria's Threatre Club Performs 'In The Heights'
On Wednesday, March 24th, 2021, the Agua Fria Theatre Production performed their latest musical production In The Heights by Lin Manuel Miranda, writer of popular musical Hamilton. 
This marks a major moment for the Theatre Club as this will be the first time that they will have a live performance this school year! To see how this came forth, let's travel back in time. 
In January, announcements for 'In The Heights' auditions were buzzing, and the Theatre was excited. On the 20th, the day came where students got the chance to audition by singing and dancing for what part would be best for them. 
Then the cast list was posted and people got their parts! It was an exciting time, but just because we got parts, didn't mean the ride was going to be easy from there. 
"Chaotic! Lots of moving pieces to get assembled and then bam! COVID quarantine," drama teacher Mr.Javier Gonzalezstated when asked about the beginning days of rehearsal. 
Someone had come into close contact with someone who tested positive for Covid, forcing us to rehearse from online. I was nervous throughout ALL of the rehearsals of 'In The Heights' because COVID could have taken us out at any moment.
However, we pushed through! Through the help of Ms. Kristie Zamora-Becker, the choreographer and AFHS English teacher, Ms. Katherine Stremel, music director, and the special help of Alexis O'Donnell and OwlFeed's Bryan Gonzalez Saldana as the stage managers, all 17 students came together near the end of January to start rehearsals. 
There were some struggles throughout the months as Gonzalez-Saldana said, "There were some days when people were off or had low energy, and it was sometimes frustrating because you can only get better when you tried your hardest."
O'Donnell, the other stage manager, also said, "The times I felt the most nervous was when the cast lacked energy. This is a very energetic and colorful show, so when it came to the cast seeming like they were bored I began to get nervous and I feared that they wouldn't have a lot of motivation to proceed forward."
Near the end of the rehearsal process, there was a lot of passion and heart given into the performances. People were trying their hardest to make sure they can do whatever they can to make their characters shine their brightest! We were really getting ready to sparkle. 
When asked about the progress the cast was making, Mr. Gonzalez said, "We as directors can only do so much. It is up to the actors to be responsible and practice all of the show materials on their own.  Listening to their music, practicing the dance moves at home, and memorizing their lines.  It is honestly a partnership in responsibility from Director to Actor." 
O'Donnell added in, by saying, "In the beginning, it was clear to see a lot of anxiety within the cast. As time went on they began to grow with each other. Seeing the cast being able to work together had really created a bigger impact on the stage than they could imagine." 
She continued by saying, "An example of this growth is the dances. At the very beginning they did struggle a little but after a lot of work and fixing they were able to pull it off. Seeing them grow in these times really gave me a lot of hope and never once have I doubted this cast."
Finally, opening night came, and it was time to show all of what we had to offer. We were all excited, and we couldn't help but get all giddy as we couldn't wait to go on stage and perform!
When asked on opening night, Gonzalez Saldana said, "From the beginning, I could tell a lot of people were nervous, but now I'm very excited and very proud. We have been trying new things and still watching from rehearsals before tonight. I laughed numerous times at jokes, smiled at the great characterization, and even cried a few times. I'm so proud." 
It was within the hour of performing, and all of us were nervous. We sent out QR codes to help buy tickets, we had greeters letting people into the auditorium, and we had our costumes and make-up all geared up. Before we went on stage, we had Ms. Strummel help us with vocal warm-ups and even had Ms. Becker cleaning up choreography. 
Finally, we had Mr. Gonzalez group us in a circle in the Black Box. We felt so many emotions at that moment, but he told us to close our eyes and breathe in and breathe out. Whenever we felt stressed, he told us to always just do that exercise, and we'd be fine. And you know what, he was right. We all exited the Black Box and got ready to perform and told everyone that we got this, and performed 'In the Heights' for the first time in front of a live audience.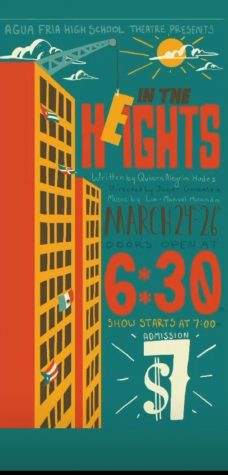 We all felt glorious to do so. In that moment, we danced, sang, and acted our hearts out. When we had an audience actually cheering us on, we doubled our energy and wanted the audience to leave in happiness. To represent a group actually performing in live theatre, it felt great, as hopefully, we are possibly going farther in terms of society actually moving on and hopefully doing more down the road. 
The performances went on with smashing success. Sure there were some hiccups here and there, but together we managed to break through and performed what some would say was the "best performances we ever had!" 
Famous movie reviewer and student here at Agua Fria Alonso Vasquez, reviewed the film and said, "I loved how much effort you guys put into this, how much effort and soul in this. You guys can relate to these characters and distinguish them so much, just put your soul into them. And really carry them into reality!"
Strong emotions felt throughout the night as students began to go down and do their bows. And finally, all the seniors from the majority-senior cast walked up to the audience, came together, and cheerfully gave their final bows. I was one of those seniors, and admittedly, I didn't know what to do with myself, but it wasn't until the night was over that I realized how sad, yet happy, I was to be there at that moment. 
At the end of Friday's show, all cast, crew, and anyone else who helped decided to have a celebration at Denny's and cheered the night away. It was a special moment where everyone got together, not only as a cast, but as a family, as we shared tears, laughter, and emotional bonds. 
"As I said before, we as artists are NEVER fully satisfied with our creations," said Mr. Gonzalez, "but I am extremely proud of my cast and crew for everything they have been able to accomplish. Putting live theatre together during COVID times is not an easy task. Your student actors have sacrificed so much to make this a memorable experience for everyone in attendance.  Enjoy the show!" 
And we certainly did. Thank you to everyone who came and watched. It was an honor for all of us that you came and saw us perform in such a time of hardness and difficulty in every corner. Even though the school year is ending, there's still more amazing shows you can watch such as the Senior One Acts coming soon in April! Thank you again, and hope to see all of you once again, for a final time! 
About the Writer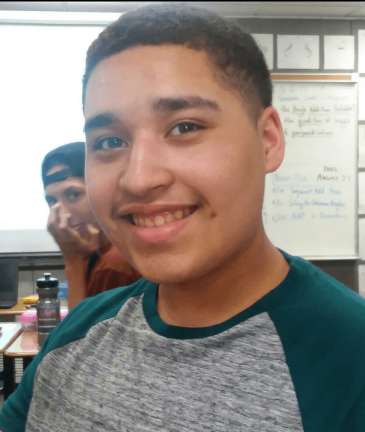 Elijah Carson, News Editor
OwlFeed News Editor Elijah Carson is a man of many passions, personas and experiences.

Elijah joined journalism to indulge in his writing ambitions...