Not Clickbait — David Dobrik is Cancelled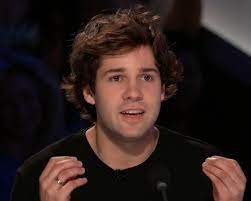 Editor's note: This story contains descriptions of events that may not be suitable for all readers.
Yes ladies and gents, it is true David Dobrik is cancelled. We do not support sexual abusers, nor people who exploit sexual assault for millions around the world to see. 
David Dobrik, a 24-year old influencer who became famous off of the popular app Vine, gained more recognition with his four-minute-and-twenty-second YouTube videos. These videos range from pranks and giveaways, to extravagant gifts he would purchase for members of the "Vlog Squad" with the help of sponsors. 
The video in question was titled "SHE SHOULD HAVE NOT PLAYED WITH FIRE,"  filmed in 2018 when Vlog Squad member Dom Zeglaitis, also known as "Durte Dom," invited college student "Hannah" (pseudonym), who was 20 at the time of the assault, and her friends to his apartment. 
The video portrayed a sexual encounter, however it was far from it. The Vlog Squad members provided alcohol to the group and Hannah quickly became too intoxicated to realize what was happening. Zeglaitis then took Hannah and her friend into his room where he allegedly had intercourse with them. 
Dobrik and other members of the Vlog Squad stood outside the door and filmed their reactions. The video was posted, despites Hannah's objection, but it was later taken down only after it reached five million views. 
As a former fan of David Dobrik's, I remember watching this particular vlog and thinking nothing of it. Five million people, myself included, had no idea we had just watched a sexual assault take place. 
Hannah described to the Insider that she was "blackout" drunk and one of the Vlog squad members "Durte Dom" sexually assaulted her while she was unconscious. She later went on to say, "It was very much an environment where it felt like saying 'no' was not okay… They were verbally, like, 'Why aren't you guys being fun? Do something sort of sexy.' " 
Shortly after The Insider published the interview with Hannah, former members of the Vlog Squad came forward to share their stories and the dark truth of being friends with Dobrik.
Trish Paytas, a former member of the group, recalled Dobrik sneaking into her hotel room to film her being intimate with her boyfriend at the time, Jason Nash, who is still a part of the group. Nash was aware of the "prank" however allowed it to happen. Paytas expressed her discomfort on her podcast Frenemies. 
"There was no consent given. Because I was dating Jason, because I was a participant in the vlogs- that's my consent?" she said. The video is still up and titled "I SNUCK INTO THEIR HOTEL ROOM (SURPRISE)" and has been viewed over 14 million times.  
On March 2021, Dobrik made a two-minute-and-30-second video titled "Let's Talk" on his podcast channel. He addressed the sexual assault claims made about Dom Zeglaitis and has said that he has distanced himself from Zeglaitis. 
However, many criticized his "apology" video and claimed he was insensitive for not addressing the bullying claims made by former member Nick Keswani or Trisha Paytas's discomfort about being filmed naked without her consent. 
Personally, I think that David could have been more sincere in his "apology" video and that maybe this was just a PR stunt that his managers forced him to do so he wouldn't lose his sponsorships. There's no denying the fact that he is a well-known influencer and if he really was sorry, he would have posted the video on his most-subscribed YouTube channel.