'Kimetsu No Yaiba Mugen Train' Set to Debut in US Theaters
Demon Slayer fans, the time has finally arrived! 
After over nearly half a year of waiting, the movie for the 'Mugen Train' arc of the series is making its long-awaited debut in American cinemas on April 23 and a digital home release on June 22. It will be available in both English dub and subtitled, as announced by the official Twitter account. 
The movie was released in Japan on October 16, 2020, amidst the COVID-19 pandemic. Although this major obstacle was in the way, 'Mugen Train' managed to make over 38.78 billion Yen ($371 million) at the box office and so far it has acquired over $420 million in worldwide sales. 
The movie has even surpassed Spirited Away as the country's number one grossing movie and anime film of all time. These monster profits are surely expected to go up when the film releases and it most likely will break box office records during its run. Presale tickets for the movie go on sale April 9 through American distributors Funimation and Aniplex.  
The film's release has stirred much more excitement and hype for the series and will only continue to skyrocket the show's popularity. 
"Demon Slayer's record-breaking box office sales in Japan have elevated the series — and anime itself — to a new level," said Colin Decker, CEO of Funimation Global Group.  
If you're unfamiliar with the series, 'Demon Slayer' or 'Kimetsu No Yaiba' in Japanese was originally a manga later adapted into an anime, written and illustrated by anonymous author Koyoharu Gotouge. The manga was originally published in 2016 in the popular anime magazine 'Weekly Shonen Jump,' which is known for distributing several other admired manga such as 'Hunter X Hunter,' 'Jujutsu Kaisen' and 'My Hero Academia.'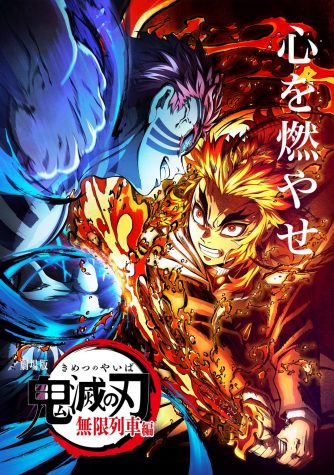 It tells a story in the Taisho-era of Japan where it follows Tanjiro Kamado, a boy who joins the Demon Slayer Corps, a secret organization that has been hunting demons for centuries, to find the demon who slaughtered his family and transformed his younger sister, Nezuko Kamado, into a demon. 
The movie takes place immediately after the events of the first season (which I won't get into in order to avoid spoilers for those who haven't watched it yet) and leads with Tanjiro, Nezuko, and his friends Zenitsu and Inosuke as they board the Infinity train to investigate cases of 40 missing people in a very short amount of time. They join Kyojuro Rengoku, a Hashira high-ranking swordsman of the Demon Slayer Corps, in the fight against a Lower Moon One demon. 
The first season of the anime aired in 2019 to widespread audience and critical acclaim, especially praising the clean animation and fight sequences. Previously a month before the announcement of the U.S. movie release, the second season of the anime was announced with no official release date yet but it'll be premiering in the later half of 2021. 
Overall, this year is a very eventful one for the series. American audiences are eagerly waiting for the movie's release as it creeps closer every day!