Bella Tarzia: A Charismatic Senior Ready For The Future
Bella Tarzia is a 18-year-old senior here at Agua Fria High School. She has spent 4 years at Agua Fria creating memories and growing as a person over her time at the school. 
While speaking to some of Bella's peers and teachers, one thing is prevalent, and that is that Bella is hardworking and confident in herself. Nothing holds her back and nothing will hold her back from achieving her goals. 
This school year has raised challenges for every student and teacher, whether you are an online learner or in-person student. The current climate of the world has impacted us all. 
As many students feel unmotivated to do school work while being a remote student, Bella has used this experience to focus more on her studies.
"This year has taught me so many things," Bella said. "As a student it's taught me to be more self-accountable. I chose the online option for school so that I could do things on my own time and it's working out well. It has shown me that I am more independent than I thought and I can learn remotely." 
She has used this experience to better herself. Bella went on to state, "Honestly, I don't know where I'd be without Covid."
Bella's drive during this pandemic has been noticed by her teachers as well. Bella is the Opinion Editor at OwlFeed, so I decided to speak with Mr. Jovanelly, the journalism teacher for OwlFeed. 
His responses to how Bella has done this year under the challenging circumstances have mimicked her drive and work in the class. 
"Bella is extremely passionate about what she does and puts in tremendous effort into everything she does," Mr. Jovanelly said. "There hasn't been any change in Bella's ability to learn even while remaining an online student. Her leadership and drive is still there and I am extremely impressed. With the circumstances currently presented, Bella has proven to keep up and remain a strong student." 
Bella has been described as very driven and certain of what she wants in life by her teachers and friends. Mr. Jovanelly said, "She is very driven and has a clear idea of what she wants and doesn't let anything get in the way of that." 
Over her years in high school, Bella has spent her time playing club volleyball, as well as playing for Agua Fria's volleyball team. Bella's experience with the sport has had a major impact on who she is. 
"I played volleyball for three years and met some of the most amazing girls in the world," she said. "I also played club volleyball for four years, which was an amazing experience with intense coaches, great girls and a great traveling experience." 
The coaches and people she has met in her time with sports have encouraged Bella to keep going and have made her drive for achieving her goals even stronger. 
Other than sports, Bella is also the Student Body Historian for Agua Fria's Student Council. Her time as a leading member of Student Council has further cemented her voice to always lead the way.
I spoke to Haylie Mullhausen, one of Bella's closest friends, to find out some more information about Bella as a person. They both played on the same volleyball team and had become closer throughout the summer where Bella would help Haylie by taking her to practices. 
Haylie told me that Bella's personality is what made her really get close to her. 
"Bella is one of the best people that you can possibly be friends with," Haylie said. "She will always be there for you and will be sure to brighten up your day. If you're ever down or having a bad day she does small stuff that has a huge meaning to someone. She is one of the most selfless people I have ever met and will always put others before herself. She won't let what others say truly bother her and she has a sense of spunk and is not afraid to tell you like it is.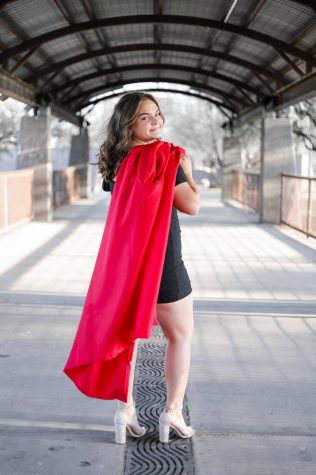 The last question for Bella during our interview was what were her plans for the future. She told me that she plans on attending NAU to study hotel and restaurant management to fulfill her dream that is deeply rooted in her family history of opening a restaurant.
"I am the first generation that lives in America that can actually do that, so I've got a plan and I'm going to stick to it," she said. 
One thing I learned from this profile is that Bella knows exactly what she wants in life and nothing will stop her. Everyone I spoke to said the same thing, and that is that Bella is open to voicing what's on her mind and she is determined to achieve anything. 
Bella is always herself, and her personality is intoxicating to everyone she encounters.