The Good Vibes of Ray Alade
From making posters for spirit week, to assisting the athletic trainer on the sidelines, Ray Alade has displayed her Owl pride throughout all four years of high school. Alade's friends describe her as a funny, outgoing, intelligent individual who overall radiates positive vibes.
Alade has participated in countless clubs and sports, both in and out of school. A few examples are student council, athletic training, interact club, journalism, soccer, and many other exciting activities. 
Out of all the clubs she has participated in, she enjoyed Interact and Athletic Training the most. "I met my lifelong friends in these clubs," Alade said. "We made so many memories that I will never forget." 
One memory that both Alade and long-time friend 18-year-old Alicia Ochoa will never forget are the rides home from a sporting event. Ochoa recalls her favorite memory. 
"When we were coming home from a baseball game and it was nothing but pure good vibes!" Ochoa said. "Good music, great conversations, and loud laughs! It was late at night too and we were on the freeway so the vibes were immaculate."
Luckily Alade and Ochoa will continue making new memories as they prepare to enter the University of Arizona in the fall. 
Alade will be majoring in pre-law in hopes of becoming a lawyer. In 10 years, she sees herself "definitely not as a parent or married, I see myself being successful. Hopefully, I will have my doctorate and be living in Canada." 
Her ultimate goal is to be the rich, successful aunty at the family gathering who drives a boujee Lexus. 
When Alade first entered high school she remembers being too concerned about fitting in, rather than being herself. One piece of advice she wished she would have known before entering high school was, "Drop that friend, you don't need to leech onto anyone and of course, take pride in being black." 
Looking back her biggest regret was putting others first when she should have been more focused on her well-being. 
Although high school didn't teach Alade how to file taxes, it did teach her who her true friends are. 
Alade is an academically driven student who has accomplished so much. From being editor-in-chief of OwlFeed to receiving multiple scholarships for her academic achievements, Alade sets a great example for her younger siblings. Being the driven, dependable, and honest student she is, there is no surprise she has been awarded multiple scholarships both locally and from her future university. 
Ochoa said, "Ray has accomplished so much that I can't even keep track. I'm beyond proud of her. She keeps her head up even if she is having the worst day of her life."
Despite going through rough times, Alade is always quick to crack a joke to make sure those around her are okay. She has shown this behavior both in and out of the classroom. 
For instance, teachers have nothing but good things to say about having Alade as a student. Joshua Jovanelly, geometry and journalism teacher at Agua Fria, shared that he is most proud of her accomplishment of being editor-in-chief. 
He happily said, "Being editor in chief during the pandemic is something very few people could handle from home. She has handled the role amazingly despite the circumstances. I am most proud of that."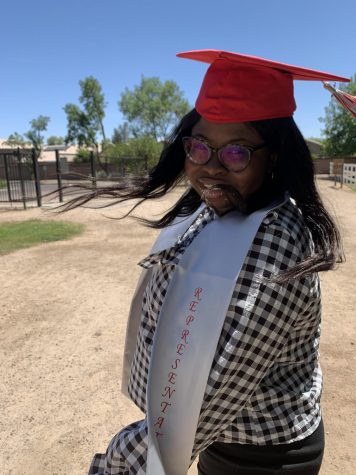 Although it was a difficult and stressful role to fulfill, Alade handled it with ease. There were many sleepless nights and multiple breakdowns, however, she takes pride in being able to handle whatever challenges were thrown her way. 
Alade agreed that being in a pandemic taught her new life lessons. She returned in the fall before quickly realizing that the atmosphere was not the same. School did fully reopen after spring break, however, Alade made the tough decision that it would be best to continue her classes remotely. 
With her role, it was hard at first but she quickly learned better ways to communicate with her fellow peers.
One thing she had to say about the pandemic is, "It's hard being a student in a pandemic, students are put on a pedestal. It's okay to have those days and it's important to know when to take breaks. I stress to my fellow peers to not worry too much about academics and taking care of their mental health is more important." 
As she continues to move forward, her friends, family and teachers have words of encouragement for her. 
Jovanelly advised that "she continue to believe in herself. With all the new challenges and new stressors, if she continues to believe in herself there will be nothing she cannot accomplish." 
Ochoa had something similar to say. "Keep up the great work Ray! I'm so proud of everything you have accomplished and it was nice seeing how much you've grown as a person, friend, and student since sophomore year. Can't wait to dorm with you at University of Arizona." 
Ray Alade is overall an amazing human being. Let's continue to celebrate her success as she closes this chapter of her life and prepares to Bear Down.