Mike McGehee, the True MVP
"Serves up!" bump, set, "Outside! Outside! Outside!" Slam! The crowd goes wild. Michael McGehee or Mike is team captain of the Agua Fria Men's Varsity Volleyball team. Mike had recently set a school record of 21 kills in one game. Mike is an outside hitter and is the best at it.
 Mike, as team captain, is very positive. During practice he is always encouraging other teammates, giving out high fives, getting teammates hyped. Mike had this to say about how his positivity, and how it affects his teammates. 
"I feel like I make my teammates more confident not only on the court but off the court as well," Mike said. 
Everyone loves Mike. Teammates, friends, teachers, coaches. If you don't like Mike, you're out of your mind.
Some people only know Mike on the court, but what is he like off court? Mike's teammate Cam Weeg, middle hitter and also one of Mike's good friends, had this to say about him. 
"Mike off the court is not much different from when he is on the court," Cam said. "He is very social and nice to every person he meets and gives off just an all around cool vibe." 
Cam and Mike have been friends with each other since freshman year. Their relationship is like PB&J, you can't have one without the other. 
Cam added, "Mike affects my game hugely because I'm a very verbal and emotional player and Mike also brings the same energy. I see it as we feed off each other during the game to encourage me to play the best I can." 
Both Cam and Mike are stellar athletes, but they wouldn't be where they are now without… Coach Fox. Coach Fox is the head coach of the Agua Fria Men's Varsity Volleyball Team. Coach Fox had some encouraging words about Mike's game. 
"I would describe Mike as dedicated and hard-working," Coach Fox said enthusiastically. "We communicate well between the two of us. He sets high expectations for his teammates." Coach Fox is a very great coach and he is very lucky to have a player like Mike. 
Mike is an important key to the Agua Fria offense. Mike's kill percentage is 46%. That is 25% percent more than the national average. Mike has an elite mindset, which puts him ahead of other players. 
"Mike has a great work ethic," Coach Fox said respectfully. "He is always at practice and attends everything in the offseason. He sets the tone effort-wise for the program." 
This shows us why Mike has proven to be the MVP of this team. While his friends are out sleeping, partying, etc., Mike is at the gym working hard, improving his techniques, and getting in shape for the next season. That's what separates people who are willing to put in the work from the people who just show up because they have to. 
Mike isn't only a very great volleyball player, but also a great student. As you know if you play sports for your school, you are considered to be a student-athlete. This means that you are a student before an athlete. 
Mike is a very good student because, in order to play, you can have no less than a C to play. Mike also helps other student-athletes as well. 
"Mike is the type of athlete to lead you and go out of his way to make sure that you are getting taught the correct things and make you the best player that you could be," Cam said. 
That's a great trait to have as a student-athlete. If you have the ability to help yourself and other student-athletes, that's a double whammy. Not only are you succeeding in the classroom, but you're also helping another teammate or student-athlete of any sport succeed as well. That's a win in any coach's book. 
"Mike was selected as a captain by his teammates his junior year through a team vote.  Mike represents our 3 program principles of grit, positivity, and respect," Coach Fox said.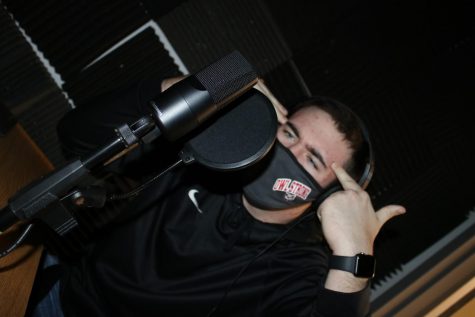 Mike is very respectful. It's rare that you see him making fun of someone, yet rather he's a helping hand. I go to Mike for advice and he gives me good tips and encouraging comments that I feed off of and play at my highest level. 
"Mike is a great friend and I'm blessed to be a part of his journey and for him to call me a teammate is also a huge honor," Cam said. 
As I said before Mike and Cam have known each other since freshman year and since then their friendship has grown, but this year, sadly, will be their last year together. Both of them have had an amazing season so far and both are looking forward to seeing what the future holds.
In conclusion, Mike has been a great athlete, student, and friend to all of us at Agua Fria. Mike will always be remembered and missed by all of us from Agua Fria. Sadly his time at Agua Fria has run out and it is time for him to graduate high school. We love you Mike and it's time for you to go and exceed expectations and become the star you always were. Thank you Mike.